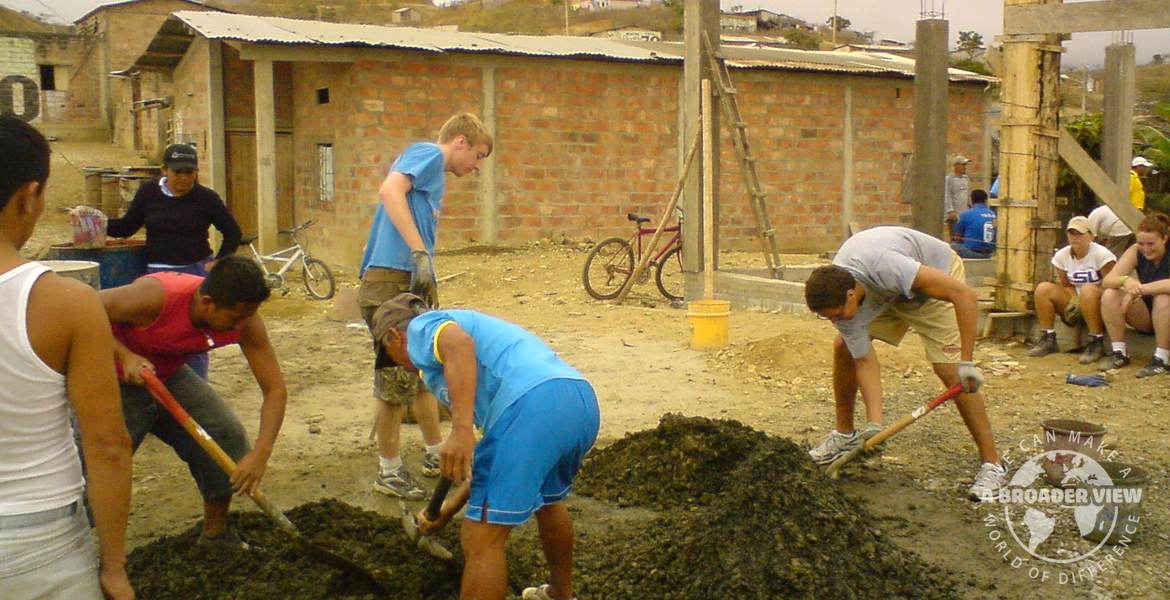 This program is an area located in the southern zone of the province of Manabí, containing a population of approximately 5,000 habitants. It is in a dry tropical forest, with mostly primary vegetation. The plants from the Cactaceae (cactus) family standout, like the candelabra and the mulatto. There is also the lignum vitae, or 'wood of life', locust trees, and madero negro, a tropical hardwood. All of these plants have a great commercial and medicinal value.
You can combine volunteering in the Education/teaching, Construction, Community development and conservation programs, this program is for proactive volunteers, self motivated and that can overcome any task.
Education
The community counts with two schools and a Day Care Center
To help by teaching English to the children at the school.
To collaborate in the area of Sports.
To support to the teacher in the areas of Drawing and Painting
To give support at the Day Care Center by taking care of the children.
To help by elaborating didactic material
Community development
The volunteers who contribute with this project can also give their support in the development of the community by carrying out different activities for the well being of the community.
To give support to the people from the community by teaching English to the members of the host families in order to increase their ability to receive tourists in the future.
To develop the concept of eco-tourism as an alternative in order to generate economic resources.
To contribute with the community in the elaboration of signaling to promote the tourism.
Construction
The volunteers who contribute with this project can also give their support in the area of construction by carrying out different activities.
To help by repairing and painting the classrooms and the school desks.
To help by painting murals at the local schools with messages related to the protection of the environment.
To help by building and maintaining recreational games for the school.
To help by building facilities at the school and at the community.
Conservation
The volunteers who contribute with this project can also give their support in the area of conservation by carrying out different activities.
To work at a native plants nursery.
To work in the conservation of native species.
To organize recycling campaigns with the population of the community, specifically with the children.
To monitor the whales in order to contribute by collecting data.
Overview
Project length: From 2 weeks to 4 weeks
Project dates: March to December. Choose any date to arrive.
Arrival airport: Quito (UIO)
Accommodation: Local host family
Meals: Breakfast, lunch and dinner
Language requirement: Good Spanish level (able to talk to locals just in Spanish)
Airlines: Lan Ecuador, American, United, Delta, Avianca, Taca
Vaccinations: Routine Vac, Hep-A and Typhoid wwwnc.cdc.gov
Program Schedule
Program starts and ends in Quito
Airport meet and greet in Quito.
Afternoon city tour and orientation
Monday to Friday volunteering. 30-40 hours per week
Weekends free to sightseeing
Typical shift work hours are 8:15am – 16:30pm, program con be combined with other programs.
Support: Local ABV Director support 24/7 during placement
Departure: ABV Staff Escorted Airport Transfer
Not included:
Flights to Quito. Entry Visa. Departure taxes. Vaccinations. Local Transportation. Travel & Health Insurance. Laundry and Internet
South America /US$
Weeks
2
3
4
Ecuador: Community Development (Coastal)
1095
1195
1295
A Broader View Volunteer (ABV)  allows every traveler to choose their own program start date. This means you can arrive on any flight, any day of the week. Since ABV program fees are 100% tax deductible* we encourage you to fund raise. ABV offers advice and assistance with flight planning, affordable travel insurance, as well as procuring a visa, if necessary. Our ABV staff is available to any your questions. Contact us by email, through the on-line chat feature on our website or call us toll free at 866-423-3258.
WHAT DO MY FEES PAY FOR?
Volunteer Registration Fee – ongoing support from ABV staff, program marketing costs, information pack, administration costs, ABV donation Fund, travel costs to inspect programs and communication costs with volunteers.
Volunteer Program Fee – ABV donation fund, airport pick-up, orientation, program supervision, accommodation and meals during volunteer program period, in-country 24/7 volunteer support and in-country administration costs. As a US Non-Profit Charity Organization all your fees are tax deductible and you can fundraise from our website to pay for the fees.