Volunteer in Costa Rica's Pacific area which is home to a wide array of wildlife including sloths, monkeys, turtles, iguana and other marsupials. Join us today and be part of a community led mammal monitoring and conservation project.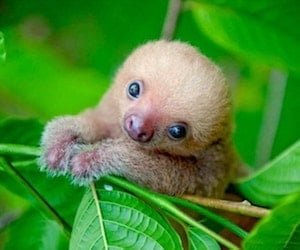 Animals are often illegally hunted for food or income. Some are killed by urban and agricultural expansion.Expansion of local towns and developments have also directly reduced the populations of many species. The local population often lacks knowledge about the importance of these species, as well as how to mitigate risks to them and the entire surrounding forest system.
Sloth behavior remains particularly elusive especially with regards to how they fare after rescue centers release them into the wild. Research on them, anteaters, raccoons, other mammals and more about sea turtle nesting behavior is needed in the area.
Environmental education activities provide local youth opportunities to participate in conservation. It also gives them the opportunity to learn English which can be help them pursue careers in ecotourism. Volunteers are involved in night walks and helping with the turtle hatchery. The Monitoring Center provides a unique way for locals and international volunteers to get involved in the conservational efforts in this province.
Objectives and volunteer role
Initiate research the populations and behavior of local mammals (including sloths, monkeys, raccoons and anteaters)
Participate in activities related to turtle nesting and hatching, including night walks and egg rescues
Raise public awareness on wildlife care for greater society to understand their role and the value of conservation of wild species.
Link professionals from different sectors in the development of the center, such as biology, social areas and communication, economics, architecture and engineering areas.
Provide support for volunteers through a leadership role in the conservation of sea turtles
Engage local community through providing informative programs and volunteer opportunities
Coordinate and conduct conservational education programs at the local secondary school
DURING YOUR FREE TIME: Volunteers are free to visit and see places or do shopping during their free time. Explore local markets or travel to the beaches which can be visited on the weekends. The country offers unparalleled natural beauty, active volcanoes, rainforests, and a wide range of national parks and eco-tourism. In addition, optional Spanish lessons or dance classes can be arranged locally.
I was surprised by how many sloth I actually saw and how much I was able to do. Because I stayed for so long I was able to become a group leader. And volunteers are from all over the World so you get to know other realities. I recommend this program to anyone that love animals.
This was the best experience of my life. The ABV team was really helpful both in the USA and in-country. I was very prepared for the trip. It was really easy to get settled and used to the new surroundings. There was never a time that I felt uncomfortable or unclear on travel instructions or anything. Definitely going to go back some day!
This was my first time ever traveling out of my home country. I truly loved visiting Costa Rica – it has the most natural beauty of any place I have ever been, and people dedication to conservation and eco-awareness are inspiring. I definitely want to see more of Costa Rica and other countries now.
Volunteer Abroad: Sloth Reserve
Overview
Project length: 1 week to 6 weeks.
Arrival Airport: San Jose (SJO) Juan Santamaría International Airport.
Work Schedule: From Monday to Friday. Minimum 6 hours per day.
Requirements: independent bus ride to/from project site. US$50 donation.
Age Limits: 17 years or older for solo travelers.
Minimum Age: 12 to 16 yrs if traveling with parents.
Exclusion: This program can't be combine with Spanish Lessons
Airlines: American, United, Delta, US Airways, Copa, Taca, Avianca, Spirit Airways.

Vaccinations: Routine Vac, Hep-A and Typhoid wwwnc.cdc.gov
Inclusions
Accommodation: Shared dorm style housing from 4, 6, 8 and 12 people per room, shared bathrooms. Rustic/comfortable conditions. Double bed room available for an extra charge and if available.

Meals: Breakfast, lunch and dinner are included.
Arrival: Airport (SJO) meet and greet by ABV Staff and Airport transfer on arrival to San Jose
Orientation: Orientation upon arrival.
Transportation to the program location.
Support: Full time in-country ABV Coordinator. 24/7 emergency contact number.
Departure: Transfer back to the airport at the end of the program.
Not included:
Flights. Vaccinations. Local Transportation. Travel & Health Insurance (US$53 approx). Internet & Laundry: only available in some locations. Any extra activities and excursions. US$50 donation paid over the total fee.