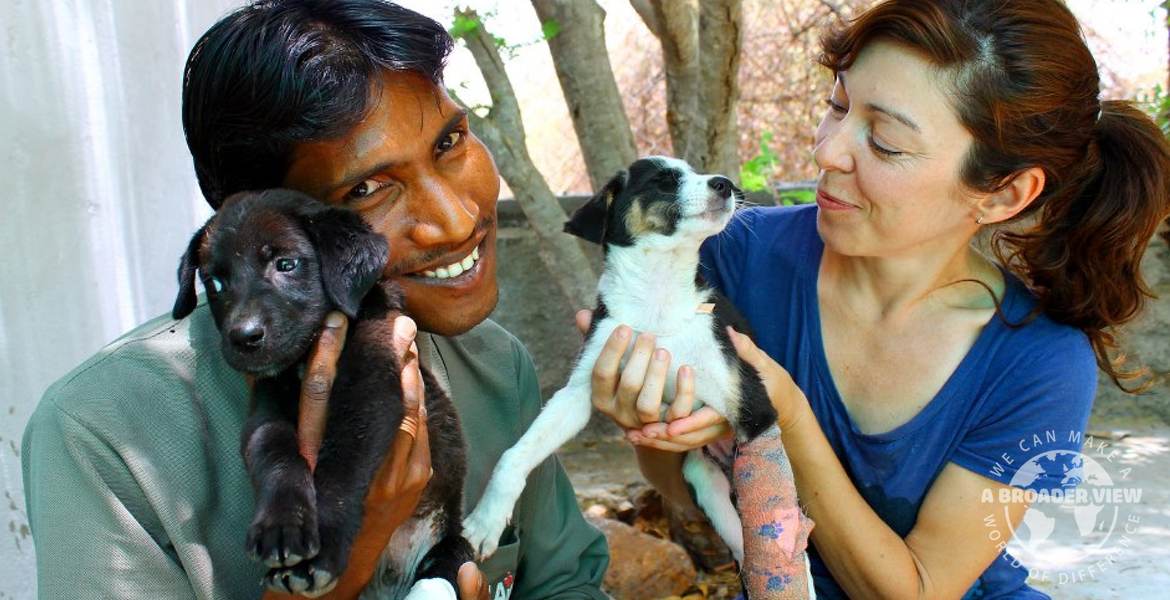 Animal Rescue project is a vital rescue center, hospital and sanctuary for injured and ill street animals in Udaipur, India. We rescue thousands of hurt and sick animals each year and provide sanctuary to those who need life-long care.
The Animal Rescue volunteers help the project in different areas. Here is a list of activities you will be encouraged to participate in:
Physical therapy for dogs with spinal injuries helping them learn to walk again
Bathing dogs
Feeding hay and grass in the cow and donkey section
Feeding in the dog kennels and identifying those who are not eating
Giving special food and encouragement to those in the dog kennels who are not eating
Spending quality one-on-one time with a depressed animal that needs love and support to heal faster
Assisting in cow and donkey treatment (sometimes it takes up to five people to treat an especially large cow or bull)
Soothing dogs after their treatment to minimize the possibly painful or scary experience
Deep cleaning a kennel with a brush and bucket of soapy water
Be a pooper-scooper to help maintain the cleanest environment for the animals
Brush donkeys and dogs
Help socialize fearful animals
Volunteer Opportunities: Animal Rescue Program
Overview
Project length: From 2 week to 8 weeks
Arrival airport: Maharana Pratap (Code: UDR), going through New Delhi
Work Schedule: Monday to Friday 4 to 6 hours per day (Optional afternoon or Evening work with Orphanage, Disable children or street children, whichever is available)
Requirement: Extra US$50 donation to the program.
Transportation: US$ 4-6 daily (to and from the program)
Age Limits: Minimum 17yrs or older for solo travelers.
Airlines: Jet Airways, Indian Airlines, Spice Airlines
Vaccinations: Hep A, Rabies, typhoid wwwnc.cdc.gov
Inclusions:
Accommodation: Share Volunteer House
Meals: Breakfast, lunch and dinner daily
Arrival: Udaipur Airport meet and greet by ABV Staff
Orientation: Project Overview and Orientation
Support: Pre-trip written guide, In-country ABV staff available 24/7
Departure: ABV Staff Escorted Udaipur Airport Transfer
Hindi Lessons: 5 Days included (1 hour a day basic Hindi)
Optional: Indian Cuisine, Yoga, Henna and Dance lessons (not included)
Not included:
Flights. Entry Visa. Departure taxes. Vaccinations. Local Transportation. Travel & Health Insurance. Laundry and Internet
A Broader View Volunteer (ABV)  allows every traveler to choose their own program start date. This means you can arrive on any flight, any day of the week. Since ABV program fees are 100% tax deductible* we encourage you to fund raise. ABV offers advice and assistance with flight planning, affordable travel insurance, as well as procuring a visa, if necessary. Our ABV staff is available to any your questions. Contact us by email, through the on-line chat feature on our website or call us toll free at 866-423-3258.
WHAT DO MY FEES PAY FOR?
Volunteer Registration Fee – ongoing support from ABV staff, program marketing costs, information pack, administration costs, ABV donation Fund, travel costs to inspect programs and communication costs with volunteers.
Volunteer Program Fee – ABV donation fund, airport pick-up, orientation, program supervision, accommodation and meals during volunteer program period, in-country 24/7 volunteer support and in-country administration costs. As a US Non-Profit Charity Organization all your fees are tax deductible and you can fundraise from our website to pay for the fees.