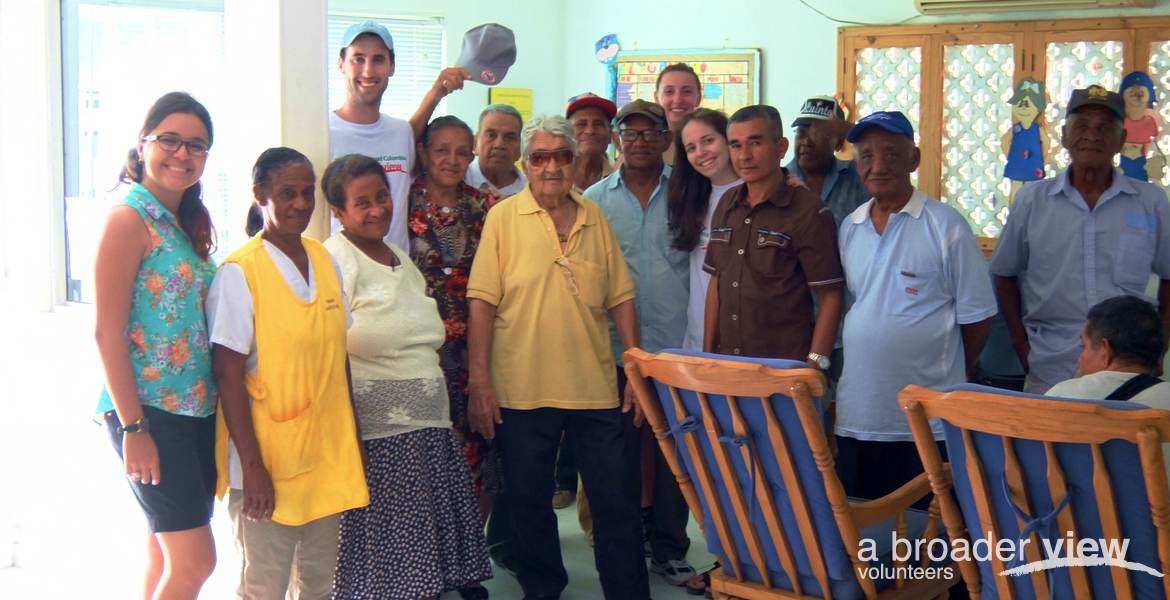 One of the big needs that Cartagena has is the care of Elderly people. Many live in deplorable conditions, extreme poverty and their health becomes worse because of their low life quality. Hence, the government and many other non-profit organisations have created or supported elderly care centres in certain areas of Cartagena. This institution is located in Olaya Herrera, a very typical neighbourhood that reflects perfectly our culture and habits.
This institution provides meals, recreation (cultural and educational activities), medical treatment and some of the therapies they might need. The elderly people that are taken in, perform different roles such as musicians in the folklore band, cooks, dancers, etc. The volunteers can help them with recreational and cultural activities. Maybe some could help them prepare the meals, feed any disabled and read for a few hours or make conversation. We need volunteers with intermediate or advanced Spanish knowledge.
In this program, the volunteer can use his/her creativity to make activities for them. The volunteers can teach them the typical dance moves from their country, do some exercise or perform any other idea they might have. This program can be combined with the medical - healthcare program since many of them need to take daily medication and therapy. Also, they frequently need to check the blood pressure, sugar level, etc.
Vacation time: Holy Week: March 29th – April 6th
Volunteer Colombia opportunities: Elderly Care Center
Overview
Project length: From 2 weeks to 8 weeks
Work schedule: Monday - Friday / 8 hours
Arrival airport: Cartagena (CTG)
Accommodation: local host family
Meals: Breakfast, lunch and dinner
Airlines: Avianca, Jet Blue, Spirit, Copa, American, United
Vaccinations: Routine Vac, Hep-A and Typhoid wwwnc.cdc.gov
Program Schedule
Airport meet and greet in Cartagena.
City tour and orientation.
Monday to Friday volunteering. 35 - 40 hours per week.
Weekends free for sightseeing.
Typical work schedule can be 8:00am – 2:30pm with a break for lunch.
Local ABV coordinator support 24/7 during placement.
ABV Staff Airport Transfer
Not included:
Flights to Colombia. Visas and/or entry-exit fees. Vaccinations. Local Transportation. Travel & Health Insurance. Laundry and Internet.
South America / US$
Weeks
1
2
3
4
Colombia - Spanish Immersion
995
1290
1530
1790
Any extra week of "accommodation and meals" will be US$150/week after week 4 until week 12, more Spanish lessons can be paid locally to the coordinator.
South America / US$
Weeks
1
2
3
4
5
6
7
8
9
10
11
12
Colombia
895
995
1195
1195
1395
1395
1640
1640
-
-
-
-
The volunteer prices and the immersion prices are not combined, you choose from one or the other price.
A Broader View Volunteer (ABV)  allows every traveler to choose their own program start date. This means you can arrive on any flight, any day of the week. Since ABV program fees are 100% tax deductible* we encourage you to fund raise. ABV offers advice and assistance with flight planning, affordable travel insurance, as well as procuring a visa, if necessary. Our ABV staff is available to any your questions. Contact us by email, through the on-line chat feature on our website or call us toll free at 866-423-3258.
WHAT DO MY FEES PAY FOR?
Volunteer Registration Fee – ongoing support from ABV staff, program marketing costs, information pack, administration costs, ABV donation Fund, travel costs to inspect programs and communication costs with volunteers.
Volunteer Program Fee – ABV donation fund, airport pick-up, orientation, program supervision, accommodation and meals during volunteer program period, in-country 24/7 volunteer support and in-country administration costs. As a US Non-Profit Charity Organization all your fees are tax deductible and you can fundraise from our website to pay for the fees.