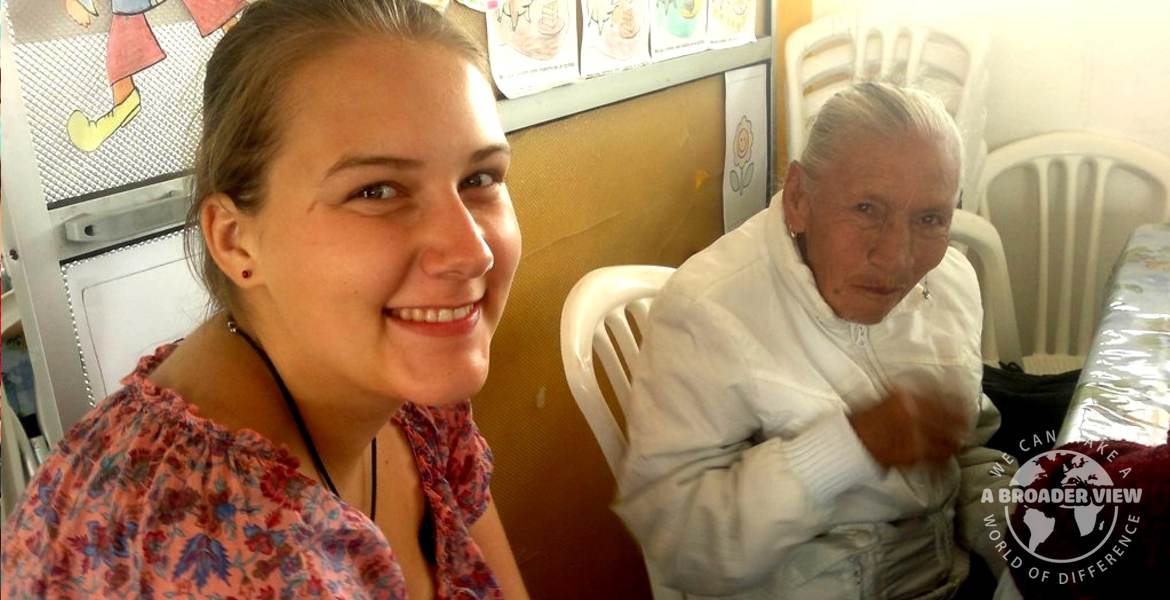 Fundación Abuelitos was originally founded in the year 2001. Its main goal is to promote, support and realize efficient attention to senior citizens. The foundation creates concrete actions that will promote the importance of an active, worthy, healthy, participative and productive old age.
In Ecuador, the great number of senior citizens is evident on the streets. One can see that many are beggars or how they are living in a very poor economic situation. There are more than one million elderly people in Ecuador that live without social aid and suffer from abandonment of their families and society in general. The program offers services to this class of people in areas such as: physical aid/therapy, personal growth, recreation and occupational therapies, medical attention, education and various workshops, among others, that enable the elderly to greatly improve their quality of life.
Volunteers will be able to assist in all the activities planned by the foundation. It all depends on your experience, effort, interests and the capacity of your love and care for the elderly. In general, the day starts with some physical activity and a short human development workshop before sharing breakfast. Then the activities begin. For example, dancing, theater, narratives, chorus lessons and activities in the bakery and handcraft workshops. At the end of the activities, they share lunch together.
There is an average of about 100 senior citizens per day that visit the foundation between the ages of 60 -75 years old. Your help is greatly appreciated in anyway.
Volunteer Ecuador Opportunities: Elderly Care Center
Overview
Arrival to Airport: Quito (UIO) Program starts and ends in Quito
Project Length: 1 weeks to 12 weeks
Project Period: Year round
Accommodation: Host family
Meals: breakfast, lunch, and dinner
Work Schedule: Monday to Friday 6 hours per day
Daily work: 10:00am to 16:00pm
Weekends: free to sight see, travel
Requirements: Basic Spanish Knowledge or Spanish Immersion Available
Age Limits: 18 to 65 years old
Minimum Age: 12 to 17 years *IF traveling with parents or permission of parents
Airlines: Lan Ecuador, American, United, Delta, Avianca, Taca
Vaccinations: Routine Vaccinations, Hepatitis-A and Typhoid
Inclusion
Airport meet and greet in Quito
Host Family accommodation, 3 meals a day and laundry
Orientation, project briefing in Quito
Volunteer project placement 30 hour per week
Support: Local ABV Director support 24/7 during placement
Departure: ABV Staff Escorted Airport Transfer
Not included:
Flights to Quito. Visas and/or entry-exit fees. Vaccinations. Local Transportation. Travel & Health Insurance. Laundry and Internet. Elderly Donation: US$50 added to your ABV account
South America /US$
Weeks
1
2
3
4
5
6
7
8
9
10
11
12
Ecuador (Quito)
895
1050
1340
1340
1570
1570
1860
1860
1920
2030
2180
2330
The volunteer prices and the immersion prices are not combined, you choose from one or the other price.
South America / US$
Weeks
1
2
3
4
Ecuador - Spanish Immersion
1065
1340
1615
1990
Any extra week of "accommodation and meals" will be US$150/week after week 4 until week 12, more Spanish lessons can be paid locally to the coordinator.
A Broader View Volunteer (ABV)  allows every traveler to choose their own program start date. This means you can arrive on any flight, any day of the week. Since ABV program fees are 100% tax deductible* we encourage you to fund raise. ABV offers advice and assistance with flight planning, affordable travel insurance, as well as procuring a visa, if necessary. Our ABV staff is available to any your questions. Contact us by email, through the on-line chat feature on our website or call us toll free at 866-423-3258.
WHAT DO MY FEES PAY FOR?
Volunteer Registration Fee – ongoing support from ABV staff, program marketing costs, information pack, administration costs, ABV donation Fund, travel costs to inspect programs and communication costs with volunteers.
Volunteer Program Fee – ABV donation fund, airport pick-up, orientation, program supervision, accommodation and meals during volunteer program period, in-country 24/7 volunteer support and in-country administration costs. As a US Non-Profit Charity Organization all your fees are tax deductible and you can fundraise from our website to pay for the fees.