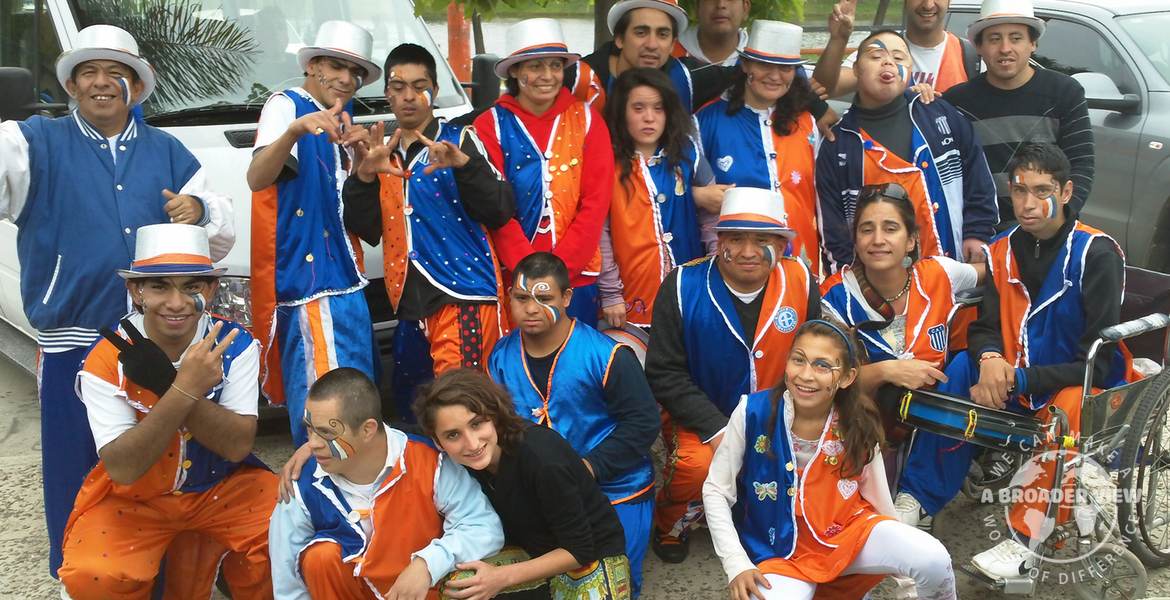 This organization is composed by a team who work with children and youth with disabilities, using equine therapy, orchard and "streetband" as part of their rehabilitation, being a complement to the treatment. Coordination is in charge of a Psychologist that works on the horse individually with each patient, which is accompanied at the meeting by the rest of the team.
The host organization provides a relaxed and comfortable space for the patients and their family, taking advantage of nature and environment that favor to get it. They work in a personalized way for each patient, using the resources that are necessary to meet the objectives of each treatment, holding the attention of children and young people, keeping their motivation (games, tools, drawings, songs, etc.). They continuously strengthen the bond with the horse and equipment, since it is the main tool and the bridge to work according to the objectives, always pointing to the development of those involved.
Volunteers will accompany the activities proposed by the team in each session of equine therapy. The specific interventions will depend on each case and the volunteer profile, but always involves being near the horse and children, ensuring their safety and supporting what is going happening on the track.
Its important that the volunteer have some knowledge and familiarity with the behavior of horses. Also is important the affinity and willingness to work and play with children and it is important to have interest in this subject to an understanding with patients and families, and also understand equine activity in depth.
As part of this program, the volunteer will also be contributor in educational workshops, caring of poor patients in order to contribute to the integration of children with physical and / or social disabilities through the rehabilitation and development of their potential.
The volunteer will accompany young people in different activities, provide his critical eye enriching teamwork and will support in the different activities.
Volunteer Opportunities: Children Special Needs
Overview
Project Length: From 1 week to 8 weeks
Arrival Airport: Córdoba (COR)
Project Period: Year round
Accommodation: Host Family
Meals: Breakfast, Lunch and Dinner
Work Schedule: Monday-Wednsday-Friday: Orchard & Street Band / Tuesday and Thursday:Hippotherapy
Daily work: Morning or Afternoon
Weekends: Free to sightseeing, Travel, etc.
Requirements: Intermediate Spanish Knowledge
Age Limits: 18 to 65 years old
Airlines: American Airlines, Lan , Tam, Gol, KLM, AirFrance , Aerolineas Argentinas, Etihad, Copa Airlines
Vaccinations: Routine Vaccinations, Hepatitis-A and Typhoid wwwnc.cdc.gov
Inclusion:
Airport meet and greet in Cordoba
Host Family Accommodation, 3 meals a day
Orientation, project briefing in Córdoba
Volunteer project placement 30 hour per week
Support: Local ABV Director support 24/7 during placement
Departure: ABV Staff Escorted Airport Transfer
Not included:
Flights to Argentina. Visas and/or entry-exit fees. Vaccinations. Local Transportation. Travel & Health Insurance. Laundry and Internet.
South America / US$
Weeks
1
2
3
4
5
6
7
8
Argentina
895
1050
1295
1295
1395
1395
1730
1730
The volunteer prices and the immersion prices are not combined, you choose from one or the other price.
South America / US$
Weeks
1
2
3
4
Argentina - Spanish Immersion
1070
1375
1685
1995
Any extra week of "accommodation and meals" will be US$150/week after week 4 until week 8, more Spanish lessons can be paid locally to the coordinator.
A Broader View Volunteer (ABV)  allows every traveler to choose their own program start date. This means you can arrive on any flight, any day of the week. Since ABV program fees are 100% tax deductible* we encourage you to fund raise. ABV offers advice and assistance with flight planning, affordable travel insurance, as well as procuring a visa, if necessary. Our ABV staff is available to any your questions. Contact us by email, through the on-line chat feature on our website or call us toll free at 866-423-3258.
WHAT DO MY FEES PAY FOR?
Volunteer Registration Fee – ongoing support from ABV staff, program marketing costs, information pack, administration costs, ABV donation Fund, travel costs to inspect programs and communication costs with volunteers.
Volunteer Program Fee – ABV donation fund, airport pick-up, orientation, program supervision, accommodation and meals during volunteer program period, in-country 24/7 volunteer support and in-country administration costs. As a US Non-Profit Charity Organization all your fees are tax deductible and you can fundraise from our website to pay for the fees.