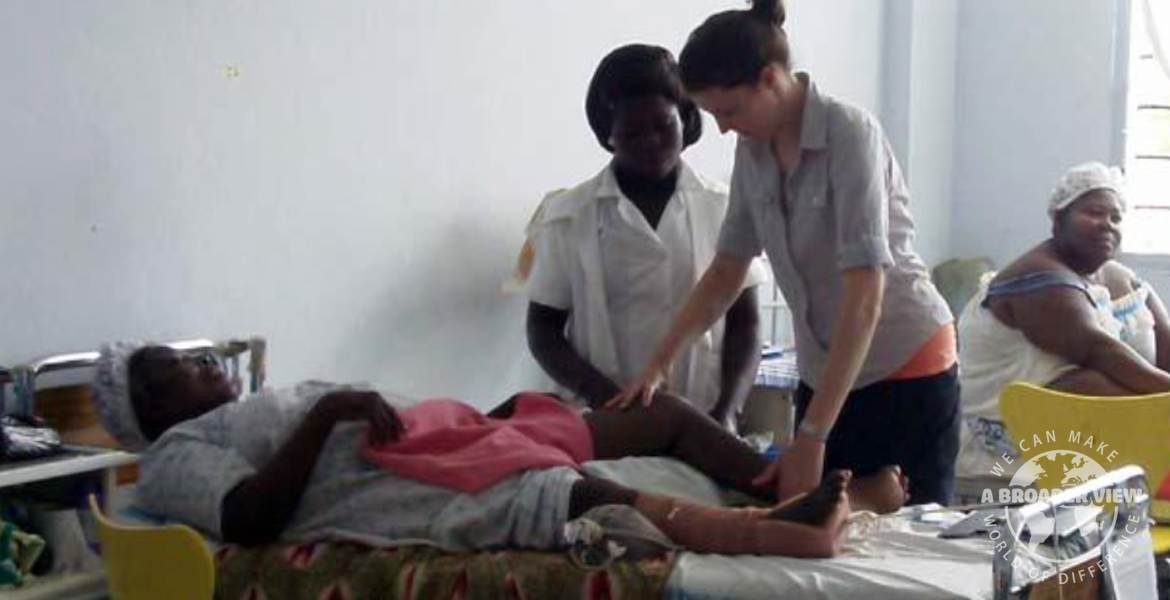 Poor health conditions and poverty is a vicious cycle seen in many developing countries. Poverty causes poor health in that without proper resources, treatable diseases such as diarrhea, malaria, tuberculosis, HIV/AIDS, and others contribute to disability and mortality within Ghana. Given the limited resources it is difficult for the hardworking staff to provide basic health care for everyone in the area.
Volunteers with medical training, or currently enrolled medical and nursing students will support the local Health Center in Kasoa (Buduburam community) , and also be part of the public health team outreach & research projects which travels and conducts health talks to the students at district schools. This very busy, under-staffed Health Center provides general outpatient care, inpatient delivery care and community health outreach education. The topics of these talks include symptoms, treatment, and prevention of malaria, gastro intestinal diseases, hypertension, HIV/AIDS, diarrhea and more.
A volunteer or intern will get the opportunity to observe and shadow the nurses and doctor. Your hands on support work will depend on your qualifications, and more importantly the needs of the clinic. Volunteers will be instructed to bring their own medical supplies (gloves, mask, scrubs and donations).
Volunteer Opportunities: Medical programs
Overview
Project Length: From 1 week to 8 weeks
Arrival Airport: Accra (Code: ACC)
Work Schedule: Monday to Friday 7 hours per day
Requirements: Medical credentials/current enrollment in graduate school.
Age Limits: Minimum 18yrs or older for solo travelers.
Airlines: British Air, Delta, United, KLM, Lufthansa
Vaccinations: Yellow Fever, Malaria, Hep A, typhoid wwwnc.cdc.gov
Program Schedule
Airport meet and greet in Accra airport
Monday to Friday volunteering 35 hours per week
Weekends free to sightseeing
Typical shift work hours are 8:00am – 4:00pm with breaks
Support: Local Director support 24/7 during placement
Departure: ABV Staff Escorted Airport Transfer
Not included:
Flights to Ghana. Entry Visa. Vaccinations. Local Transportation. Travel & Health Insurance. Laundry and Internet
Africa / US$
Weeks
1
2
3
4
5
6
7
8
9
10
11
12
Ghana
820
995
1290
1290
1490
1490
1690
1690
1840
1990
2140
2290
A Broader View Volunteer (ABV)  allows every traveler to choose their own program start date. This means you can arrive on any flight, any day of the week. Since ABV program fees are 100% tax deductible* we encourage you to fund raise. ABV offers advice and assistance with flight planning, affordable travel insurance, as well as procuring a visa, if necessary. Our ABV staff is available to any your questions. Contact us by email, through the on-line chat feature on our website or call us toll free at 866-423-3258.
WHAT DO MY FEES PAY FOR?
Volunteer Registration Fee – ongoing support from ABV staff, program marketing costs, information pack, administration costs, ABV donation Fund, travel costs to inspect programs and communication costs with volunteers.
Volunteer Program Fee – ABV donation fund, airport pick-up, orientation, program supervision, accommodation and meals during volunteer program period, in-country 24/7 volunteer support and in-country administration costs. As a US Non-Profit Charity Organization all your fees are tax deductible and you can fundraise from our website to pay for the fees.