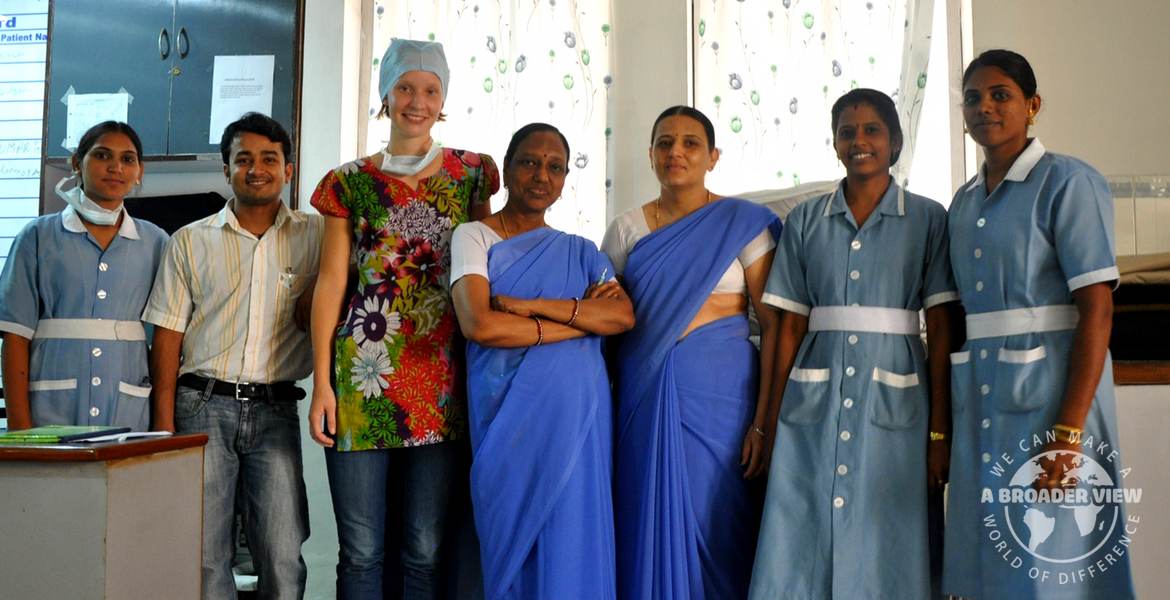 Nursing and medical students, as well as medically trained healthcare professions, are placed in community clinics and participate in slum health outreach projects throughout in Jaipur. It is a sad fact - In India most people die of treatable diseases. Many health facilities have very poor hygienic standards and most locals cannot afford treatment. With the level of poverty growing with the population it makes this an uphill battle for good healthcare. Since most of the medical centres are in impoverished neighbourhoods the patients are poor and cannot afford the expensive treatment in good hospitals.
Our volunteers will learn about the current healthcare system in India while offering limited hands on assistance to the medical staff. Tasks are based on your current level of education, qualifications and experience, and understanding of Hindi. Some volunteer duties are as follows: Taking vitals such as blood pressure, health talks about hygiene & nutrition, maternity welfare checks, distributing medication or take patient records.
Volunteers should bring their own medical scrubs/white lab jacket, stethoscope and gloves, and any donations supplies.
*Imp: The transportation in not included to the program. The transportation cost is around US$2 - 4 a day by Tuk-tuk (motorcycle ride) can be divided between 2 - 3 volunteers (7km ride).
Volunteer Opportunities: Medical programs
Overview
Project length: 2 week to 8 weeks
Project dates: Year round. Choose any date to arrive.
Arrival airport: Jaipur International Airport (JAI)
Accommodation: Local host family/Shared volunteer House
Meals: 3 per day (Breakfast, Lunch & Dinner)
Airlines: Jet airways, Spice jet, Etihad, Indigo, Go Air, Air India etc.
Vaccinations: Routine Vac, Hep A, typhoid wwwnc.cdc.gov
Program schedule
Program starts and ends in Jaipur City
Airport meet and greet in Jaipur City.
Monday to Friday volunteering. 30-40 hours per week
Weekends free to sightseeing, camel safari, elephant safari, Taj Mahal etc.
Typical shift work can be: 10:00am - 5:00pm
Support: Local ABV Director support 24/7 during placement
Departure: Transfer to Jaipur airport
Included:
Pick-up from Jaipur Airport
A detailed orientation about India, ABV projects, facts about India, cultural responsibility and things to remember in India
Project visit with supervisor
Resource materials to use on project
Weekly market visit to shop for your necessities
One party & dinner out to experience the new India
Sessions on India about the India in reality v/s India in news
Airport drop at Jaipur airport
Emergency support
24X7 assistance
Not included:
Air fare, Visa, Insurance, Local transportation, Vaccinations, local sightseeing and all personal expenses. Cultural classes like Hindi class, Indian dress workshop, Yoga class, cooking class only for the volunteers who stays in ABV house. (extra Fees apply)
Asia / US$
Weeks
2
3
4
5
6
7
8
India Jaipur (General Programs)
860
990
1120
1250
1380
1510
1640
A Broader View Volunteer (ABV)  allows every traveler to choose their own program start date. This means you can arrive on any flight, any day of the week. Since ABV program fees are 100% tax deductible* we encourage you to fund raise. ABV offers advice and assistance with flight planning, affordable travel insurance, as well as procuring a visa, if necessary. Our ABV staff is available to any your questions. Contact us by email, through the on-line chat feature on our website or call us toll free at 866-423-3258.
WHAT DO MY FEES PAY FOR?
Volunteer Registration Fee – ongoing support from ABV staff, program marketing costs, information pack, administration costs, ABV donation Fund, travel costs to inspect programs and communication costs with volunteers.
Volunteer Program Fee – ABV donation fund, airport pick-up, orientation, program supervision, accommodation and meals during volunteer program period, in-country 24/7 volunteer support and in-country administration costs. As a US Non-Profit Charity Organization all your fees are tax deductible and you can fundraise from our website to pay for the fees.