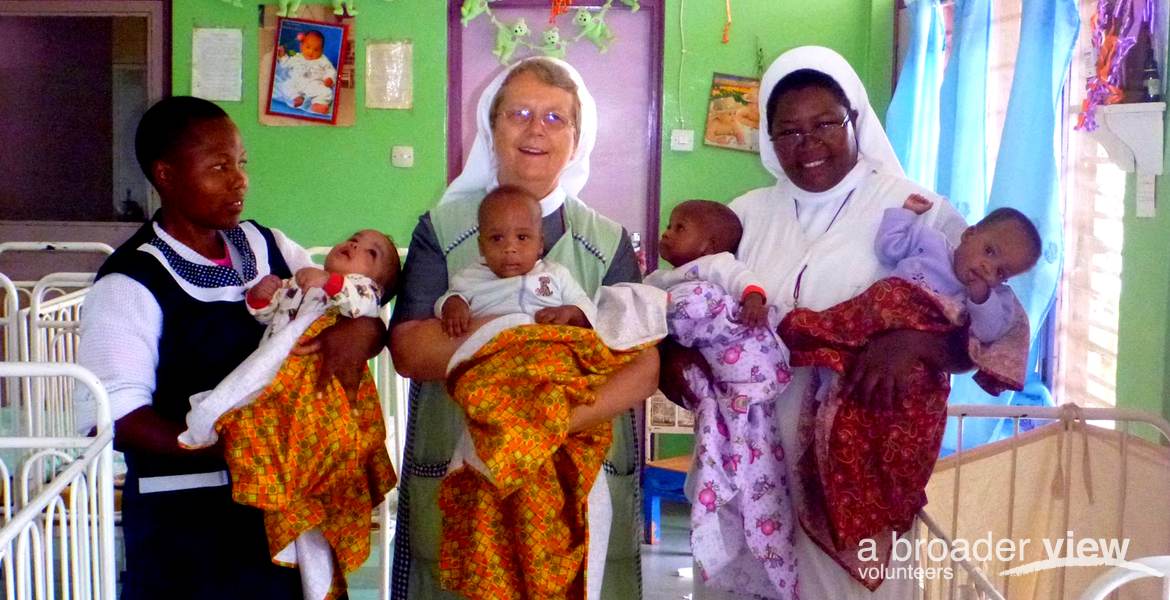 Volunteers with professional credentials, as well as currently enrolled in medical and nursing school students are welcome at this hospital which specializes in natal care. The hospital is located in Moshi and approximately 15-20 minutes walk from the volunteer accommodations.
The hospital sees about 60 to 100 out patients daily. Only maternity ward patients stay overnight. This hospital sees about 75-80 births each month. Pregnant patients come to the prenatal department for regular check ups before and after delivery they are being given counseling of family planning and how to take care of their baby. There is a pediatric department in the health center where children under 5 years old are taken care. There are more than 30 child patients every day.
The hospital offers the following services; antenatal clinic, labor ward and delivery, family planning, vaccinations, out patient department and TB clinic. Hours are Monday to Friday 8:00am-2:00PM. Volunteers need to be pro-active in this placement. There are lots of things to do and learn but you have to actively ask and look for them. Volunteers should expect the slow working rhythm and the total absence of timetables, which is common in Africa. The most common diseases are malaria, tuberculosis, pneumonia, hypertension, diabetes, diarrhea and vomiting, skin diseases. Volunteers may be involved with giving vaccinations, taking blood samples, assisting in deliveries and in providing health checks. Home visits may be part of the volunteer experience also. * Green or white medical scrubs are required, or white lab jacket for daily use.
*Volunteers need a Tourist Visa to enter Tanzania (US$100) as of 2016 you can get it at the Tanzania airport. *Once in the country all volunteers must apply for a "Volunteer Permit" is US$250. All participants in the Tanzania program must secure a permit to volunteer.
** Hospital administration fee of $70 per month is added for all medical placements
Volunteer Opportunities: Maternity Programs
Overview
Project length: From 2 weeks to 8 weeks
Arrival Airport: Kilimanjaro (Code: JRO)
Work Schedule: Monday to Friday 6 hours per day
Requirements: Tourist Visa and Volunteer Permit
Age Limits: Minimum 17yrs or older for solo travelers.
Minimum Age: 12 to 16 yrs if traveling with parents.
Airlines: KLM, Delta, Emirates, Ethiopian and Qatar
Vaccinations: Yellow Fever, Malaria, Hep A, typhoid wwwnc.cdc.gov
Inclusions
Accommodation: Hostel in Moshi, shared accommodations/bath
Meals: Breakfast, lunch box and dinner daily
Arrival: Airport meet and greet by ABV Staff
Orientation: Project Overview and Orientation
Support: Pre-trip written guide, In-country ABV staff available 24/7
Departure: ABV Staff Escorted Airport Transfer
Not included:
Flights to Tanzania. Entry Visa. Volunteer Permit. Departure taxes. Vaccinations. Local Transportation. Travel & Health Insurance. Laundry and Internet. Swahili lessons (US$8 per hour)
Africa /US$
Weeks
1
2
3
4
5
6
7
8
Tanzania
850
1000
1150
1300
1450
1600
1750
1900
A Broader View Volunteer (ABV)  allows every traveler to choose their own program start date. This means you can arrive on any flight, any day of the week. Since ABV program fees are 100% tax deductible* we encourage you to fund raise. ABV offers advice and assistance with flight planning, affordable travel insurance, as well as procuring a visa, if necessary. Our ABV staff is available to any your questions. Contact us by email, through the on-line chat feature on our website or call us toll free at 866-423-3258.
WHAT DO MY FEES PAY FOR?
Volunteer Registration Fee – ongoing support from ABV staff, program marketing costs, information pack, administration costs, ABV donation Fund, travel costs to inspect programs and communication costs with volunteers.
Volunteer Program Fee – ABV donation fund, airport pick-up, orientation, program supervision, accommodation and meals during volunteer program period, in-country 24/7 volunteer support and in-country administration costs. As a US Non-Profit Charity Organization all your fees are tax deductible and you can fundraise from our website to pay for the fees.