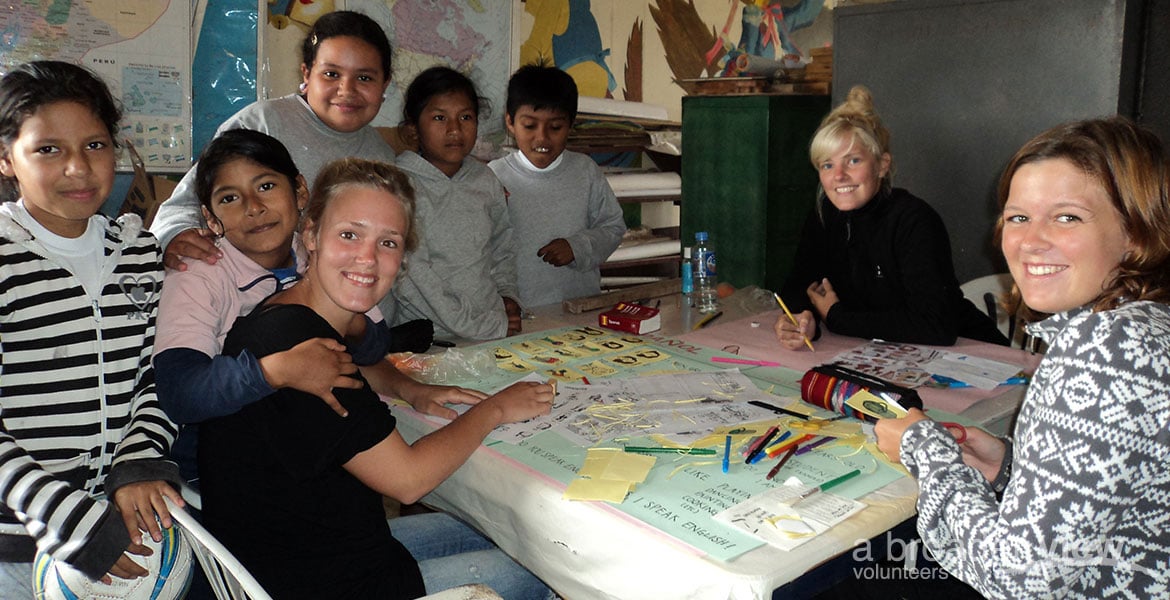 Volunteer at a community day care/nursery school center on Santa Cruz Island. There are about 35 children daily from 2 years to 5 years old. The program provides an integral aid in the education of the children on this island. Many of the children at this center come from families of immigrants who have gone to Galapagos looking for a better future for their families and kids. The project hours are 8:00am - 12:00am Monday to Friday.
Volunteer tasks including changing diapers, upkeep duties at the facility, recreational and educational needs for the older children. This is a fast paced, active program with a lot of daily activity. This is a great opportunity to volunteer in the Galapagos while still having time each day to explore the local community and share time with your host family.
Overview
Project Length: 4 weeks
Arrival Airport: Quito (UIO)
Work Schedule: Monday to Friday 8 hours per day
Requirements: Proficiency in Spanish
Age Limits: Minimum 18yrs or older for solo travelers.
Minimum Age: 12 to 17 yrs if traveling with parents.
Airlines: Lan Ecuador, American, United, Delta, Avianca, Taca
Vaccinations: Routine Vac, Hep-A and Typhoid wwwnc.cdc.gov
Program Schedule
Airport meet and greet in Quito
2 night accommodation/meals in Quito
Orientation, project briefing in Quito
Airline ticket Quito to Galapagos
Entrance fee ($100) Galapagos NP
Ingala ID card
Meet and greet on San Cruz
Host family accommodation and 3 meals a day
Volunteer project placement 20 hour per week
Transfer to airport at end of program
Airline ticket Galapagos to Quito
Airport reception in Quito
Final overnight/meals in Quito
Departure transfer to Quito
Not included:
Flights to Quito. Entry Visa. Departure taxes. Vaccinations. Local Transportation. Travel & Health Insurance. Laundry and Internet
| | | | |
| --- | --- | --- | --- |
| Weeks | 2 | 3 | 4 |
| Ecuador ( Galapagos Islands ) | 2135 | 2375 | 2585 |
A Broader View Volunteer (ABV)  allows every traveler to choose their own program start date. This means you can arrive on any flight, any day of the week. Since ABV program fees are 100% tax deductible* we encourage you to fund raise. ABV offers advice and assistance with flight planning, affordable travel insurance, as well as procuring a visa, if necessary. Our ABV staff is available to any your questions. Contact us by email, through the on-line chat feature on our website or call us toll free at 866-423-3258.
WHAT DO MY FEES PAY FOR?
Volunteer Registration Fee – ongoing support from ABV staff, program marketing costs, information pack, administration costs, ABV donation Fund, travel costs to inspect programs and communication costs with volunteers.
Volunteer Program Fee – ABV donation fund, airport pick-up, orientation, program supervision, accommodation and meals during volunteer program period, in-country 24/7 volunteer support and in-country administration costs. As a US Non-Profit Charity Organization all your fees are tax deductible and you can fundraise from our website to pay for the fees.