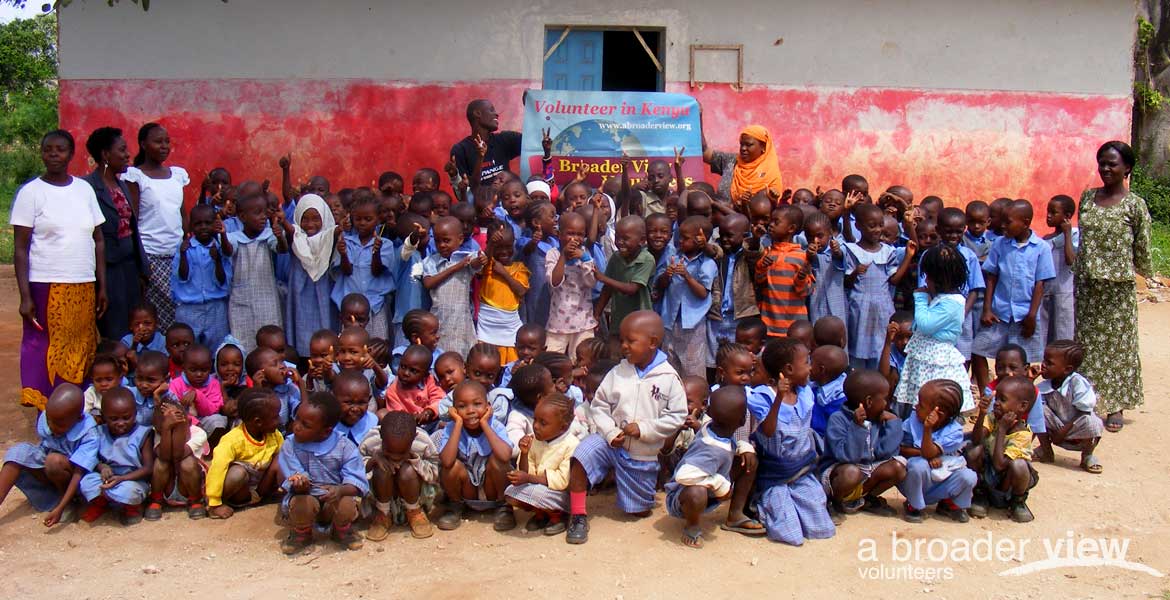 There are 25 beautiful children residing at the orphanage, and four full-time staff, namely a cook, night guard, general hand and teacher. In addition, there are 60 children who attend kindergarten at the orphanage compound from the village, and three teaching staff. Majority of the population understand and speak English, even though Swahili is commonly used.
As a volunteer, you will primarily assist with the daily care of the kids; including feeding and clothing, teaching basic English. You can play games, arrange activities, create arts & crafts projects and share your time and caring with these wonderful children. Prior experience not necessary, volunteers should have a lot of patience, an open mind and a sense of adventure.
Volunteer Opportunities: Orphanage Programs
Overview
Project Length: From 1 week to 8 weeks, September-May only
Arrival Airport: Nairobi (NBO)
Work Schedule: Monday to Friday 8 hours per day
Requirements: Tourist visa.
Age Limits: Minimum 18yrs or older for solo travelers.
Minimum Age: 12 to 16 yrs if traveling with parents.
Airlines: British Air, Emirates, Qatar Air, Ethiad
Vaccinations: Yellow Fever, Malaria, Hep A, typhoid wwwnc.cdc.gov
Program Schedule
Program starts and ends in Nairobi.
Airport meet and greet in Nairobi. Afternoon city tour and orientation
Monday to Friday volunteering. 30 hours per week
Weekends free to sightseeing
Typical shift work hours are 7am - 11am, 3pm - 6pm
Support: Local ABV Director support 24/7 during placement
Departure: ABV Staff Escorted Airport Transfer
Not included:
Flights to Kenya. Entry Visa. Departure taxes. Vaccinations. Local Transportation. Travel & Health Insurance. Laundry and Internet
Africa / US$
Weeks
1
2
3
4
5
6
7
8
9
10
11
12
Kenya
820
995
1290
1290
1490
1490
1690
1690
-
-
-
-
A Broader View Volunteer (ABV)  allows every traveler to choose their own program start date. This means you can arrive on any flight, any day of the week. Since ABV program fees are 100% tax deductible* we encourage you to fund raise. ABV offers advice and assistance with flight planning, affordable travel insurance, as well as procuring a visa, if necessary. Our ABV staff is available to any your questions. Contact us by email, through the on-line chat feature on our website or call us toll free at 866-423-3258.
WHAT DO MY FEES PAY FOR?
Volunteer Registration Fee – ongoing support from ABV staff, program marketing costs, information pack, administration costs, ABV donation Fund, travel costs to inspect programs and communication costs with volunteers.
Volunteer Program Fee – ABV donation fund, airport pick-up, orientation, program supervision, accommodation and meals during volunteer program period, in-country 24/7 volunteer support and in-country administration costs. As a US Non-Profit Charity Organization all your fees are tax deductible and you can fundraise from our website to pay for the fees.