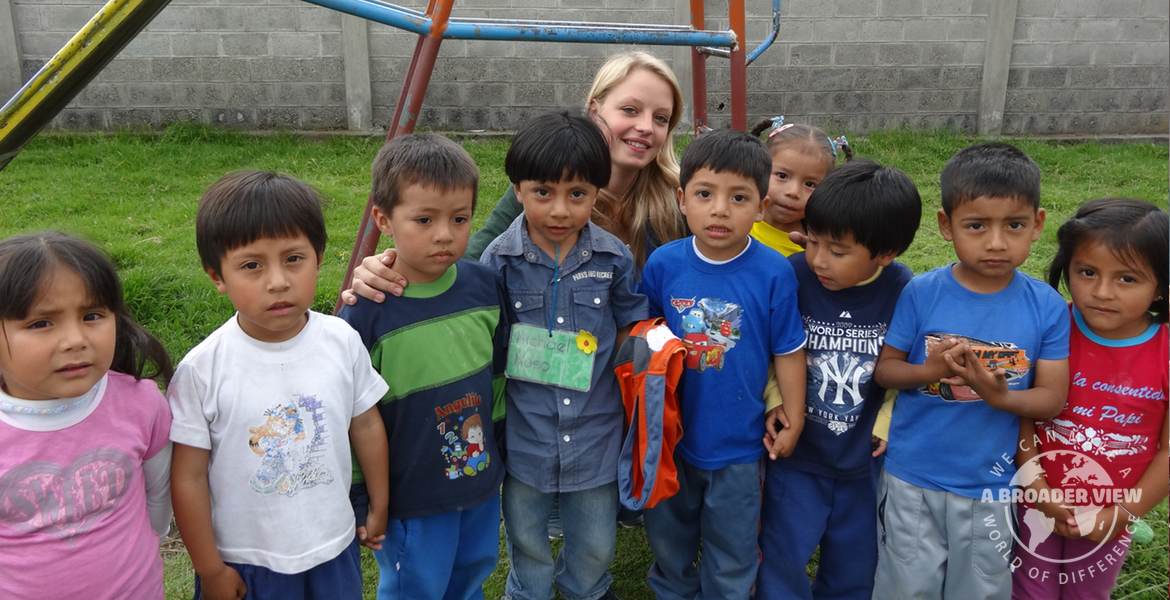 This is a public kindergarten that offers education, nutrition, health and affection to 220 children from 4 to 6 years old distributed within 8 classrooms. Most of children come from poor families. It is located inside of the Itchimbía Park in Quito's central area. The most important skill needed to work with these children is patience.
The volunteers have the chance to work with the teachers as an assistant during the classes.  On Thursdays and Fridays they will assist the English Teacher and on Monday and Wednesday (this can change each semester), they can assist the Music Teacher, or another subject.  Other activities may also include the creation of didactic material, help during meal time, and recreational activities with the children.
Working with these children is a fulfilling position.  Many of the children make strong bonds with those they work with very quickly, so it is important that you do not take them for granted and take full responsibility for your actions, words, and work ethic.  It is advised that you also tell the children how long you will be working with them and when you will be leaving in anticipation so that they do not get let down when you leave.
Overview
Arrival to Airport: Quito (UIO) Program starts and ends in Quito
Project Length:  1 weeks to 12 weeks
Project Period: September-June
Accommodation: Host family
Meals: breakfast, lunch, and dinner
Work Schedule: Monday to Friday 4 hours per day, can combine with other program
Daily work: 8:00am to 12:00pm
Weekends: free to sight see, travel
Requirements: intermediate Spanish Knowledge
Age Limits: 18 to 65 years old
Minimum Age: 12 to 17 years *IF traveling with parents
Airlines: Lan Ecuador, American, United, Delta, Avianca, Taca
Vaccinations: Routine Vaccinations, Hepatitis-A and Typhoid
Inclusion
Airport meet and greet in Quito
Host Family accommodation, 3 meals a day and laundry
Orientation, project briefing in Quito
Volunteer project placement 30 hour per week
Support: Local ABV Director support 24/7 during placement
Departure: ABV Staff Escorted Airport Transfer
Not included:
Flights to Quito. Visas and/or entry-exit fees. Vaccinations. Local Transportation. Travel & Health Insurance. Laundry and Internet. Extra Donation US$50 per month
South America /US$
Weeks
1
2
3
4
5
6
7
8
9
10
11
12
Ecuador (Quito)
895
1050
1340
1340
1570
1570
1860
1860
1920
2030
2180
2330
The volunteer prices and the immersion prices are not combined, you choose from one or the other price.
South America / US$
Weeks
1
2
3
4
Ecuador - Spanish Immersion
1065
1340
1615
1990
Any extra week of "accommodation and meals" will be US$150/week after week 4 until week 12, more Spanish lessons can be paid locally to the coordinator.
A Broader View Volunteer (ABV)  allows every traveler to choose their own program start date. This means you can arrive on any flight, any day of the week. Since ABV program fees are 100% tax deductible* we encourage you to fund raise. ABV offers advice and assistance with flight planning, affordable travel insurance, as well as procuring a visa, if necessary. Our ABV staff is available to any your questions. Contact us by email, through the on-line chat feature on our website or call us toll free at 866-423-3258.
WHAT DO MY FEES PAY FOR?
Volunteer Registration Fee – ongoing support from ABV staff, program marketing costs, information pack, administration costs, ABV donation Fund, travel costs to inspect programs and communication costs with volunteers.
Volunteer Program Fee – ABV donation fund, airport pick-up, orientation, program supervision, accommodation and meals during volunteer program period, in-country 24/7 volunteer support and in-country administration costs. As a US Non-Profit Charity Organization all your fees are tax deductible and you can fundraise from our website to pay for the fees.