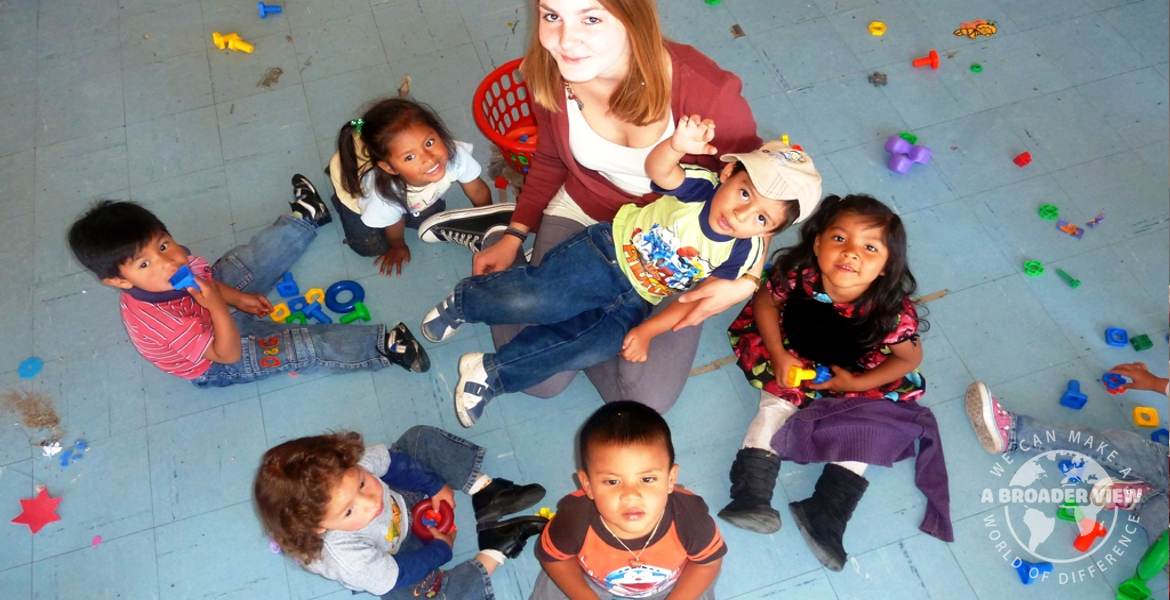 This day care centre was founded in April of 2006 to improve children's quality of life of those who work at the waste dump yard.  They work there each day recycling what they can. Years ago, the children would spend their time with their parents at the waste centre in the harsh elements of weather, not to mention the uncleanliness, making the children very prone to getting sick. Now with the help of many volunteers, the children are healthier, clean, and safely being cared for in this centre.
The centre also acts as a medical dispensary for the children and parents at no extra cost.  
The center hosts more than 40 children from ages 8 months to 4 years old. There are three groups of children and their daily activities depend on their age. Volunteers at the day care center are able to help by creating various recreational activities for the children, playing with them, organizing games, creating didactic material, helping during meal times and teaching the children about personal hygiene.
This project enables the children to learn how to live according to their own culture and religion, while also being active members of the community. The center helps children to recognize and express their individual abilities, interests and talents. They ensure that each child receives the education, skills and training they need to be successful and contributing members of society.
Overview
Arrival to Airport: Quito (UIO) Program starts and ends in Quito
Project Length:  1 weeks to 12 weeks
Project Period: Year round but Closed July -August
Accommodation: Host family
Meals: breakfast, lunch, and dinner
Work Schedule: Monday to Friday 5-6 hours per day
Daily work: 8:00am to 14:00pm approx
Weekends: free to sight see, travel
Requirements: intermediate Spanish Knowledge
Age Limits: 18 to 65 years old
Minimum Age: 12 to 17 years *IF traveling with parents
Airlines: Lan Ecuador, American, United, Delta, Avianca, Taca
Vaccinations: Routine Vaccinations, Hepatitis-A and Typhoid
Inclusion
Airport meet and greet in Quito
Host Family accommodation, 3 meals a day and laundry
Orientation, project briefing in Quito
Volunteer project placement 30 hour per week
Support: Local ABV Director support 24/7 during placement
Departure: ABV Staff Escorted Airport Transfer
Not included:
Flights to Quito. Visas and/or entry-exit fees. Vaccinations. Local Transportation. Travel & Health Insurance. Laundry and Internet. Extra Donation US$50 per month
South America /US$
Weeks
1
2
3
4
5
6
7
8
9
10
11
12
Ecuador (Quito)
895
1050
1340
1340
1570
1570
1860
1860
1920
2030
2180
2330
The volunteer prices and the immersion prices are not combined, you choose from one or the other price.
South America / US$
Weeks
1
2
3
4
Ecuador - Spanish Immersion
1065
1340
1615
1990
Any extra week of "accommodation and meals" will be US$150/week after week 4 until week 12, more Spanish lessons can be paid locally to the coordinator.
A Broader View Volunteer (ABV)  allows every traveler to choose their own program start date. This means you can arrive on any flight, any day of the week. Since ABV program fees are 100% tax deductible* we encourage you to fund raise. ABV offers advice and assistance with flight planning, affordable travel insurance, as well as procuring a visa, if necessary. Our ABV staff is available to any your questions. Contact us by email, through the on-line chat feature on our website or call us toll free at 866-423-3258.
WHAT DO MY FEES PAY FOR?
Volunteer Registration Fee – ongoing support from ABV staff, program marketing costs, information pack, administration costs, ABV donation Fund, travel costs to inspect programs and communication costs with volunteers.
Volunteer Program Fee – ABV donation fund, airport pick-up, orientation, program supervision, accommodation and meals during volunteer program period, in-country 24/7 volunteer support and in-country administration costs. As a US Non-Profit Charity Organization all your fees are tax deductible and you can fundraise from our website to pay for the fees.