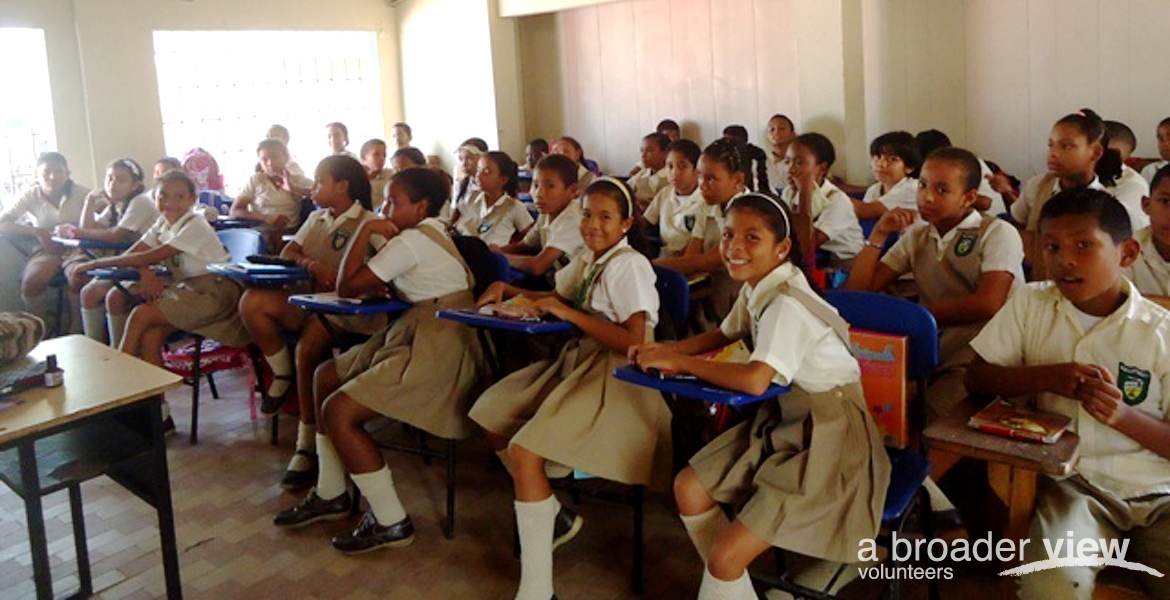 This school is located in a very peaceful and typical neighborhood in Cartagena, El Campestre. It is about 30 minutes away from the old city, the main touristic area. This institution is a great support for the community. Most of the students there come from very poor families and have low opportunities for a good education.
The school has limited educational resources and some of the classrooms and other facilities are not in good conditions. Nevertheless, the students enjoy their classes a lot and their company of each other. The school has the advantage of having the sports complex of Cartagena right in front. They also have a big sports field right behind the school; the students use it for physical education classes, soccer matches and other kind of competitions. The staff (educators) are very engaged and well prepared. The school has primary and high school grades. It has two branches that are 5 minutes away by foot from each other.
There are morning and afternoon classes. A typical class has a number of about 30-35 students. The volunteer will help the teacher by being a tutoring asset to the students. Teaching tools like flash cards, classroom supplies and literature resources are welcome and needed. The main needs they have are the following: Pre-school assistant, Teacher or assistant for computers and technology class (they have a classroom with computers), physical education teacher and of course, English teachers. This program can also be combined with the Language and Cultural Immersion program (Spanish lessons).
Program Closed: June 12th - July 25th; October 30th - February 10th; Holy Week: March 29th – April 6th
Volunteer Cartagena: Teaching Education Programs
Overview
Project length: From 2 weeks to 8 weeks
Work schedule: Monday - Friday / 8 hours
Arrival airport: Cartagena (CTG)
Accommodation: local host family
Meals: Breakfast, lunch and dinner
Airlines: Avianca, Jet Blue, Spirit, Copa, American, United
Vaccinations: Routine Vac, Hep-A and Typhoid wwwnc.cdc.gov
Program Schedule
Airport meet and greet in Cartagena.
City tour and orientation.
Monday to Friday volunteering. 35 - 40 hours per week.
Weekends free for sightseeing.
Typical work schedule can be 7:00am – 2:30pm with a break for lunch.
Local ABV coordinator support 24/7 during placement.
ABV Staff Airport Transfer
Not included:
Flights to Colombia. Visas and/or entry-exit fees. Vaccinations. Local Transportation. Travel & Health Insurance. Laundry and Internet.
South America / US$
Weeks
1
2
3
4
Colombia - Spanish Immersion
995
1290
1530
1790
Any extra week of "accommodation and meals" will be US$150/week after week 4 until week 12, more Spanish lessons can be paid locally to the coordinator.
South America / US$
Weeks
1
2
3
4
5
6
7
8
9
10
11
12
Colombia
895
995
1195
1195
1395
1395
1640
1640
-
-
-
-
The volunteer prices and the immersion prices are not combined, you choose from one or the other price.
A Broader View Volunteer (ABV)  allows every traveler to choose their own program start date. This means you can arrive on any flight, any day of the week. Since ABV program fees are 100% tax deductible* we encourage you to fund raise. ABV offers advice and assistance with flight planning, affordable travel insurance, as well as procuring a visa, if necessary. Our ABV staff is available to any your questions. Contact us by email, through the on-line chat feature on our website or call us toll free at 866-423-3258.
WHAT DO MY FEES PAY FOR?
Volunteer Registration Fee – ongoing support from ABV staff, program marketing costs, information pack, administration costs, ABV donation Fund, travel costs to inspect programs and communication costs with volunteers.
Volunteer Program Fee – ABV donation fund, airport pick-up, orientation, program supervision, accommodation and meals during volunteer program period, in-country 24/7 volunteer support and in-country administration costs. As a US Non-Profit Charity Organization all your fees are tax deductible and you can fundraise from our website to pay for the fees.