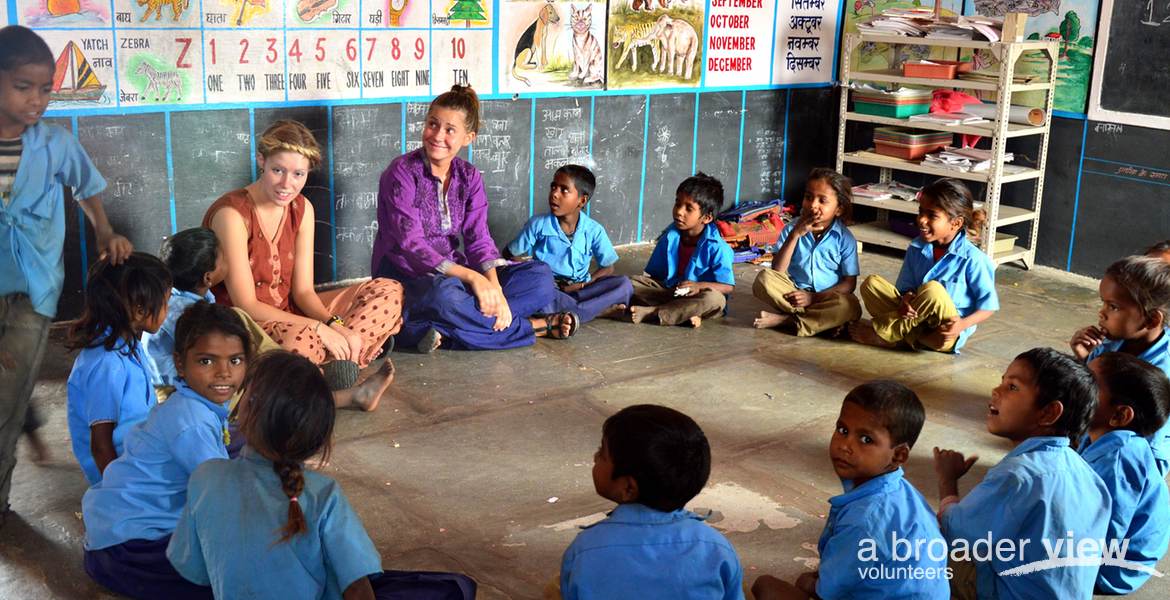 In recent years, English was introduced into Rajasthan Government Primary Schools, but the teachers were not up-skilled in teaching English as a foreign language. Often their own skills in the English language are limited, so volunteers are able to expose the students to excellent English language models.
Your voluntary teaching work provides you with an opportunity to develop new skills in a very different environment. In addition, your work in the school adds to the educational experience of the children. It is a marvelous experience for them to interact with people from another culture who speak another language. They will learn the things more attentively and enthusiastically, and welcome you open-heartedly. When you leave school in the afternoon you will be content to see that your students have learnt the things taught by you and your efforts are bringing results. This, we are sure, will bring you great personal satisfaction in helping children who have not been so fortunate.
In school, our volunteer's main responsibilities will include:
Teaching English – the main focus is on developing Basic English conversational skills and some basic written English skills.
The students require vocabulary development and basic grammatical structures for spoken and written English.
Teaching Maths – this is a secondary focus area, as the students take maths with their class teacher during their Hindi classes. However, volunteers can work to further develop English language skills through maths teaching.
Creating a fun and playful environment with games
Creating low cost teaching materials and aids
Monitoring students' attendance
Monitoring students' health and hygiene – e.g. encouraging hand washing in order to protect from spread of germs and maintaining good personal hygiene.
Program Closed/Holidays:
Program Closed/Holidays: 15th May until 30th June approx (Vacation)
Nov 6th to Nov 15th (Diwali Festival)
Dec 25 to Jan 1st (Xmas and New Year)
You can be placed in the Childcare program in the holidays
Volunteer Opportunities: Education programs
Overview
Project length: From 2 week to 8 weeks
Arrival Airport: Maharana Pratap (Code: UDR), going through New Delhi
Work Schedule: Monday to Friday 4 to 6 hours per day
Requirements: Police Check/Clearance report
Age Limits: Minimum 17yrs or older for solo travelers.
Minimum Age: 12 to 16 yrs if traveling with parents.
Airlines: Jet Airways, Indian Airlines, Spice Airlines
Vaccinations: Hep A, typhoid wwwnc.cdc.gov
Inclusions
Accommodation: Share Volunteer House
Meals: Breakfast, lunch box and dinner daily
Arrival: Airport meet and greet by ABV Staff
Orientation: Project Overview and Orientation
Support: Pre-trip written guide, In-country ABV staff available 24/7
Departure: ABV Staff Escorted Airport Transfer
Hindi Lessons: 5 Days included
Optional: Indian Cuisine, Yoga, Henna and Dance lessons (not included)
Not included:
Flights. Entry Visa. Departure taxes. Vaccinations. Local Transportation. Travel & Health Insurance. Laundry and Internet
Asia / US$
Weeks
2
3
4
5
6
7
8
India Udaipur (General Programs)
860
990
1120
1250
1380
1510
1640
A Broader View Volunteer (ABV)  allows every traveler to choose their own program start date. This means you can arrive on any flight, any day of the week. Since ABV program fees are 100% tax deductible* we encourage you to fund raise. ABV offers advice and assistance with flight planning, affordable travel insurance, as well as procuring a visa, if necessary. Our ABV staff is available to any your questions. Contact us by email, through the on-line chat feature on our website or call us toll free at 866-423-3258.
WHAT DO MY FEES PAY FOR?
Volunteer Registration Fee – ongoing support from ABV staff, program marketing costs, information pack, administration costs, ABV donation Fund, travel costs to inspect programs and communication costs with volunteers.
Volunteer Program Fee – ABV donation fund, airport pick-up, orientation, program supervision, accommodation and meals during volunteer program period, in-country 24/7 volunteer support and in-country administration costs. As a US Non-Profit Charity Organization all your fees are tax deductible and you can fundraise from our website to pay for the fees.