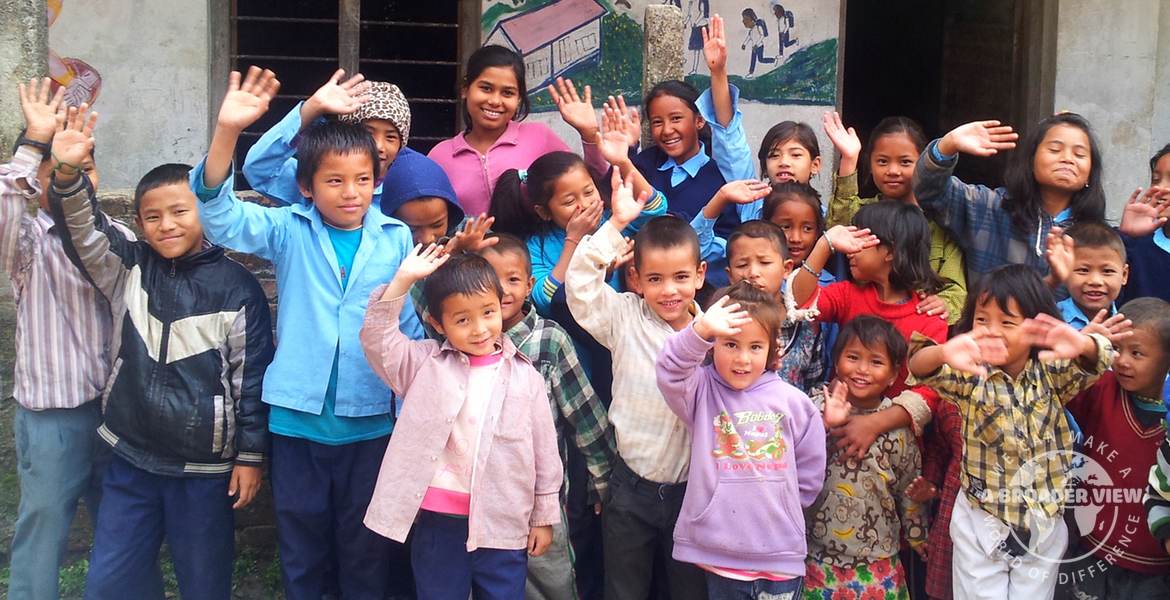 Volunteer in a local primary school in Kathmandu. You will get the opportunity to learn about education challenges in a developing country like Nepal. By being a volunteer English teacher in a school, you will help underprivileged children improve their English skills, gain knowledge on various health issues, social issues and enhancement of academic performance.
As a volunteer in this project you may be asked to participate or organize the following activities during the placement:
Lesson planning with the local teacher: English, Health, Math lessons
Develop training, teaching and communication manuals for students.
Conduct workshops for students in various subjects and skill development for sports, science, art, health awareness etc.
No Prior experience is needed however; volunteers should be very good in English, child friendly, caring, dedicated and have a lot of patience.
Note: Volunteers are asked to bring teaching aids (flash cards, maps, multiplication tables, and other visual aids) as well as any sports or arts and craft materials. It is recommended all the volunteers to take Nepali language class (optional activity) which will help volunteers in effective communication during the placement with the staff and children.
Volunteer Opportunities: Teaching English
Required:
US$100 program fee paid with your program cost
Overview
Project Length: From 1 week to 12 weeks
Project dates: Year round. Choose any date to arrive.
Arrival airport: Kathmandu (KTM)
Accommodation: Local host family
Meals: Breakfast and dinner daily
Airlines: Turkish Air, Qatar Air, Malaysian Airways, Air India, Jet Airways, Thai Air, Ethiad
Vaccinations: Typhoid and Hep A wwwnc.cdc.gov
Program Schedule
Program starts and ends in Kathmandu
Airport meet and greet in Kathmandu. Next day orientation and city tour
Monday to Friday volunteering. 30-40 hours per week
Weekends free to sightseeing
Typical shift work hours are 8am-12pm and 2pm-6pm
Support: Local ABV Director support 24/7 during placement
Departure: ABV Staff Escorted Airport Transfer
Not included:
Flights to Nepal. Entry Visa. Departure taxes. Vaccinations. Local Transportation. Travel & Health Insurance. Laundry and Internet
Extra- Not Included activities:
UNESCO Heritage car/ bike tour full day/half day
Hiking guide hire Horse riding
Nepali Dance Class Nepali language learning (basic/intermediate/advance level)
Trekking around the Himalayas.
Asia
Weeks
1
2
3
4
5
6
7
8
9
10
11
12
Nepal
890
1030
1170
1310
1450
1590
1730
1870
2010
2150
2290
2430
Asia / US$
Weeks
1
2
3
4
Nepal - Nepali Immersion
1050
1310
1650
1950
Any extra week of "accommodation and meals" will be US$210/week after week 4 until week 12, more Nepali lessons can be paid locally to the coordinator.
A Broader View Volunteer (ABV)  allows every traveler to choose their own program start date. This means you can arrive on any flight, any day of the week. Since ABV program fees are 100% tax deductible* we encourage you to fund raise. ABV offers advice and assistance with flight planning, affordable travel insurance, as well as procuring a visa, if necessary. Our ABV staff is available to any your questions. Contact us by email, through the on-line chat feature on our website or call us toll free at 866-423-3258.
WHAT DO MY FEES PAY FOR?
Volunteer Registration Fee – ongoing support from ABV staff, program marketing costs, information pack, administration costs, ABV donation Fund, travel costs to inspect programs and communication costs with volunteers.
Volunteer Program Fee – ABV donation fund, airport pick-up, orientation, program supervision, accommodation and meals during volunteer program period, in-country 24/7 volunteer support and in-country administration costs. As a US Non-Profit Charity Organization all your fees are tax deductible and you can fundraise from our website to pay for the fees.