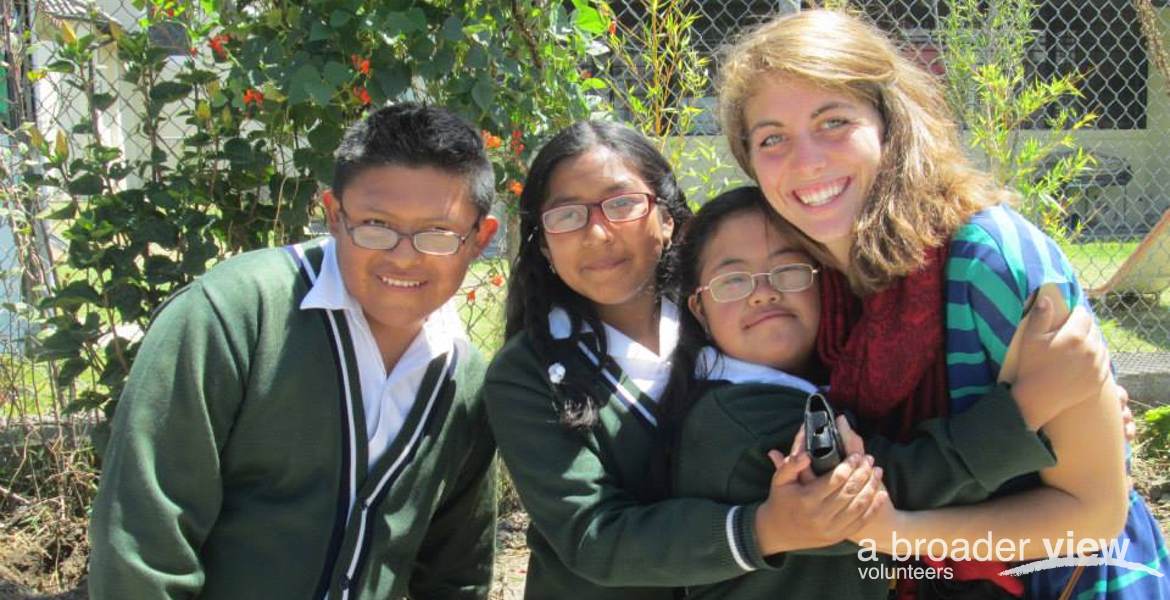 Our School is an institution that was previously hosted by the International Foundation Lyceum, which offers a bachelor of science through a dynamic curriculum. The school is based on a sustainable criteria through a team of teachers all committed to meeting institutional goals, sense of community, and care of the environment that promote diverse problem solving skills.
The institution takes hold as the main educational center of the parish Zámbiza, forming leaders, innovators, and creative graduates based on a quality education that promotes the formation of youth in achieving academic skills, a framed care of nature that allows social and economic development of the nation.  More than 150 young people attend this institution founded in 2003, all young people who come from the same parish.
At the high school you can help by teaching English to all grades. You will aid the English teachers and any suggestions or ideas you have are welcome. It is important that you are committed and responsible.  These youth are very affectionate, sensitive and vulnerable, becoming attached to those close them quickly.  It is important that you take your work serious, show up on time, each day, and tell the youth with anticipation when you will be leaving.
Overview
Arrival to Airport: Quito (UIO) Program starts and ends in Quito
Project Length:  2 weeks to 12 weeks
Project Period: September – June Open (July - August Closed)
Accommodation: Host family
Meals: breakfast, lunch, and dinner
Work Schedule: Monday to Friday 4-6 hours per day
Daily work: 7:00am to 1:00pm
Weekends: free to sightseeing, travel in country
Requirements: intermediate Spanish Knowledge (or take Spanish Immersion Lessons)
Age Limits: 18 to 65 years old
Airlines: Lan Ecuador, American, United, Delta, Avianca, Taca
Vaccinations: Routine Vaccinations, Hepatitis-A and Typhoid
Inclusion
Airport meet and greet in Quito
Host Family accommodation, 3 meals a day and laundry
Orientation, project briefing in Quito
Volunteer project placement 30 hour per week
Support: Local ABV Director support 24/7 during placement
Departure: ABV Staff Escorted Airport Transfer
Not included:
Flights to Quito. Visas and/or entry-exit fees. Vaccinations. Local Transportation. Travel & Health Insurance. Laundry and Internet. Extra Donation US$40 per month
South America /US$
Weeks
1
2
3
4
5
6
7
8
9
10
11
12
Ecuador (Quito)
895
1050
1340
1340
1570
1570
1860
1860
1920
2030
2180
2330
The volunteer prices and the immersion prices are not combined, you choose from one or the other price.
South America / US$
Weeks
1
2
3
4
Ecuador - Spanish Immersion
1065
1340
1615
1990
Any extra week of "accommodation and meals" will be US$150/week after week 4 until week 12, more Spanish lessons can be paid locally to the coordinator.
A Broader View Volunteer (ABV)  allows every traveler to choose their own program start date. This means you can arrive on any flight, any day of the week. Since ABV program fees are 100% tax deductible* we encourage you to fund raise. ABV offers advice and assistance with flight planning, affordable travel insurance, as well as procuring a visa, if necessary. Our ABV staff is available to any your questions. Contact us by email, through the on-line chat feature on our website or call us toll free at 866-423-3258.
WHAT DO MY FEES PAY FOR?
Volunteer Registration Fee – ongoing support from ABV staff, program marketing costs, information pack, administration costs, ABV donation Fund, travel costs to inspect programs and communication costs with volunteers.
Volunteer Program Fee – ABV donation fund, airport pick-up, orientation, program supervision, accommodation and meals during volunteer program period, in-country 24/7 volunteer support and in-country administration costs. As a US Non-Profit Charity Organization all your fees are tax deductible and you can fundraise from our website to pay for the fees.