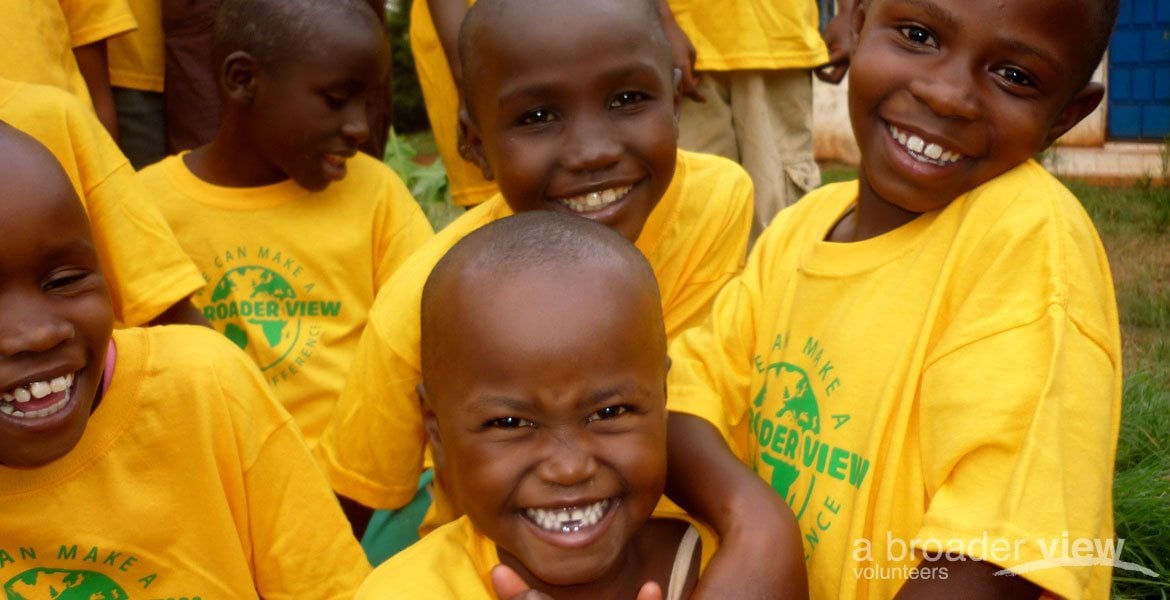 Volunteers have the opportunity to make a lasting difference in this rural community school. Our program combines teaching small kids in pre-school level and also with other children/youth in secondary level vocational training.
1) Pre-School: The school is providing free care and education for disadvantaged children between the ages of 3 and 6 years. There are about 50 children being provided education and also food each day. Classes including constructive play time, and classroom learning reading, writing, shapes, colors, numbers and social harmony. Lessons are taught in Kinyarwanda (language) and children are also taught some basic English (where our volunteers come in handy!) This school operates weekday mornings.
2) Vocational / Secondary: The center offers schooling and boarding facilities for poor and disadvantaged teens and youth in the community. There are dormitories for boys and girls, and typically 80 full time students at any time. Subject focus: Tailoring, mechanics, welding and construction. As well as vocational training, subjects taught include English and French lessons, and social education (HIV/AIDS and other health issues, hygiene and nutrition) Volunteers would focus on improving English of the students (16-21yrs old) through assisting with or teaching the English syllabus.
Volunteers are needed to lead classes, or assist the teachers in the class room. Volunteers can focus on individual children, or small groups to provide special attention and added support particularly in English lessons.
Volunteer Opportunities Rwanda Teaching Missions
Overview
Project length: From 1 week to 8 weeks
Program Schedule:
· First term starts on 6th January ends 5th April,
· Second term starts on 28th April ends 3rd July
· Third term starts on 11th August ends 25th Oct
Arrival Airport: Kigali (Code: KGL)
Work Schedule: Monday to Friday 8 hours per day
Requirements: Teaching experience preferred. Enthusiasm a must!
Age Limits: Minimum 18yrs or older for solo travelers.
Airlines: KLM, Delta, Qatar Air, Ethiopian
Vaccinations: Yellow Fever, Malaria, Hep A, typhoid wwwnc.cdc.gov
Program Schedule
Airport meet and greet in Kigali airport
Monday to Friday volunteering. 40 hours per week
Weekends free to sightseeing
Typical work hours are 7am - 12pm and 2pm-5pm
Support: Local ABV Director support 24/7 during placement
Departure: ABV Staff Escorted Airport Transfer
Not included:
Flights to Rwanda. Entry Visa. Vaccinations. Local Transportation. Travel & Health Insurance. Laundry and Internet
Africa /US$
Weeks
1
2
3
4
5
6
7
8
9
10
11
12
Rwanda
820
995
1290
1290
1490
1490
1690
1690
-
-
-
-
A Broader View Volunteer (ABV)  allows every traveler to choose their own program start date. This means you can arrive on any flight, any day of the week. Since ABV program fees are 100% tax deductible* we encourage you to fund raise. ABV offers advice and assistance with flight planning, affordable travel insurance, as well as procuring a visa, if necessary. Our ABV staff is available to any your questions. Contact us by email, through the on-line chat feature on our website or call us toll free at 866-423-3258.
WHAT DO MY FEES PAY FOR?
Volunteer Registration Fee – ongoing support from ABV staff, program marketing costs, information pack, administration costs, ABV donation Fund, travel costs to inspect programs and communication costs with volunteers.
Volunteer Program Fee – ABV donation fund, airport pick-up, orientation, program supervision, accommodation and meals during volunteer program period, in-country 24/7 volunteer support and in-country administration costs. As a US Non-Profit Charity Organization all your fees are tax deductible and you can fundraise from our website to pay for the fees.