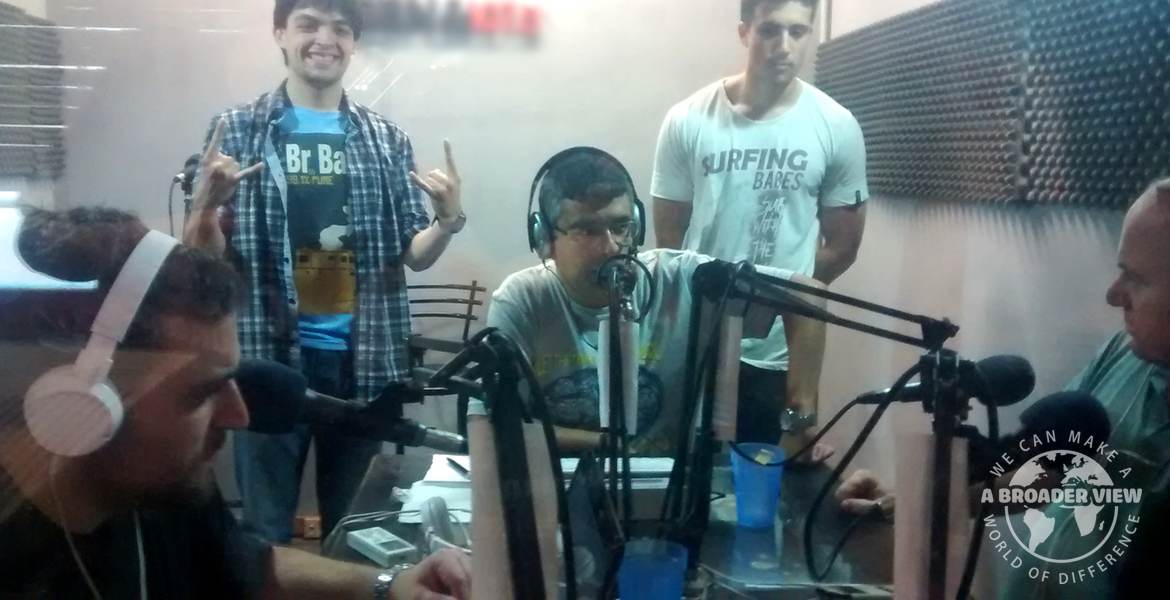 This volunteer program is in a Radio that belongs to a company that loves promote the culture of Argentinian Rock as well as disseminating everything related to local information. This is an organized and led by young communication professionals who have between 19 and 40 years old The atmosphere generated in this station is relaxed, friendly and professional.
The objectives of making this is to promote and exchange cultural ties with volunteers giving the possibility to improve their Spanish through interaction with the various broadcasters and producers this station circulating in addition to active listening that is required to operate a radio program.
The volunteer will operate from the console sounds, different radio programs (music, news, magazines), and help for the sound check for possible bands. The participant needs to have knowledge and good performance with PC management, social media, Windows, being proactive, sociable and fun.
The station is located in the heart of the city of Cordoba (50 meters from the central square), very close from the neighborhood, taking no more than 15 minutes to arrive.
Volunteer Opportunities: Journalism Program
Overview
Project Length: From 1 week to 8 weeks
Arrival Airport: Córdoba (COR)
Project Period: Year round
Accommodation: Host Family
Meals: Breakfast, Lunch and Dinner
Work Schedule: Monday to Friday 5 Hours per day
Daily work: Morning or Afternoon 8-13/17-22
Weekends: Free to sightseeing, Travel, etc.
Requirements: Intermediate Spanish Knowledge
Age Limits: 18 to 35 years old
Airlines: American Airlines, Lan , Tam, Gol, KLM, AirFrance , Aerolineas Argentinas, Etihad, Copa Airlines
Vaccinations: Routine Vaccinations, Hepatitis-A and Typhoid wwwnc.cdc.gov
Included:
Airport meet and greet in Cordoba
Host Family Accommodation, 3 meals a day
Orientation, project briefing in Córdoba
Volunteer project placement 30 hour per week
Support: Local ABV Director support 24/7 during placement
Departure: ABV Staff Escorted Airport Transfer
Not included:
Flights to Argentina. Visas and/or entry-exit fees. Vaccinations. Local Transportation. Travel & Health Insurance. Laundry and Internet.
South America / US$
Weeks
1
2
3
4
5
6
7
8
Argentina
895
1050
1295
1295
1395
1395
1730
1730
The volunteer prices and the immersion prices are not combined, you choose from one or the other price.
South America / US$
Weeks
1
2
3
4
Argentina - Spanish Immersion
1070
1375
1685
1995
Any extra week of "accommodation and meals" will be US$150/week after week 4 until week 8, more Spanish lessons can be paid locally to the coordinator.
A Broader View Volunteer (ABV)  allows every traveler to choose their own program start date. This means you can arrive on any flight, any day of the week. Since ABV program fees are 100% tax deductible* we encourage you to fund raise. ABV offers advice and assistance with flight planning, affordable travel insurance, as well as procuring a visa, if necessary. Our ABV staff is available to any your questions. Contact us by email, through the on-line chat feature on our website or call us toll free at 866-423-3258.
WHAT DO MY FEES PAY FOR?
Volunteer Registration Fee – ongoing support from ABV staff, program marketing costs, information pack, administration costs, ABV donation Fund, travel costs to inspect programs and communication costs with volunteers.
Volunteer Program Fee – ABV donation fund, airport pick-up, orientation, program supervision, accommodation and meals during volunteer program period, in-country 24/7 volunteer support and in-country administration costs. As a US Non-Profit Charity Organization all your fees are tax deductible and you can fundraise from our website to pay for the fees.