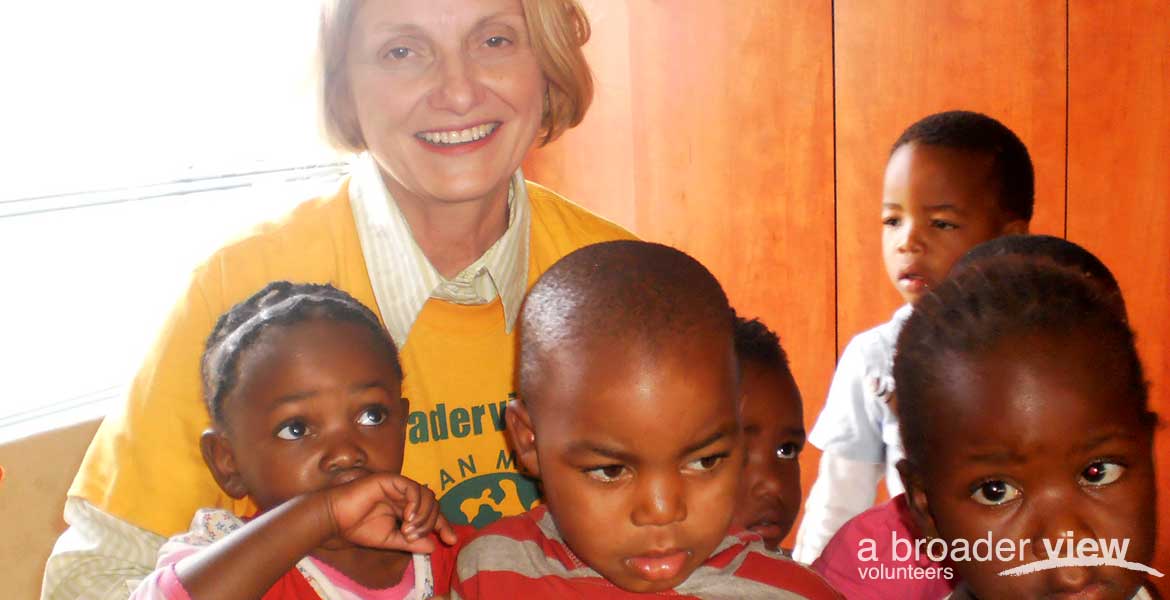 Port Elizabeth is located on the Indian Ocean and set along the shores of Nelson Mandela Bay. With moderate climate year round, this area of South Africa is popular for water sports and also many historical attractions. Game viewing is possible at the nearby Addo Elephant National Park.
Our volunteer placements are based in the township of Gqubera. The focus of the ABV program is community support, especially to the children in this township. Poverty, child neglect, alcohol abuse and a high unemployment rate are some of the many challenges this community faces on a day-to-day basis. The diversity of needs and great lack of services for this community shows in terms of a shortage of educational institutes with only 2 primary schools and 1 high school available to the children.
The life in the townships has many sides to it and is most of all an exciting way of seeing everyday life as almost 70% of the population live in communities like Gqubera. Volunteers are welcome with open arms, and are well looked after in the community. Volunteers are not alone, and work side by side the local staff to ensure their safety and comfort.
With help from international volunteers this community is benefitting from support in the local schools, sports programs as well as crèches/children's centers.
Overview
Project length: From 1 week to 4 weeks (** Mondays Arrival Only **)
Arrival Airport: Port Elizabeth (Code: PLZ)
Work Schedule: Monday to Friday, 7 hours per day
Meals: Breakfast, lunch and dinner daily
Requirements: Tourist Visa.
Age Limits: Minimum 18yrs or older for solo travelers.
Minimum Age: 12 to 17 yrs if traveling with parents
Airlines: South African Airlines, Virgin, Delta, British Air, Emirates, KLM
Vaccinations: Hep A, Typhoid wwwnc.cdc.gov
Program Schedule
Airport meet and greet in Port Elizabeth airport
Monday to Friday volunteering. 35 hours per week
Weekends free to sightseeing
Typical shift work hours are 8:00am - 3pm with lunch break
Support: Local ABV Director support 24/7 during placement
Departure: ABV Staff Escorted Airport Transfer
Not included:
Flights to South Africa. Entry Visa. Vaccinations. Local Transportation. Travel & Health Insurance. Laundry and Internet
Africa / US$
Weeks
1
2
3
4
5
6
7
8
9
10
11
12
South Africa
890
1190
1490
1750
-
-
-
-
-
-
-
-
A Broader View Volunteer (ABV)  allows every traveler to choose their own program start date. This means you can arrive on any flight, any day of the week. Since ABV program fees are 100% tax deductible* we encourage you to fund raise. ABV offers advice and assistance with flight planning, affordable travel insurance, as well as procuring a visa, if necessary. Our ABV staff is available to any your questions. Contact us by email, through the on-line chat feature on our website or call us toll free at 866-423-3258.
WHAT DO MY FEES PAY FOR?
Volunteer Registration Fee – ongoing support from ABV staff, program marketing costs, information pack, administration costs, ABV donation Fund, travel costs to inspect programs and communication costs with volunteers.
Volunteer Program Fee – ABV donation fund, airport pick-up, orientation, program supervision, accommodation and meals during volunteer program period, in-country 24/7 volunteer support and in-country administration costs. As a US Non-Profit Charity Organization all your fees are tax deductible and you can fundraise from our website to pay for the fees.