Volunteer: Bailey Katz
Location: La Serena, Chile
Program: Day Care Program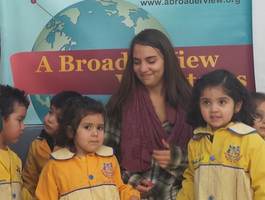 The local coordinator just happened to be my host mom, Vilma, and she was awesome! She helped me with travel arrangements and made sure that I was having a good time. She always had everything I ever needed on hand and was always willing to share.
When signing up for ABV, I thought I would be working with an orphanage and basically doing daycare. I was surprised to learn right before I came that I would be working at a Pre-K/ Kindergarten class. At first I was a bit disappointed because I wanted to help those who really needed it but it turned out to be a blessing in disguise! Not only was I surprised by the change of work venue but also by how much I enjoyed it. Before, I never thought that I would like working with that age group in a school setting and having to teach them things. Now I found that I am contemplating a change in career path because it was so enjoyable. Something that surprised me about Vilma and her family is how cool they all are. I was expecting an older woman (65-70) who would be old-fashion and would be hard to connect with. This was based off of friends who have done something like this before, most were with grandmas. I was pleasantly surprise to learn that this was not the case here. The other surprising thing was how accommodating Vilma was these past two months. I am a pretty independent person and was not expecting to have my laundry done, bathroom and bedroom cleaned for me. It was nice not having to worry about that. The most surprising thing about Chile is how much daily routines can be affected by the weather. A few weeks ago we had our water cut off due to the flood and then we were without electricity for a solid 24 hours. These are things that I normally take for granted at home so it was surprising to be without them here. The other surprising thing about this country is how nice everyone is. I think at first chileans are a bit shy, but once you get past that everyone is very sweet. You can tell they are all caring, loving people.
ABV: the flooding happends each 10-15 years is not a recurrente issue in this area and the light issue was related to the flood as well, Chile doesn't have an eletric shortout.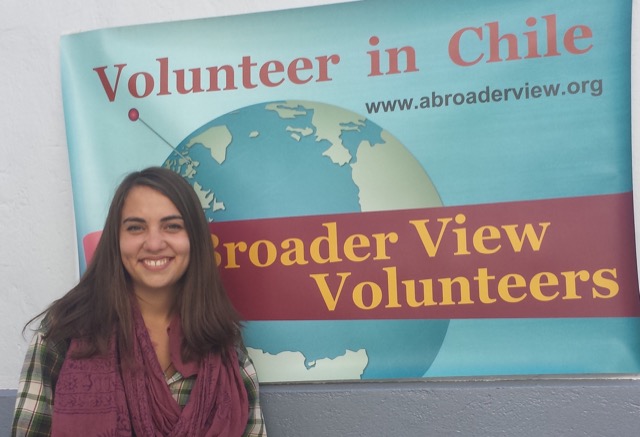 The most challenging thing about the program was being expected to lead a classroom when I have no prior experience of doing so. It was hard to keep the kids attention on me and really get them to listen because I do not know of any kind of teaching strategies. Also, some of the kids did not see me as an authoritative figure and just as a playmate. This was challenging when I was trying to get them to behave, put away toys, or to eat. That was the other difficult thing, sometimes the kids did not like the food they were serving but HAD to eat it anyways. Trying to get them to eat something they did not like was a nightmare. It was useless to have me help with that and by the time I left most of them were doing much better by themselves. The things that were challenging with the host family was mostly in the beginning. I did not know what was expected of me as far as chores and what not. I usually look to others to see what they do so luckily I had Agathe (the other ABV volunteer) to show me what we do and don't do. It would be nice if, before volunteers come, the host mom gave an outline of what she will take care of and what volunteers should take care of. The most challenging thing about the country is probably the same as the most surprising,  the challenges without water or power. The other would be how spread out everything is. I thought it would be a lot easier to do day trips out of the city but there did not seem to be too many options. We were able to do a tour to the valley and Coquimbo which was awesome, but other than that everything is a couple hours away by bus. It would have been nice to have Friday off to go travel so it would be worth it to take a bus/fly to other places for more than two days.
ABV: you can always ask Abv and the program to give you a day off (Friday) thats not a problem, just ask.And the family rules are specified in the contract volunteers sign, do the cleaning of your room and bathroom after using, help with the home shores, you are part of a family not in a hotel, ask always to help.
For future volunteers I would suggest bringing a good chunk of cash with you to Chile and exchanging it here. I did not have to use my card for the first month and a half because I always had cash. This was super nice and I did not have to deal with the foreign transaction charges. Also bug spray and anti-itch cream are two things that would be good to bring. I was eaten alive for a few weeks and luckily I was able to buy some but it was a bit expensive. Also day/nightquil was a god-send because I ended up getting a cold twice from the kids at the program (at least three have runny noses at any time). Lastly, if volunteers are working in the school, come prepared with some simple english songs and maybe a game or two. My go-to song was "Old McDonald Had a Farm" which they were kind of singing by the end. It was perfect because they knew some of the animal names in english and can associate it with the noises the animal makes.
Something was not in the orientation guide was tips on how to lead a classroom. Also some things you can do with the kids to help teach them english. I know I was the first one to start working with the school but it would have been nice to know a little bit more about what I would actually be doing. Mostly it involved playing with the kids and making sure they were behaving but also a short lesson here and there. Also, be prepared to be the only volunteer in La Serena. Since people can come and go whenever there may be times when you are the only one working here.
ABV: the work for each program has to be researched by each volunteer, and in the orientation we give guidelines in general for each program, volunteers need to do the rest of the work.
This experience was very unique and definitely a once in a lifetime opportunity. I was able to connect with kids from a totally different culture and have relationships with them. The city is a quaint little beach town with shy, but very sweet, people filling the streets. Everyone I interacted with have good souls and were usually interested in getting to know me. It was nice not to be written off as a snobby American (like in some foreign countries) and be able to live a temporary Chilean life. I thoroughly enjoyed my stay in La Serena and would love to return sometime in the future. Maybe I will visit with my future kids and run into past students!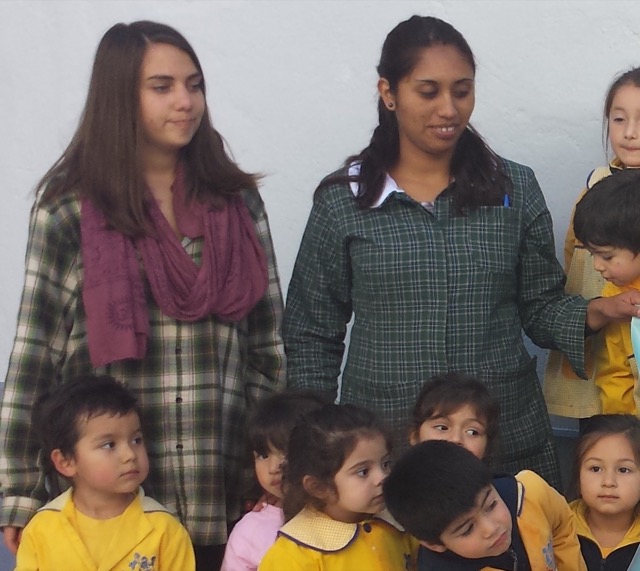 As I said in my previous responses, my accommodations, meals, security, and friendliness were all above my expectations. The tia's were a little standoffish at first but that was expected from the orientation guide and they were awesome by the end. I ended up getting to know a boy named Jose who worked with Agathe and he, as well as his friends, were very welcoming to me. We were able to hang out a few times before I left the city. I always felt safe in Vilma's home and never felt like I was in danger in the city. The room was perfect and the meals were always good.
My favorite memory from the program was the last day of class when we had a little party. Now I am not saying that nothing else was memorable besides the last day, every day was awesome and I am having trouble choosing just once. However, the last day we had a little party and I was able to truly see the lasting affect that I will leave on this classroom. Some kids may remember me more than others and I am totally okay with that. My favorite memory from the host family is all the times we just sat around after dinner and talked. Lastly, my favorite memories of Chile was getting to experience the night life and culture through it. It was awesome being able to have conversations with people my own age and hang out with people from a totally different world than my own.
Prior to traveling, ABV was very supportive. I was having trouble getting everything done 45 days in advanced and everyone was very accommodating, even allowing me to change my arrival day and be flexible on when the money arrived. I decided to do this pretty much 45 days before I was to leave, so it was nice that the staff was so flexible. I always got an answer right away and had no trouble getting in contact with ABV.
The reservation system online was nice and easy to use. I had no problems with it.
I found ABV by google searching volunteer travel programs for graduate students. This program was one of the links a bit further down but I am so happy I found it. The website was very nicely laid out and gave me everything I was looking for.
Yes I am willing to speak to others who wish to come to La Serena. I love sharing my experiences with others and have no problem with answering questions for others.

Check more Volunteer Reviews here