Volunteer Review Becky Whalen in Ghana Kasoa in the Orphanage/school program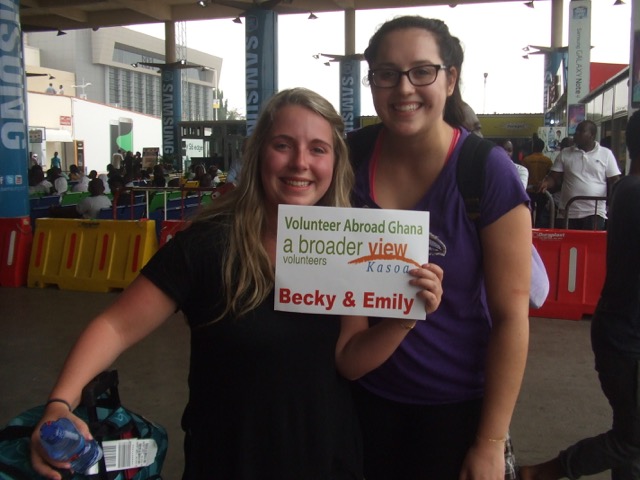 How was the local ABV coordinator/staff and the support provided in-country?
He was great. We could always be in contact with him, and he always made sure we were safe. He made sure we were as happy + comfortable as we could be which was very kind of him.
What was the most surprising thing you experienced?
Program: how little the children had + the condition of the school. Some kids only eat one meal a day which is lunch provided by the school. The school itself was dusty, roof problems, chalk board problems, step problems, hole problems etc. ABV has a fundraisng page to donate to this program, please donate.
Host family: we didn't talk much. They were busy working + taking care of the house but were always very caring + helpful.
Country: some places were extremely undeveloped while others were developing in a much faster manner.  
What was the most challenging thing you experienced?
Program: knowing that a lot of these kids had lost either both parents, one parent, siblings or even their entire family all together. They have so little + still come to school with a smile + a will to learn, it was very inspiring.
Host family: nothing challenging. Just a small language barrier + wishing we had talked more.
Country: language + culture. We learned some "twi" which was very helpful over our 2 weeks stay. Culture here was just so different from American so it was a little hard to get accustomed to.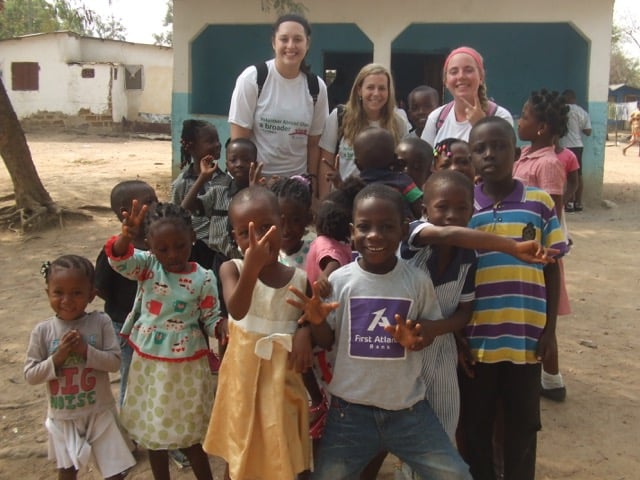 Any tips for future volunteers… (clothing, travel, personal items, donations)
Prepare to sweat a lot.
Workout shorts are accepted and a must need with the heat.
Meds + supplies will help out you + others and also bring a few books to entertain you on your dawn time.
Personal paragraph about the experience (ABV program testimonial):
My experience was amazing. I have been touched by every child here + even by adults. They have opened my eyes to what life can be like not in the best structural developed conditions but what happiness is truly like. After this trip I actually really understand the saying "money doesn't buy happiness".
How would you describe your accommodation, meals, security, friendliness quality, others?
Accommodation: I shared a room + bed with my best friend who came with me + Tracy who was here for a week had her own room + we all 3 shared a bathroom, worked out great
Meals:  I am a picky eater so the food was a big adjustment to me. I also brought a few snacks from home in case I was ever really hungry.
Security: I felt 100% safe in my house and at work.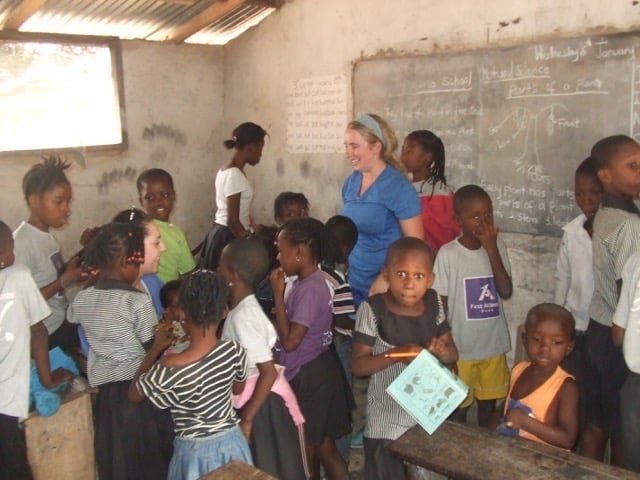 What was your favorite memory of the trip?
Program: bonding with 3rd, 4th and 5th grade who I taught English to + then a few younger kids. Playing football + UNO was a lot of fun as well. Being run up to & hugged everyday all day + hearing "Madam Becky" while they had a huge on their face.
Host family: Cecilia's chicken dinner with rice + salad I really liked her tomatoes. I loved playing uno with shadrack + his friend John after school, it got intense haha.  
Country: out trip to Cape Coast and seeing the castle and the gorgeous exhilarating canopy walk in the Kakum National Forest.  
How was the ABV USA support prior traveling?
I talked a lot with Sarah. She always responded immediately + tried her best.
8.1 What do you think about the reservation system online?
It was fine!
 
Who did you find abroaderview website and what keywords did you use?
 Safe organizations that volunteer in Ghana. Google
Are you willing to speak to other potential ABV volunteers?
100%