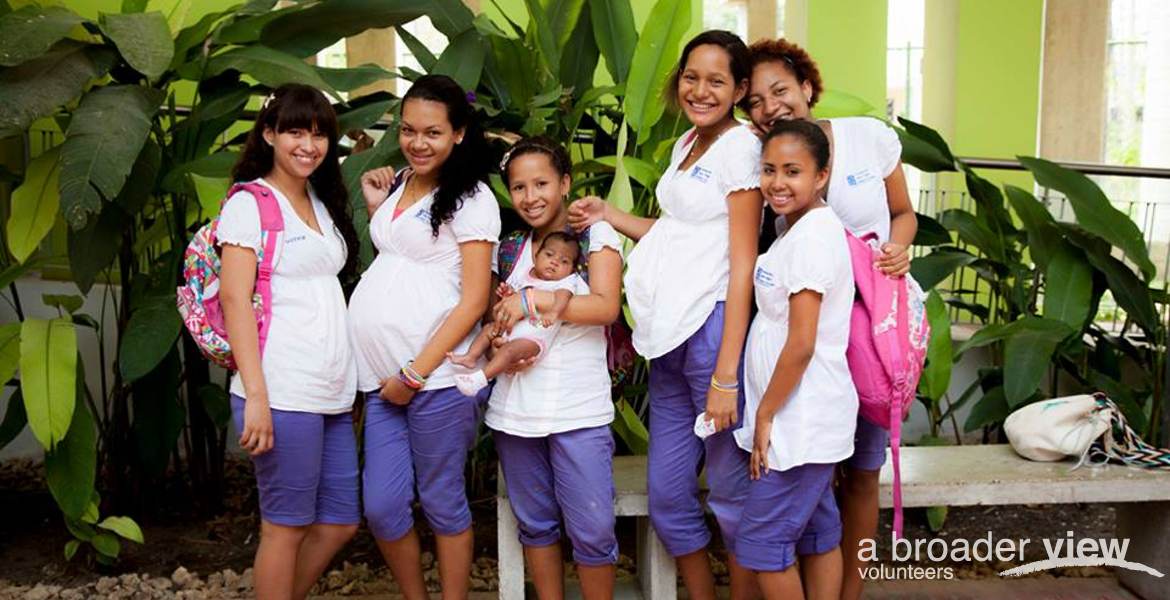 There is a large number of cases of teen pregnancy recorded in lower socio-cultural levels. Nevertheless, this is a problem that affects all the social levels in Cartagena and the rest of Colombia. For families with a good economic situation, an unexpected pregnancy doesn't change transcendentally their life; the child will continue to study, the babysitter will have some work to do and the parents will continue to work and support a family with baby on board. Unfortunately, this is not the fate of most pregnant teenagers in our country. Many of them have no other choice but to accept a possible family abuse, get married if they can or start to be exploited for cheap labour. Additionally, the psychological and social impact that the mom and the baby can suffer in such a difficult situation can be more than they can stand.
It is important to note that physically teenage mothers face more health risks than women who have their children after their twenties.
Bleeding, anaemia, hypertension, abortion and premature birth are some of the risks that haunt adolescent mothers. For the baby the picture is not better. The children of very young mothers are at greater risk of being premature. For them, the risk of dying within five years old increases in a 28% compared to children of women between 20 and 29 years.
Therefore, in Cartagena, an institution has been created with the idea of attacking child mortality in the Colombian Caribbean coast, which had the highest rates across the country. This foundation has done a successful job in the city of Cartagena, providing maternity rooms and building a social complex that daily receives hundreds of children and teen moms. The foundation serves over 28,000 patients a year, and also offers a Child Development Centre. This institution was ranked as the first social work in Colombia with an ecological building with the LEED certification.
We need volunteers that can work in the medical centre they have, nurses or volunteers with experience taking care of pregnant women and teen mother's monitoring (including helping them with the care of their babies).
Vacation time: June 12th – July 25th; Holy Week: March 29th – April 6th
Overview
Project length: From 2 weeks to 8 weeks
Work schedule: Monday - Friday / 8 hours
Arrival airport: Cartagena (CTG)
Accommodation: local host family
Meals: Breakfast, lunch and dinner
Airlines: Avianca, Jet Blue, Spirit, Copa, American, United
Vaccinations: Routine Vac, Hep-A and Typhoid wwwnc.cdc.gov
Program Schedule
Airport meet and greet in Cartagena.
City tour and orientation.
Monday to Friday volunteering. 35 - 40 hours per week.
Weekends free for sightseeing.
Typical work schedule can be 8:00am – 2:30pm with a break for lunch.
Local ABV coordinator support 24/7 during placement.
ABV Staff Airport Transfer
Not included:
Flights to Colombia. Visas and/or entry-exit fees. Vaccinations. Local Transportation. Travel & Health Insurance. Laundry and Internet.
South America / US$
Weeks
1
2
3
4
Colombia - Spanish Immersion
995
1290
1530
1790
Any extra week of "accommodation and meals" will be US$150/week after week 4 until week 12, more Spanish lessons can be paid locally to the coordinator.
South America / US$
Weeks
1
2
3
4
5
6
7
8
9
10
11
12
Colombia
895
995
1195
1195
1395
1395
1640
1640
-
-
-
-
The volunteer prices and the immersion prices are not combined, you choose from one or the other price.
A Broader View Volunteer (ABV)  allows every traveler to choose their own program start date. This means you can arrive on any flight, any day of the week. Since ABV program fees are 100% tax deductible* we encourage you to fund raise. ABV offers advice and assistance with flight planning, affordable travel insurance, as well as procuring a visa, if necessary. Our ABV staff is available to any your questions. Contact us by email, through the on-line chat feature on our website or call us toll free at 866-423-3258.
WHAT DO MY FEES PAY FOR?
Volunteer Registration Fee – ongoing support from ABV staff, program marketing costs, information pack, administration costs, ABV donation Fund, travel costs to inspect programs and communication costs with volunteers.
Volunteer Program Fee – ABV donation fund, airport pick-up, orientation, program supervision, accommodation and meals during volunteer program period, in-country 24/7 volunteer support and in-country administration costs. As a US Non-Profit Charity Organization all your fees are tax deductible and you can fundraise from our website to pay for the fees.