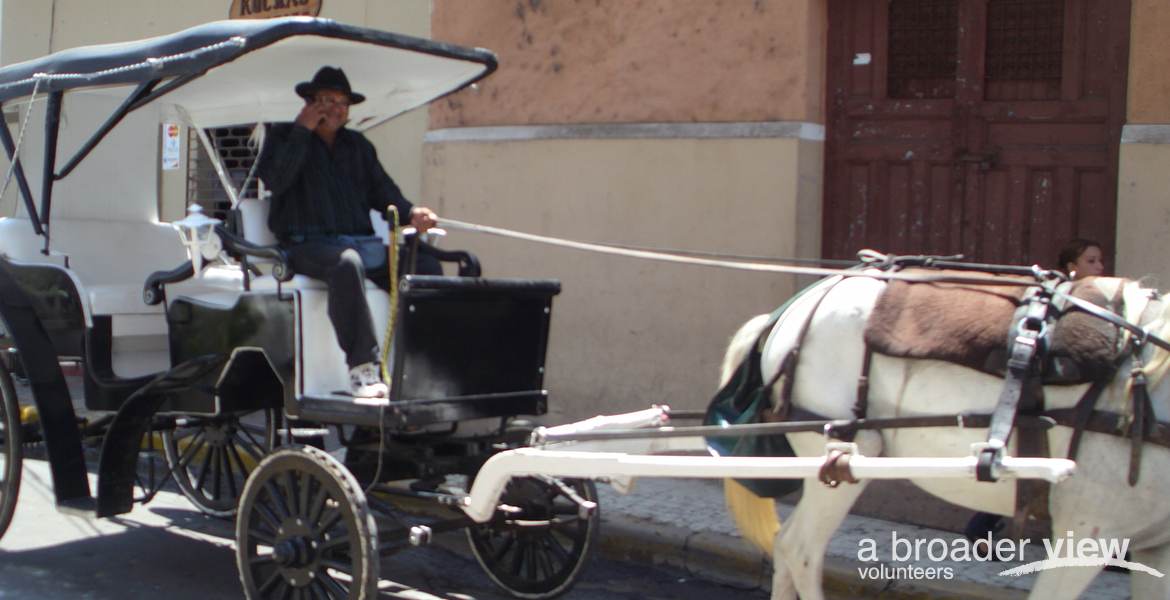 Granada sits on Lake Nicaragua, one of the largest and most scenic lakes in the world. Granada is still off the beaten path for the typical traveler, and as a result, the ancient city's enthralling local culture continues to shine through.
Granada is also known as La Gran Sultana, in reflection of its Moorish and Andalusian appearance, unlike its sister city of León and historical rival, which displays Castilian trends.
Most of Granada's streets are narrow, as the city evolved centuries before the advent of motorized vehicles. Therefore, today, many streets allow only one-way traffic, offering a challenge to visitors traveling by car.
Nicaragua is the second poorest country in Latin America next to Haiti. The average family lives on less than 10 US dollars a day, barely enough to put food on the table and a roof over their head. 16% of the population survives on less than 2 US dollars a day.
With such a prevalence of extreme poverty, one would think that Nicaragua is a dangerous place to visit. But that is not the case in Nicaragua. According to the United Nations and other monitoring organizations, Nicaragua is the safest country for travelers in all of Latin America.
Overview
Project Length: From 1 week to 8 weeks
Arrival Airport: Managua (Code: MGA)
Work Schedule: Monday to Friday 8 hours per day
Requirements: Proficiency in Spanish or Spanish Immersion Lessons
Age Limits: Minimum 18yrs or older for solo travelers.
Minimum Age: 12 to 17 yrs if traveling with parents.
Airlines: American, United, Delta, Spirit, Taca
Vaccinations: Routine Vac, Hep-A and Typhoid wwwnc.cdc.gov
Inclusions
Accommodation: Host Family
Meals: Breakfast, lunch and dinner daily
Arrival: Airport meet and Greet (Volunteer pays for taxi to Granada US$45)
Orientation: Project Overview On-Site
Support: Pre-trip written guide, In-country ABV staff available 24/7
Departure: Airport Transfer (Volunteer pays for taxi to Managua Airport US$45)
Not included:
Flights to Nicaragua. Taxi airport Managua-Granada-Managua. Entry Visa (US$35). Departure taxes, some airlines include this fee in the airfare. Vaccinations. Local Transportation. Travel & Health Insurance. Laundry and Internet.
Central America /US$
Weeks
1
2
3
4
Nicaragua - Spanish Immersion
995
1290
1530
1790
Any extra week of "accommodation and meals" will be US$150/week after week 4 until week 8, more Spanish lessons can be paid locally to the coordinator.
Central America / US$
Weeks
1
2
3
4
5
6
7
8
9
10
11
12
Nicaragua
895
995
1195
1195
1395
1395
1640
1640
1790
1940
2090
2240
The volunteer prices and the immersion prices are not combined, you choose from one or the other price.
A Broader View Volunteer (ABV)  allows every traveler to choose their own program start date. This means you can arrive on any flight, any day of the week. Since ABV program fees are 100% tax deductible* we encourage you to fund raise. ABV offers advice and assistance with flight planning, affordable travel insurance, as well as procuring a visa, if necessary. Our ABV staff is available to any your questions. Contact us by email, through the on-line chat feature on our website or call us toll free at 866-423-3258.
WHAT DO MY FEES PAY FOR?
Volunteer Registration Fee – ongoing support from ABV staff, program marketing costs, information pack, administration costs, ABV donation Fund, travel costs to inspect programs and communication costs with volunteers.
Volunteer Program Fee – ABV donation fund, airport pick-up, orientation, program supervision, accommodation and meals during volunteer program period, in-country 24/7 volunteer support and in-country administration costs. As a US Non-Profit Charity Organization all your fees are tax deductible and you can fundraise from our website to pay for the fees.