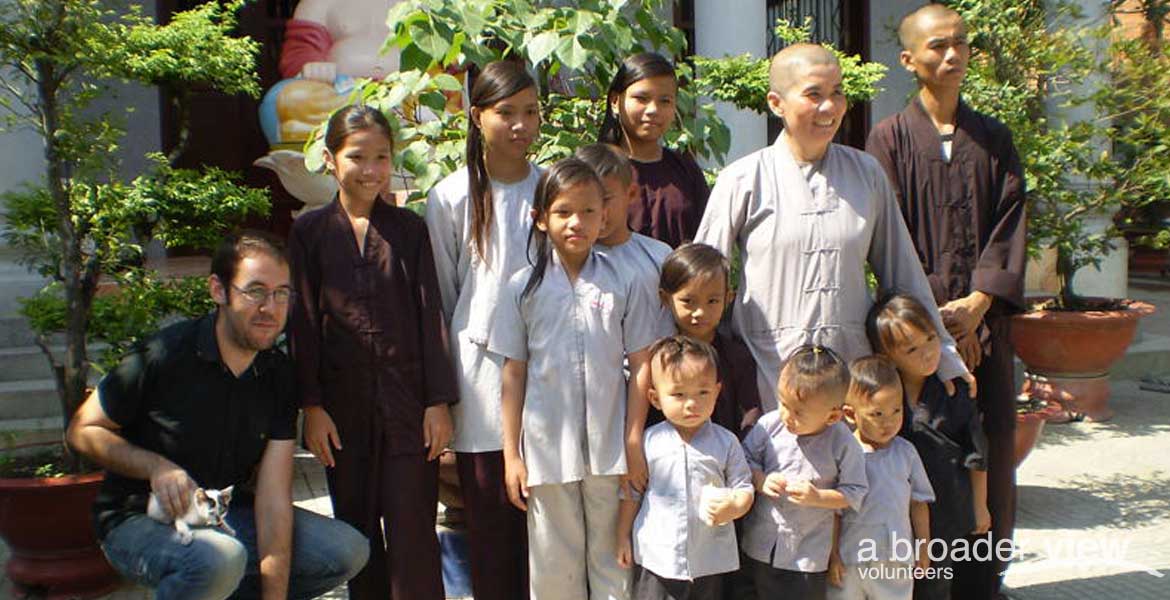 Ho Chi Minh City is Vietnam's largest city and major river port. It is also a jumping off point for many other cities in Vietnam and also throughout South East Asia. A lively and expanding city, and once the "Paris of Asia" known for the wide boulevards lined with trees and French villas, now offers a mix of tea-houses, night life, local palaces, street cafes and beautiful pagodas.
With this growing population comes growing social inequalities. There is real poverty in Vietnam, especially on the streets of Ho Chi Minh City, where many wary countryside villagers end up in search of a better life. Rural poor people generally have small plots of low-quality land or are landless, and opportunities for off-farm employment are scarce. As they came into the city looking for opportunities they end of living on the streets, begging to make a living and supporting their families. Poor households tend to include more dependants, especially children.
Our programs focus on orphan and abandoned children. Access to love, food and education can change the life of Vietnamese children. It allows them to break the vicious poverty cycle that they would otherwise be destined for. Through education they can gain invaluable skills that can further assist in the development of the community and themselves.
Ho Chi Minh can be visited year round, but expect heavy rain (May-November). Dry season is from December thru April.
Overview
Project length: From 2 week to 8 weeks
Arrival Airport: Ho Chi Minh (code: SGN)
Work Schedule: Monday to Friday 5-8 hours per day
Requirements: Tourist Visa
Age Limits: Minimum 18 yrs or older for solo travelers.
Minimum Age: 12 to 16 yrs if traveling with parents
Airlines: United, Korean Air, China Airlines, Delyta, Qatar, Air France, Qantas
Vaccinations: Typhoid and Hep A wwwnc.cdc.gov
Inclusions
Accommodation: Guest House or onsite dorm room
Meals: 2 Meals a day (stipend)
Arrival: Airport meet and greet by ABV Staff
Orientation: Project Overview and Orientation
Support: Pre-trip written guide, In-country ABV staff available 24/7
Departure: ABV Staff Escorted Airport Transfer
Not included:
Flights to Vietnam. Entry Visa. Departure taxes. Vaccinations. Local Transportation. Travel & Health Insurance. Laundry and Internet
Asia / US$
Weeks
1
2
3
4
5
6
7
8
9
10
11
12
Vietnam
-
1180
1380
1380
1580
1580
1780
1780
-
-
-
-
A Broader View Volunteer (ABV)  allows every traveler to choose their own program start date. This means you can arrive on any flight, any day of the week. Since ABV program fees are 100% tax deductible* we encourage you to fund raise. ABV offers advice and assistance with flight planning, affordable travel insurance, as well as procuring a visa, if necessary. Our ABV staff is available to any your questions. Contact us by email, through the on-line chat feature on our website or call us toll free at 866-423-3258.
WHAT DO MY FEES PAY FOR?
Volunteer Registration Fee – ongoing support from ABV staff, program marketing costs, information pack, administration costs, ABV donation Fund, travel costs to inspect programs and communication costs with volunteers.
Volunteer Program Fee – ABV donation fund, airport pick-up, orientation, program supervision, accommodation and meals during volunteer program period, in-country 24/7 volunteer support and in-country administration costs. As a US Non-Profit Charity Organization all your fees are tax deductible and you can fundraise from our website to pay for the fees.