Volunteer Review Claire Morris in Belize Orphanage Program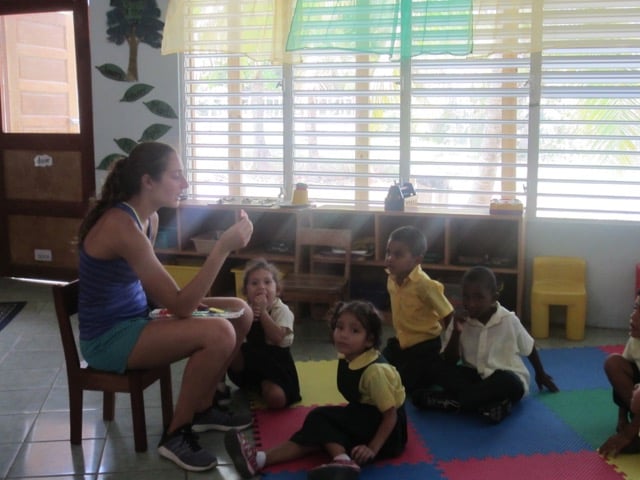 1.-How was the local ABV Coordinator and the support provided in-country?
Ms. Michelle and Mr. Wafi picked us up at the airport. They were super welcoming and showed us around not only not only at the program, but all around the area. Ms. Michelle also walks us around and told us where to eat, get water, etc


2- What was the most positive surprise you experienced?
At the program: The kids are so caring and very easy to get along with.
At the accommodation: Having a living room and kitchen.
About the country: The beauty of the country especially the water (ocean) and how well everyone is when walk by.

3- What was most difficult/cultural shock to experience?
At the program: When they speak Creole.
At the accommodation: No air conditioning.
The country: Not being able to walk around at night.

4- Any tips for future volunteers, give as many details as possible…
Clothing: Don't over pack because you can always do laundry.
Donations: Things for them to play outside because they spend a lot of time outside, also shoes, clothes, etc
Weather: Hot!! Bring sunscreen and bug spray.

4.1-Other things volunteers should know, about what to bring, what to do in country, what to eat, transportation, other:
a.- Bring easy snacks and a water bottle.
b.- Travel because there is so much to see in Belize.
c.- Benny's-Chinese super close by.
d.- Pack light because you can buy everything here.

5- Personal Paragraph (ABV Program Testimonial), don't leave blank:
This was one of my favorite trips!! I already enjoyed not only the kids, but the staff and people around the program. I am definitely going to come back and visit and I highly suggest this trip to anyone thinking about coming.

6- How would you describe your accommodation, meals and security in detail:
Everything was great! Pretty much what I expected, but even bigger. The place is super secure and I always felt safe.

7- What was your favorite memory of this trip?
Program: Seeing kids get adopted….the kids coming home from school and playing with them
Country: Traveling to San Pedro
Tours: San Pedro

8.- How was the ABV USA support prior traveling?
Communication (Phone/emails/Online chat): Very helpful, always answered all my question. I hold and kept me updated with everything.
Website Information:Accurate and very helpful

9 – Are you willing to speak to other potential ABV volunteers?
YES! Anytime!!

10 – Can you be specific how did you find or know about A Broader View? 
Other students at my school used ABV to travel and gave great feedback.