Review Volunteer Thomas Stockton in Belize Orphanage Program
1.-How was the local ABV Coordinator and the support provided in-country
ABV coordinator was great! From pickup to drop off. So very helpful and friendly. Any time I had questions or concern they were answered in no time.
2- What was the most positive surprise you experienced?
At the program: The overall attitude of the kids was so positive. It was amazing to be greeted with open arms and open minds.
At the accommodation: Everyone I met was so very friendly and made me feel welcome. At no time did I feel like an outsider.
About the country: The locals are very friendly.
3- What was most difficult/culturalshock to experience?
At the program: I got to the orphanage right after hurricane Earl so seeing the initial damage was hard to deal with.
At the accommodation: At times the running water was out and initially after hurricane Earl power/electricity was out.
The country: The stray dogs!
4- Any tips for future volunteers, give as many details as possible…
Clothing: Dress for hot and humid weather. After physically demanding work you will be very sweaty! Extra clothes will be helpful so as to not do laundry daily.
Donations: Toiletries, games, arts and crafts, something from your home town (state, country, etc)
Weather: Hot and humid. Bring sunscreen and bug spray.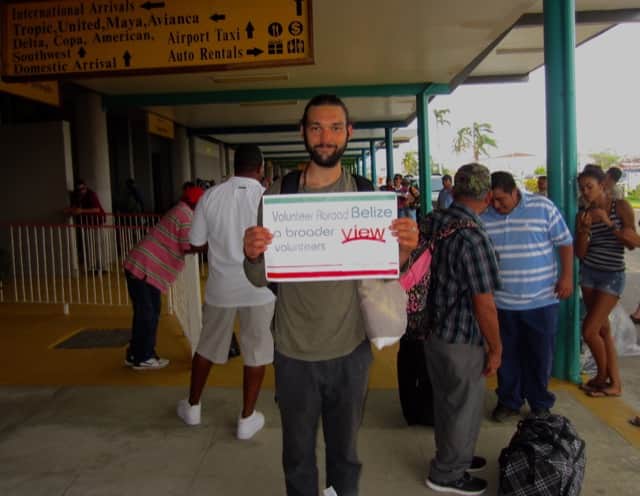 4.1-Other things volunteers should know, about what to bring, what to do in country, what to eat, transportation, other:
a.- Bring an open mind. Jump in where you can. Help is always needed somewhere and it is appreciated by all, don't be standing around or hands in pocket, jump in.
b.- The Maya (Lamanai) ruins were so interesting. I suggest checking.
c.- There is a little market (Sky) with essentials (food, toiletries) very close to the grounds. Also water! Mr. Choc's down the street.
d.- Bring sunscreen and bug spray- although the bugs often times ignored the bug spray all together.
5- Personal Paragraph (ABV Program Testimonial:
My time at the orphnage was so wonderful and eye opening. The kids and caregivers alike were so friendly and loving. Everyone seemed to work together and care for one another and made me feel right at home. I will definitely be coming back in the future. In my time spent in Belize I learned so much about the kids, caregivers and myself. I would highly recommend spending time here!! Thanks to everyone involved.
6- How would you describe your accommodation, meals and security in detail:
The accommodation was very comfortable I felt safe at all times. The meals were simple, lots of tortilla but I am a vegetarian. And the kitchen was nice about making me a separate meat-free plate.
7- What was your favorite memory of this trip?
Program: Spending time with the kids playing football and basketball.
Country: Lamanai ruins!
8.- How was the ABV USA support prior traveling?
Communication (Phone/emails/Online chat):
I didn't use it much but there was always someone available. Emails were fast and efficient.
Website Information: The website was easy to navigate and gave me more than I could have asked for.
9 – Are you willing to speak to other potential ABV volunteers?
YES!!