Review Volunteer Laura Kasa in La Serena Chile Orphanage program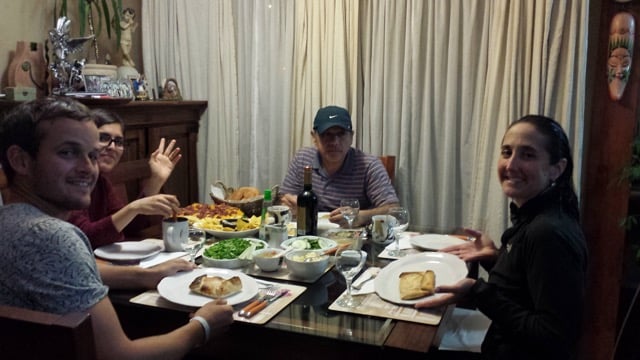 1. How was the local ABV coordinator/staff and the support provided in country?
Excellent and way above expectations. The coordinator was very flexible with my changing arrival date. From the minute I arrived she was there to pick me up at the bus station, provided a comfortable home, gave me time to rest on my first day and eat a great meal before meeting my teacher for a tour to help me get to know the city. She then took me to work the first day to show me the route on the bus and introduce me to the orphanage and staff. She even came back in the afternoon and picked me up on the bus so I wouldn't get lost. She took care of me like her own daughter especially with the excellent vegetarian meals she made for me. She helped me make my travel arrangements beyond La Serena and lent me camping gear and gave me advice and maps for visiting the nearby Elqui Valley.
2.  What was the most surprising thing you experienced?
How well cared for the children were at the orphanage.  There were so many kind, caring people working there.  Often it was just one staff person for 7-11 children and it was hard to understand how they could possibly handle that.  Well it wasn't easy, it is hard work, but they do a great job of creating the best environment they can for the children by keeping it a clean and happy place.
3.  What was the most challenging thing you experienced?
On my second to last day I got a call from my cousin that my dad was diagnosed with cancer and I had to get back to NY right away. Teresa at the orphanage was with me when I got the news and was very supportive and helped me make arrangements to leave early and get a taxi back to the house. Vilma looked up flights for me and took me to the airport a few hours later and helped me cancel my other travel arrangements.  It was very hard emotionally for me but everyone in the program was there to support me.
4.  Any tips for future volunteers?
- bring layers of clothing as it is cool in the morning and evenings but hot during the day. Bring a couple pair of long pants

- very easy to arrive by bus from San Pedro de Atacama

- visit Elqui Valley on the weekend with a rental car if possible

- bring a gift from home to give the host family which would be more meaningful than buying a thank you gift once you are there.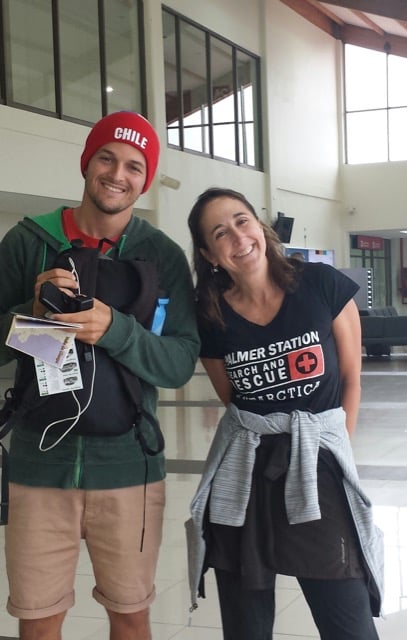 5.  Other things volunteers should know before coming here:
- there are many Chilean words that might not be known by the average Spanish language learners. Have patience and ask for translations.  Then try to practice using them a lot to fit in.
- the adapter plug I had did not work in this part of Chile but worked in Patagonia. Check to make sure you have the right one with the thinner round plugs than the Northern European adapter, by a "universal" adaptor at Walmart.
- it's very easy to integrate into the lifestyle- very comfortable and not a drastic change when coming from the US.
- make time for going to the beach. La Serena is a great location between the mountains and ocean. You can climb the nearby Cerro and bike around.
- the Japanese garden and archeological museum downtown are great.
- taking the local buses was a cool experience. Very easy and cheap and good way to see local culture.
-2 weeks went by too fast. I'd recommend longer time.
6.  Personal paragraph about the experience:
During my trip to South America, this was the first time I ever tried a volunteer program. I didn't really have expectations but it was more rewarding, enjoyable, and eye-opening than I could have ever imagined. It is a wonderful experience to live with a host family when they are great people like Vilma and her family. You really get to understand the culture, language, and food.  And at the orphanage I felt like I really helped and was appreciated.   The daily Spanish classes were just what I needed to give me strong confidence to speak Spanish the whole time I was there. I feel so grateful to have had this experience with ABV and I would definitely return as it truly did give me A Broader View of the world.  I've traveled the world in the past year and this was my last stop. I couldn't have asked for a better experience to end this extraordinary year of mine.
7.  Describe accommodation,  meals, security, friendliness, quality, etc:
Lovely setup in the home so that volunteers had their own separate space and were not right on top of the family's personal space. Lovely outdoor area excellent for drying clothes. Bedroom and bathroom had everything I needed and very modern. The house was totally secure. I felt safe walking to and from the house.  Meals were catered to my vegetarian diet and we're DELICIOUS. I'd like to come back and learn how to make some of those recipes. The family was super friendly and they felt like my family away from home.  We had great discussions during our meals about our respective culture, politics, etc.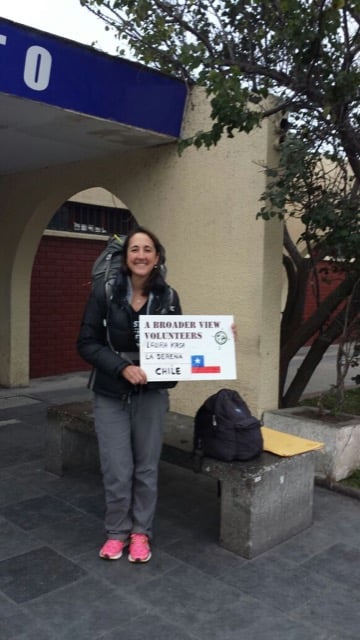 8.  Favorite memory:

After a lovely weekend in the Elqui Valley on my birthday, I returned to the house for dinner that night for a surprise birthday dinner with a homemade cake and delicious local wine. Vilma had found out it was my birthday earlier that day when she saw it on Facebook.  It was so nice to feel like I was with family on my birthday when I was so far from mine in the US.
9.  How was ABV support prior to traveling?
Absolutely incredible.   I had looked into several other organizations and this was by far the most professional and responsive. Sarah helped me with immediate responses to my emails even on weekends. I got a receipt as soon as my payment was received. The structured application and processes gave me the confidence that this was going to be a well organized program.
9.1. How did you find ABV?
Search engine for volunteer/Spanish class programs in Chile.
10.  Are you willing to speak to potential volunteers?
Absolutely!   I would love to help others get connected to this program and have this excellent experience.  Please let me know how I can help.
- I can't emphasize enough what a kind and compassionate person Vilma is. She is able and willing to anticipate and respond to whatever need a volunteer may have. The day I received the news about my father's diagnosis and had to leave right away, I only had a couple of hours to organize everything to get a flight home that night. I don't know how I could have done it without Vilma ' s help. I was emotionally having a hard time concentrating so it was really helpful to have her clear mind for figuring it all out.
THANK YOU AND GRACIAS!!!


Check more Volunteer Reviews here