Volunteer Name: Emily Yao
Project Location: Xela, Guatemala
Volunteered at: Health clinic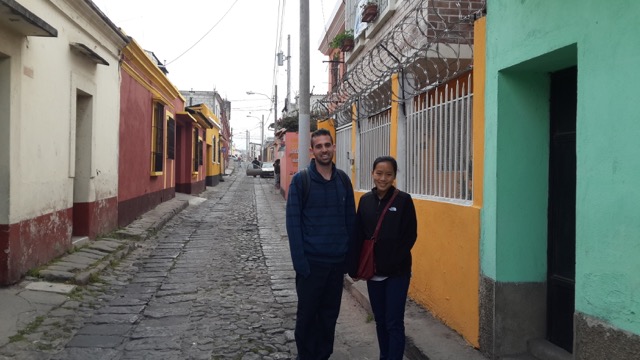 1- How was the local ABV Coordinator and the support provided in-country?
The local ABV coordinators made sure my volunteer experience ran smoothly. On the first day, they showed me how to get to the clinic from my house and introduced me to the workers. They also gave me the option to rent a phone so I could call them whenever I needed anything. Even though they weren´t with me 24/7, the coordinators were always on duty to ensure that everything was okay.
2- What was the most surprising thing you experienced?
I was surprised that I was allowed to perform many medical techniques in the clinic, such as giving oral vaccinations to babies (supervised by the local staff). I was also surprised by the amount of people who showed up at the clinic each day. The line always went out of the door and wrapped around the clinic building.
3- What was most difficult to experience?
The most difficult experience was getting used to the bombas (fireworks) that were constantly set off during the night and even during the day during the holiday/New Year.  I thought it was awesome that people were allowed to set them off in the streets because we are prohibited from doing it in my hometown. However, I will admit I have a slight fear of sudden loud sounds, so some nights I was scared to walk home.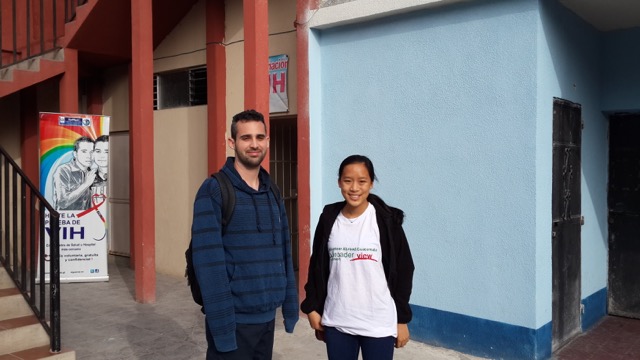 4- Any tips for future volunteers… (clothing, travel, personal items, donations)
The nights in Xela are extremely cold, but during the day, it can feel like a typical summer day in the United States. Make sure to bring clothing for both types of weather conditions. Also pack a laundry bag for your dirty clothes so you can easily get them washed at the local lavanderia. The health clinic is always accepting donations, and even simple items like gloves are greatly appreciated by the workers.
5.1-Other things volunteers should know:
a. Go explore Xela in your free time. The street markets have cool souvenirs that are usually handmade. Try to go on tours with other volunteers to places like Fuentes Georginas (hot springs)
b. The public transportation system can be difficult to learn at first. For me, it was easier to walk everywhere.
c. Don´t be afraid to practice speaking Spanish with the people of Xela. They are all very nice and want to help you improve.
d. Be open minded.
6- Personal Paragraph (ABV Program Testimonial):
Volunteering at a health clinic in Xela for the past two weeks has been a revitalizing experience. During the past semester in college, I went through some emotional troubles that left my life in jeopardy. Thankfully, this trip helped me get my life back on track. It inspired, within me, motivation to continue pursuing a career in the health field and self confidence that I saw disappearing in the past few years. During my time here in Xela, I had the opportunity to give vaccinations to babies, learn and practice Spanish, visit Fuentes Georginas, hike up a hill to see all of Xela, celebrate Christmas and New Year´s with my family, and many other things. I am extremely grateful for the time I spent volunteering in Xela, and I hpe I can come back soon to work in the clinic again.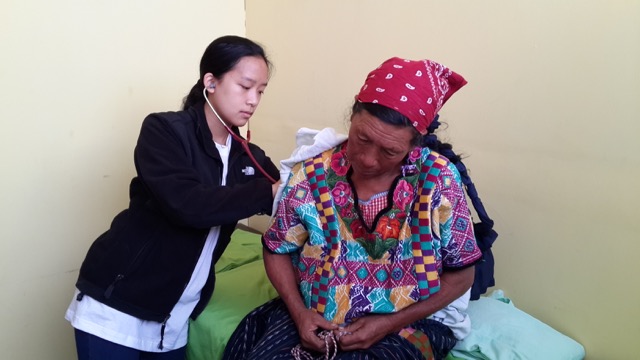 7- How would you describe your accommodation, meals, security (e: host family, on-site, shared)
My host family was very welcoming. I really enjoyed eating their home-cooked meals. I had the chance to celebrate Christmas and New Year´s with my host family, and I had a lot of fun spending time with everyone. Tamales are a traditional food served during the holidays and I loved eating them! My host family made sure I was safe, but they also gave me a lot of freedom to explore Xela.
8- What was your favorite memory of this trip?
My main task at the health clinic was to give oral vaccinations to babies, and a lot of them cried afterwards because of the bitter taste. However, there was one baby boy who actually smiled after I gave him his vaccinations, and he also gave me a kiss on the cheek afterwards. It was the cutest gesture!
9- How was the ABV USA support prior traveling?
ABV in the USA prepared me well for the trip. They sent me a program summary that outlined my daily schedule and explained how I would get to Xela from Guatemala City. The staff members answered my questions promptly and made sure I went over all of the important information.
10 – Are you willing to speak to other potential ABV volunteers?
Yes!

Check more Volunteer Reviews here