Volunteer Name: Frank Migliarese, Jr. 
Project
Location: Xela, Guatemala

Volunteered at: Local Clinic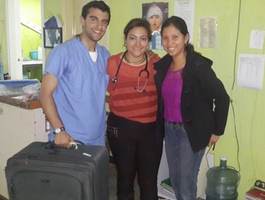 1- How was the local ABV Coordinator and the support provided in-country?

The coordinator was phenomenal. She was always available, and very accommodating. She gave me great tips and suggestions for how to best enjoy Xela and my time at the clinic. She was also very helpful in finding a place for my donations and delivering them. She was also easy to approach which made communicating very easy.

2- What was the most surprising thing you experienced?

The most surprising thing was the number of patients we would see in a day. For the most part, we were always busy. Everyone was super appreciative of my help and the help of the nurses. One man came in with chest pain, and I was so happy that I was able to do a primary exam completely in Spanish and able to communicate my findings to the doctor who verified what I found.

3- What was most difficult to experience?

The most difficult was learning how to best communicate with the patients, because medical terms were not a part of my previous Spanish curriculum. To say the least, I learned a lot of new words. Another difficult thing was that since I am an EMT by trade, I am more trained in emergency medical care. In the clinic, I was working with children and pregnant mothers and was not sure how to do a lot of things. The nurses were great and taught me a lot. I learned a lot of new skills.

4- Any tips for future volunteers… (clothing, travel, personal items, donations)

Definitely bring sun tan lotion, rain jacket, sweaters / light jacket, and good walking shoes. I would recommend traveling to Tajumulco if you like hiking. It´s the highest peak in Central America. Bring your own or buy your own toilet paper. It is useful as tissue and for the bathroom .Bring cough drops for your throat and other medications for colds, flu and traveller´s diarrhea.
* Most importantly for donations, clinics need a lot of cotton balls, isopropyl alcohol, some would appreciate extra scrubs, gauze, alcohol pads, all kinds of antibiotics and medication, folic acid and money.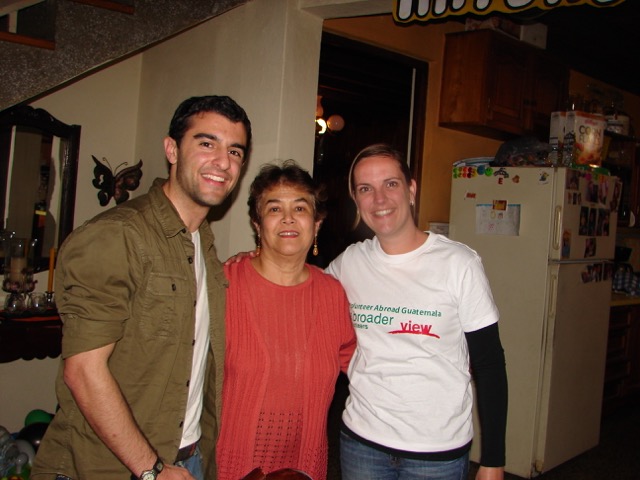 5.1-Other things volunteers should know:

a. Be outgoing / take advantage of what is available

b. Be flexible

c. Make a good attempt to speak Spanish. They will help you and they appreciate it.

d. Don´t be scared to go places alone.
6- Personal Paragraph (ABV Program Testimonial):
I could not have asked for a better placement and program. I have learned so much about healthcare and the culture of Guatemala. I only wish I had more time here to get to know it even better. It was an amazing experience and so glad I could help so many. I know my donations will go to good use. More than anything, I will never forget all the people whom I had the pleasure of working and living with. They are extraordinary people. I will be returning soon to Xela and working with ABV again.

7- How would you describe your accommodation, meals, security (e: host family, on-site, shared)

I felt right at home. I helped set the table and clean/dry the dishes, and I spent time hanging out with the family. They allowed me to be a part of my family. The food was amazing, and I exchanged recipes with my host family. I always felt safe and comfortable. I could not have asked for a better placement.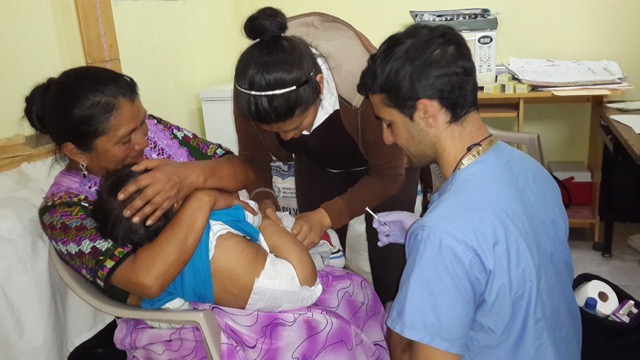 8- What was your favorite memory of this trip?

Other than climbing Tajumulco, my favorite memory would be the conversations I had with my host family. We told a lot of jokes, and I learned a lot about their lives. I taught the kids card tricks, and 3 different card games. They were a lot of fun to play with. Meals were amazing, and the conversations made them even better. It was also a lot of fun watching UEFA Champions League soccer games with them, especially when I´m a Real Madrid fan and everyone else liked Barcelona FC.

9- How was the ABV USA support prior traveling?

It was great. Because I planned this last minute, I had a lot of questions, but ABV was always able to answer promptly. They were very helpful in completing the application process. They provided all the answers I needed. The only thing that would have been nice was a more accurate list of what the clinic needed as well as what is allowed through Guatemalan customs.
ABV: the list changes from week to week, we recommend volunteers to ask the local coordinator prior traveling, all volunteers get the contact information, we just give a general list of things they need on a daily basis.
10 – Are you willing to speak to other potential ABV volunteers?

Yes I am.


Check more Volunteer Reviews here