Volunteer Name: Mary Beth Holbrook
Project Location: Xela, Guatemala
Volunteered at:  at the daycare and at the orphanage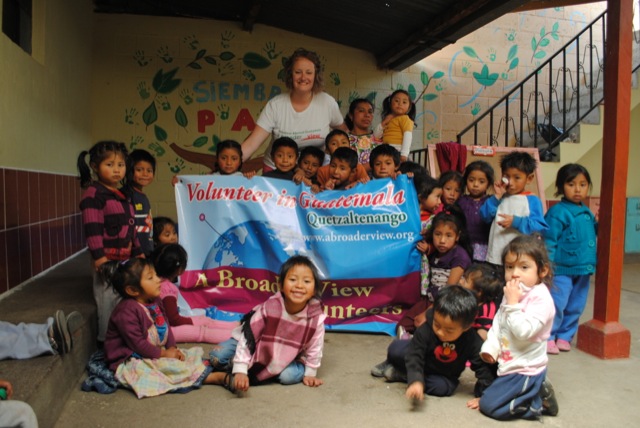 1- How was the local ABV Coordinator and the support provided in-country?
Before the trip even began, I felt supported by my country coordinator, through emails and knew I would have the safety of her assistance waiting for me when I arrived in Xela.  Throughout my time here, Petra has answered every question promptly, and always made time to meet with me, take me to the doctor, address any problems that arose, and assist me in my projects when needed.  She made time to bring the volunteers together so we could meet one another and was excellent to work with.
2- What was the most surprising thing you experienced?
The most surprising thing I experienced was how open the projects were to the assistance of the volunteers.  I was welcomed immediately and put to task with several jobs and every day was different depending on the need of the project.  I have rarely encountered persons so trustworthy and genuine as those with whom I worked at the project, and was suprised at how open and receptive they were to my assistance and presence in their workplace.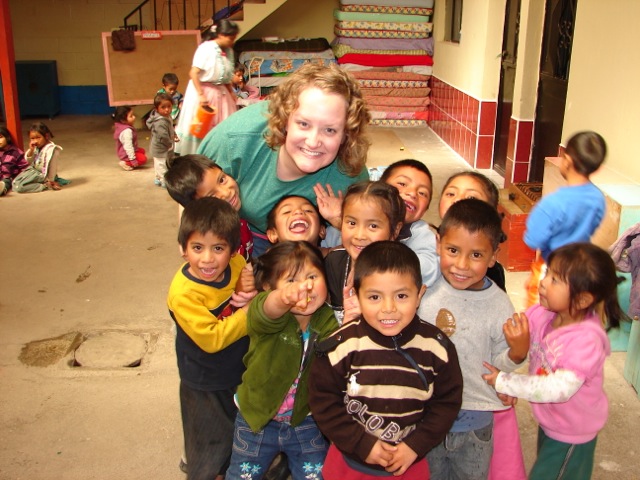 Volunteer in Guatemala Child Care Program
3- What was most difficult to experience?
The most difficult thing to experience was processing the emotions of the stories, and daily battles I encountered at my projects and even sometimes speaking with someone in public.  It is one thing to hear these stories or see these peoples' emotional strife, but the difficulty was overcoming the sensation that I do not have the power to "fix" any of these issues.  My greatest strength, I finally learned, was simply to listen and lend kind words of support when I could.
4- Any tips for future volunteers… (clothing, travel, personal items, donations)
Don't overpack!  You'll find you need less clothes than you think you do (a weeks worth is fine).  Bringing your own toiletries is quite helpful and once you've used them, it leaves you spare room in your suitcase to take home any gifts or souvenirs you might have gathered.  Try to ask friends and family for funds that you can bring with you to your project.  You may have a vision of what your project needs, but asking them face-to-face, or through ABV is much more efficient for your project and will more helpfully distribute your funds!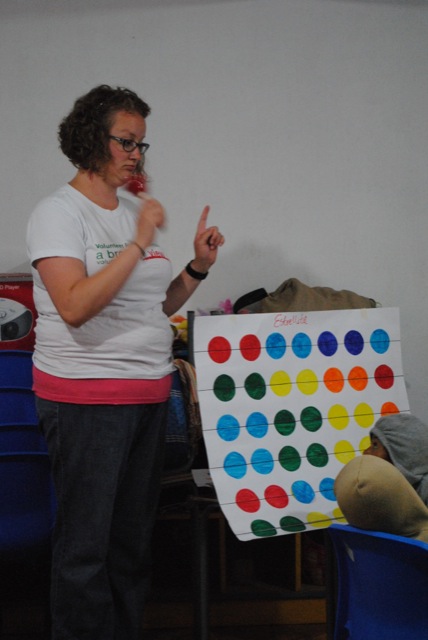 5.1-Other things volunteers should know:
a.  Always learn a native greeting before going to a foreign country.  The power of cultural respect is unlimited and will be a great start at any project.
b.  If you are in a host family, abide by their rules, thank them daily, ask them how they are doing, and never forget that you are in a different cultural home setting than your own and you MUST respect their traditions.
c. Don't be afraid to speak to your country coordinators…about anything.  Yes, they have busy lives, but usually have answers to your questions and can be extremely helpful in any circumstance.
d. BE FLEXIBLE.
e. Never miss out on an opportunity to take in a cultural experience, whether it is a procession, a market day, a ceremony, or simply people watching.  The impact on you will open your eyes to a world you have never imagined.
6- Personal Paragraph (ABV Program Testimonial):
I have traveled many times throughout the world, but never quite in the manner as organized by ABV.  I was quickly made to feel a part of the community surrounding me, and I was introduced to other volunteers and to my program, making me very much feel at home.  Then without realizing it, Xela became my home, those with whom I worked and lived became my family, and my project was the highlight of every day. Working with children, and then adolescents at my projects, I had the fortune of gaining insight into the pain and yet the universal joy that exists within young minds.  This joy allowed me to be energized when around the young persons even when my health began to fail towards the end of my 3 months.
ABV has a great way of not directing you, but working with you to accomplish tasks at projects.  Never did I feel alone or without support from the ABV team as I dove into work at the projects, or interacted with the cultural community of Guatemala.I have been changed for the better because my mind flourished, and heart expanded, and my worldview broadened.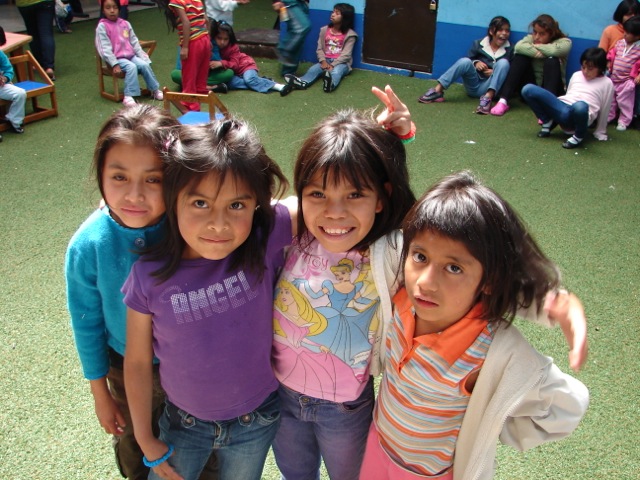 7- How would you describe your accommodation, meals, security (e: host family, on-site, shared)
Living with my wonderful host family quickly became very comfortable, and routine.  I recognized my host mother's rules and traditions and respected her customs, and I became friends with her family.  My room had two beds, was quite comfortable and roomy, with enough space for all of my things.  I had a drawer with a key that I kept with me that my host mother gave me for locking up valuables, passport, etc.  Every meal was delicious, although I am not too picky, I always felt safe in my home, and when I had two-weeks of two other ABV volunteer roommates, I greatly enjoyed their company.
8- What was your favorite memory of this trip?
My favorite memory is my time spent at my project that was like a daycare in a Mayan community.  Whether it was playing with the children, teaching a class, or learning Mayan traditions in the kitchen, I felt truly a part of a project so culturally different from my own, yet so filled with the love and care for the children at the project.  At the end of every day was a "good" kind of tired, filled with hope for the next day with those beautiful children and strong Mayan women.
9- How was the ABV USA support prior traveling?
Prior to traveling, ABV support was great.  My account on the website kept me up to date with my progress in my application process, and then my placement process.  I always knew who to email with any questions and felt regularly updated on travel arrangements and plans.  I also felt that the website offered me ample information to allow me to make an informed decision that ABV was the right organization for me.
10 – Are you willing to speak to other potential ABV volunteers?
Yes!