Volunteer Name: Carl Werner

Project Location: Xela, Guatemala

Volunteered at: Child Care/teaching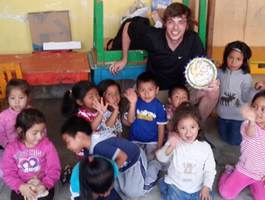 1- How was the local ABV Coordinator and the support provided in-country?

The logistics ran fairly well. We had some snafus, but mostly it went fine. The coordinator was available when we called, and flexible as well as helpful. Our host family/person was a good cook and spoke slowly for me to understand.

2- What was the most surprising thing you experienced?

Probably the lack of ability to flush toilet paper, among local toilets, or the lack of water pressure in general. I was also surprised by how scenic Xela is. I expected poverty and all that, but not natural beauty everywhere. Also, the best orange juice I have ever had.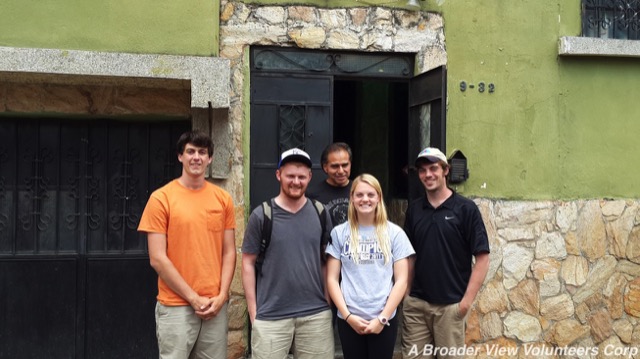 Volunteer in Guatemala Teaching Program
3- What was most difficult to experience?

The lack of water pressure / the inability to stay clean. The lack of space on busses. But most of all, I felt generally infantilized by the program. The "rule" against drinking was as hilarious and offensive as it was unenforceable. I generally felt that the program was designed to keep me busy and exhausted, which isn´t a bad thing, but I would have liked to see Xela and do something besides work and Spanish lessons. Perhaps if I had more than 1 weekend here I´d feel differently, but I need it to visit Panajachel, and I never got to experience Xela.
ABV: we don't allow drinking or drugs in our programs, we don't enforce it until the host family and coordinator checks on you, we will ask any volunteer to leave the program if they don't comply with the rules and contracts, also volunteers can always talk with the teacher or coordinator to accommodate the hours or do less lessons, no one is forced to take all the hours.

4- Any tips for future volunteers… (clothing, travel, personal items, donations)

Bring an umbrella. Literally all supplies are needed at the school: toothbrushes, pens, glue, trash bags, pencils. 


5.1-Other things volunteers should know:

a. Don´t eat uncooked vegetables.

b. Guisquil is a local vegetable, delicious when cooked. 

c. If volunteering at the school, don´t expect the kids to behave.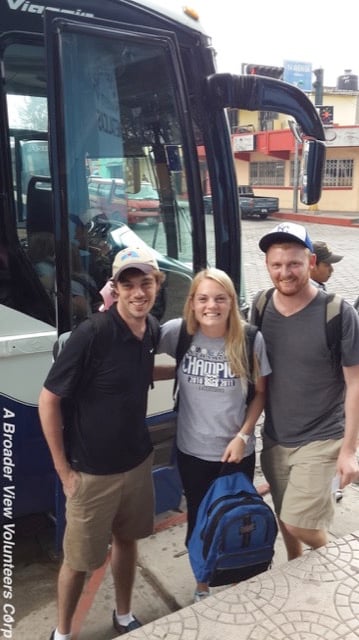 6- Personal Paragraph (ABV Program Testimonial):

I was far too busy. For a solid week, I didn´t have time to catch my breath. I would wake up, "shower", eat breakfast, "work" for 4 hours, eat lunch, "learn Spanish" for 4 hours, eat dinner, and then it was time for bed. It was a fun time overall.

7- How would you describe your accommodation, meals, security (e: host family, on-site, shared)

Host family/person. It was fine. I felt safe at all times. I wish that we were not expected to eat such precise portions. I felt like I would be made to eat more or less than I was apportioned. In general, I wish I had eaten fewer meals at home. Everything was delicious, but I feel like I mostly only ate one guy´s cooking while I was there, and I wanted a variety of experiences. I would have eaten out more, but it was hard to find the time.

8- What was your favorite memory of this trip?

We took a weekend trip to San Pedro at Lago Atitlan. The scenery was amazing, the fish delicious, and the locals friendly. I would recommend it to anyone.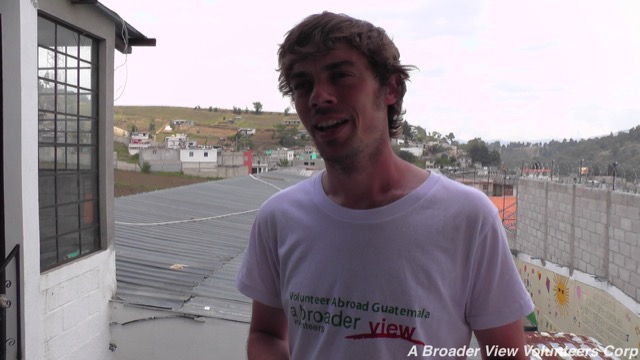 9- How was the ABV USA support prior traveling?

I don´t really know. My sister took care of all that.
10 – Are you willing to speak to other potential ABV volunteers?

Yes.