Volunteering in Chile, La Serena is Chile's second-oldest town and maintains its Spanish neo-colonial style seen throughout the neighborhoods and downtown. The city is dotted with beautiful green gardens, 30 churches, a romantic avenue of replica classical Italian statues and elegant colonial buildings. La Serena is a located about 250 miles north of the Chilean capital of Santiago (an hour flight or 6 hour overnight bus journey)
From here you can reach the Elqui Valley, famous for producing "Pisco", (the traditional drink of choice in the Andes), and for being one of the world's major astronomical centers due to its clear skies (Tololo, Campanas and Silla Observatories)
Overview
Project length: From 1 week to 8 weeks
Arrival airport: La Serena (LSC)
Work schedule: Monday to Friday 7 to 8 hours per day
Requirements: intermediate/basic Spanish or Spanish Immersion Lessons while in country and Police Check/Clearance report
Age limits: Minimum 17yrs or older for solo travelers.
Minimum Age: 12 to 16 yrs if traveling with parents.
Airlines: Lan Chile, American, United, Delta, Iberia, Avianca
Vaccinations: Routine Vac, Hep-A and Typhoid wwwnc.cdc.gov
Volunteering Projects in Chile La Serena
Country Info
Chile Introduction
Are you ready to help people in need, immerse yourself in the sights, sounds and culture of a new country and have the experience of a lifetime? With poverty, disease and a lack of skilled providers putting a strain on important services such as health and childcare in developing countries across the globe, there are many corners of the world which rely on the help of volunteer travelers like yourself.
Volunteer in Chile with A Broader View Volunteers a top rated non-profit charity organization, which works tirelessly to support our wonderful volunteers and serve the local communities where our volunteer programs are located. Placements in Chile are based in the Colonial city of La Serena. Program placements are tailored to the volunteer's different interests and skill sets, but still, allow volunteers time to explore the Andean local culture and activities during their free time.
The type of programs in Chile varies widely, offering everything from education to health care. Volunteers can choose between seven options in La Serena. International volunteer help is not only appreciated by the local community, but it is also severely needed by the millions of Chileans living below the poverty line. With thousands of children living and working on the streets, as is so often the case in developing countries like Chile, our volunteer programs are designed to support the needs of local teens and children in desperate need of assistance.
Many of our volunteers abroad programs cater to underprivileged women and children's care, education, and health requirements. Our extensive range of social programs in La Serena, Chile includes: medical, premed/pre nurse internships, teaching in primary and secondary schools and volunteering in orphanages and daycare centers. To help you settle into your placement, we also provide the opportunity to combine all of our programs with Spanish Immersion Lessons during your time in Chile.
Volunteering in Chile is an incredibly rewarding experience. We welcome volunteers of all ages and from all backgrounds to join us. Whether you're seeking volunteer abroad programs for college students or voluntary work for over 60s, as a trusted non-profit organization which prioritizes the safety of our volunteers, we are the go-to for volunteers across the globe. We also offer customized programs with flexible arrival dates to best suit the needs of the remarkable volunteers we depend on to help us make the world a better place.
If you'd like to volunteer, Chile is just one of the countries we've taken under our wing, supplying a steady flow of volunteers and providing year-round financial support to local projects in La Serena. Wherever you decide to volunteer, A Broader View gives you the opportunity to participate in meaningful community service work, learn a foreign language, make lifelong friends and discover that one person really can make a difference. Your search for the best volunteer abroad programs ends here – volunteer in Chile with us and gain A Broader View of the world.

Coordinator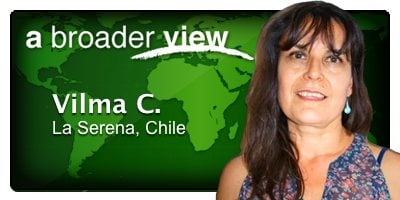 Welcome to Chile (Bienvenido (a) a Chile). My name is Vilma and I am your ABV coordinator while you are staying in Chile. Our country has one big city, Santiago and 15 regions. But you will be working in La Serena which is a place of 400.000 inhabitants out of over 18 million population. I will be ready for support 24/7 in case you need to contact me urgently. I will introduce you to your volunteer location and staff.
You are most welcome to seek my assistance and don't hesitate to ask me questions while in the country.
Weather
La Serena has a cool desert climate. Summers and winters are very dry. Rain falls only a few times a year in heavy downpours. Although the temperature during the day is very hot, it can drop strongly during the night and sometimes below freezing.
What's the best time to go to La Serena in Chile? Here are some annual weather facts we collected from our historical climate data:

During the months of January, February, March, and December you are most likely to experience good weather with pleasant average temperatures.
La Serena has dry periods in January, February, March, April, May, August, September, October, November, and December.
On average, the warmest month is January.
On average, the coolest month is July.
June is the wettest month. This month should be avoided if you don't like too much rain.
February is the driest month.

City: La Serena | Population: 400000 | Languages: Spanish
Currency: Peso Chileno (CLP) | Time zone: UTC−06:00
Reviews & Multimedia
Reviews
This was the second time I volunteered and I am really Grateful for this wonderful experience. The orphanage is far and not even in La Serena it took me normally at least 45 min by bus (traffic its 8 miles from the house) to get there…
Then coming to Vilma's home I was very happy to be greeted with amazing food. And along came the first day of volunteering where I was very nervous but settled in after a couple of days, teachers started to talk to me more and the kids would greet me when the would see me come in
Chile I had a wonderful experience working with the children and elderly people. I learned so much about Chilean culture and really improved my Spanish. I also made some great friends with other ABV volunteers and people at my work.
Prices for Chile
Program Fees
Since A Broader View Volunteers is a 501c(3) charitable organization, You can fundraise (optional) for the expenses of the trip after you get confirmed in our programs. Prices are per person and in US dollars (US$).
| Length of program | Program Fee $USD |
| --- | --- |
| 1 week | $895 |
| 2 weeks | $1050 |
| 3 weeks | $1295 |
| 4 weeks | $1295 |
| 5 weeks | $1495 |
| 6 weeks | $1495 |
| 7 weeks | $1730 |
| 8 weeks | $1730 |
Inclusions
Accommodation: Host family
Meals: Week: Breakfast, lunch and dinner Weekends: breakfast and dinner, no lunch
Arrival: Airport meet and greet by ABV Staff
Orientation: Project Overview On-Site
Support: Pre-trip written guide, In-country ABV staff available 24/7
Departure: ABV Staff Escorted Airport Transfer
Extra costs: Flights to Chile. Entry Visa (if applicable). Departure taxes. Vaccinations. Local Transportation. Travel & Health Insurance (approx. us$53). Laundry and Internet (us$10 and us$15).


Meals & Food
Volunteers are provided breakfast, lunch, and dinner at their accommodation during the week and Breakfast and dinner for the weekend. Breakfast typically consists of toast, fruit, eggs, cereal accompanied by tea or coffee. Dinner usually includes meat (cow, chicken), potato, rice, vegetables and cazuela (soup), empanadas, pastel de choclo, all national dishes of Chile. Volunteers are usually away from their accommodation mid-day so they take a lunch bag. We recommend budgeting between US$5 and US$10 per day to purchase lunch if you don't return to the host family, let the host family know if you change the lunch plans. If you have specific dietary requirements, our local teams and home-stays can customize to you but be flexible as well.
Start Dates
Most of our programs run year round, you can start any volunteer/internship program on any day. When you apply you will lets know your start and end dates. Our programs run year round and have volunteers arriving almost every day from many different countries.
Since our programs sometimes depend on the local holiday calendar, there are brief occasions when normal programs work is suspended. For example, schools/daycares often close for long winter/summer vacations. During these times, we arrange for alternative work programs that are similar in substance to our ongoing programs, but address the short-term, direct needs of the local communities.
If you would like to arrange your start and end dates around the local holidays, please call us at 1.866.423.3258 or email us at [email protected].
Money Matters
A Broader View Volunteers work tirelessly year round to support our volunteers, and also to serve the local communities where ABV projects are based. As a tax-exempt 501 c(3) organization A Broader View receive 100% of our funding from volunteer contributions. Through your program fee contribution our non-profit charity organization can operate beneficial humanitarian aid programs which are successful and continuous supported year round.
Local, professional full-time coordinators, placement logistics, airport pick up and departure transportation, arrival orientation, food & local accommodations, are a major part of providing a safe, meaningful volunteer experience. When you join A Broader View, you will receive pre-trip visa and vaccination support, assistance with flights, fundraising planning, through our interactive online volunteer portal. Our local partners not only benefit from volunteers valuable contributions at the project, they benefit financially with year-round monetary support from A Broader View. In the last decade A Broader View has donated over 4.5 million dollars in international aid.
By joining A Broader View you are not only helping to make a difference during your own trip, your impact will last even after you go home.
Extras
Tour and weekend trips
Once in country our local coordinator can help you find the most reliable and safe tour agencies for weekend trips, you can pay in cash or in most locations with a credit card. These tours are not part of the ABV fees.
Elqui Valley Tour
Visit the home of Chile's famous Pisco Sour on this full-day, small-group tour of the Elqui Valley from La Serena, including hotel pickup. Uncover the cosmic secrets of the Cochiguaz Valley; tour a Pisco production plant, and indulge in an expert-led Pisco tasting. After tucking into a traditional lunch (included) at a local restaurant, spend time exploring Vicuña, the hometown of Nobel Prize winning poet Gabriela Mistral.
Isla Damas and Punta Choros from La Serena
Get up close to Chile's coastal wildlife on this full-day tour from La Serena, including hotel pick-up. Drive past vibrant fields of desert wildflowers (depending on the season), then cruise around the windswept Gull, Choros and Damas islands. After spotting bottlenose dolphins, sea lions and penguins at the Humboldt Penguins National Reserve, tuck into a delicious seafood lunch (included), then spend time relaxing on the islands' white-sand beaches.
Mamalluca Observatory Including Transfers
At sunset we start our trip to the inner valley of Elqui, by crossing the San Isidro town, we will get The Mamalluca Amateur Observatory, this special place permits to make direct observations of the universe.
The observatory itself has a dome in which an electronic telescope makes the observation possible for you to enjoy a pleasant night contemplation of the stars. Some pictures will be displayed and at the same time an instructive talk about the Southern Hemisphere Star, in a nice and friendly atmosphere all the people will be encouraged by the astronomy of Galileo. After this talk , the night observation of stars, planets, galaxies will be carried out.
Elqui Valley and Vicuña Private Tour Including Lunch
Explore Chile's lush Elqui Valley on a private shore excursion from your La Serena port of call. Set out for this stunning region where the bulk of Chilean pisco is produced, stopping first at Puclaro, artificial reservoir offerings spectacular views of the area. Next tour a pisco factory, learn about the distillation process of this national spirit and enjoy a sampling or two before continuing on to Vicuña, the birth town of poet Gabriela Mistral. Peruse the Gabriela Mistral museum, then enjoy lunch in Villaseca before returning to port.
Festivals and Festivities
Día de las Glorias Navales
The Día de las Glorias Navales takes place on May 21 each year to remember the death of Captain Arturo Prats, a national hero in the Iquique naval battle against Peruvian vessels in the War of the Pacific. Residents of the coastal cities deck out small boats with Chilean flags and cast flowers into the sea to commemorate the event.
Festival of the Virgen del Carmen
From June 12-17 every year, the small town of La Tirana in the Atacama desert hosts the Fiesta de la Tirana, also known as the Festival of the Virgen del Carmen. One of Chile's most anticipated events, it is characterized by musicians playing drums, flutes, and whistles while dancers clad in macabre carnival-style masks and costumes enact the diablada (dance of the devils) to exorcise demons. The festival also pays homage to Chile's patron saint, the Catholic Our Lady of Mount Carmel, represents a blending of local indigenous and Catholic traditions and beliefs. People with indigenous heritage make processionals to the Virgin's sanctuary, take part in masses then rejoice in street parties with stalls selling handicrafts and food.
Fiestas Patrias
Chile celebrates its independence through the Fiestas Patrias on September 18 each year. Street stalls and temporary thatched armadas are erected from tree branches and other materials to house dance floors, bands, and tables. Celebrations include parades, music, dance competitions, traditional Chilean food, and rodeos where two horsemen attempt to correctly coral a calf in an arena for points.
Christmas
Christmas Eve is a family event on December 25 characterized by gift-giving, eating fruitcake called pan de Pascua and drinking a concoction of spirits, milk, sugar, coffee, and cinnamon called cola de mono. Christmas trees are decorated with fake snow and a nativity scene. Christmas Day is a public holiday when the faithful attend mass and sing carols. Feasting is a large part of the celebration and, as the festivities take place during summer, many go to the beach or take part in other outdoor activities like hiking or rock climbing.