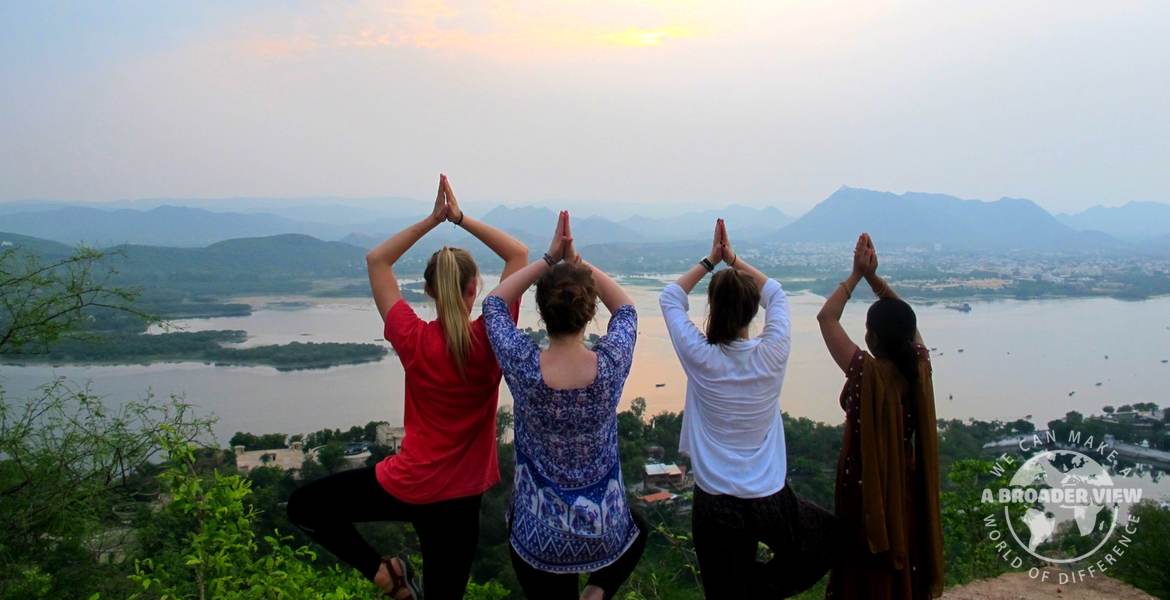 Volunteer Abroad in Udaipur: the capital of the former princely state of Mewar. Udaipur is referred to as the "Venice of the East" and City of the Lakes. Located in the enchanting northern province of Rajasthan region, Udaipur astonishes travelers and volunteers alike with its matchless setting.
Rajasthan was dominated for centuries by the Rajputs, warrior clans and feudal lords who lived by ancient, violent codes of chivalry and death before dishonour. The small, fierce kingdoms of this land supported the incredible lifestyles of the Maharajas.Today, Rajasthan is still dominated by its past, a feudal state with a largely rural population. The land is harsh and frequent drought makes earning a living even harder.
Even with the beauty of the surroundings of the lake, mountains and fantastical palaces, there is real poverty in the city. People are trapped by caste and gender discrimination. In Udaipur there are hundreds of thousands of impoverished, runaway and orphaned children living hand-to-mouth. These poor, forgotten children live in a different world. These children are simply overlooked in their society, left to defend and survive on their own or beg. We work with a local organization to support these children and the social welfare programs for them. We offer placements teaching, helping in children's day care centers and construction and renovation programs.
Volunteer Opportunities: Social programs
Overview
Project length: From 2 weeks to 8 weeks
Arrival Airport: Maharana Pratap (Code: UDR)
Work Schedule: Monday to Friday 4 to 6 hours per day
Requirements: Police Check/Clearance report
Age Limits: Minimum 17yrs or older for solo travelers.
Minimum Age: 12 to 16 yrs if traveling with parents.
Airlines: Jet Airways, Indian Airlines, Spice Airlines
Vaccinations: Hep A, typhoid wwwnc.cdc.gov
Inclusions
Accommodation: Share Volunteer House
Meals: Breakfast, lunch box and dinner daily
Arrival: Airport meet and greet by ABV Staff
Orientation: Project Overview and Orientation
Support: Pre-trip written guide, In-country ABV staff available 24/7
Departure: ABV Staff Escorted Airport Transfer
Hindi Lessons: 5 Days included
Optional: Indian Cuisine, Yoga, Henna and Dance lessons (not included)
Not included:
Flights. Entry Visa. Departure taxes. Vaccinations. Local Transportation. Travel & Health Insurance. Laundry and Internet
Asia / US$
Weeks
2
3
4
India Udaipur (Community Development / Building)
1020
1230
1440
Asia / US$
Weeks
2
3
4
5
6
7
8
India Udaipur (General Programs)
860
990
1120
1250
1380
1510
1640
A Broader View Volunteer (ABV)  allows every traveler to choose their own program start date. This means you can arrive on any flight, any day of the week. Since ABV program fees are 100% tax deductible* we encourage you to fund raise. ABV offers advice and assistance with flight planning, affordable travel insurance, as well as procuring a visa, if necessary. Our ABV staff is available to any your questions. Contact us by email, through the on-line chat feature on our website or call us toll free at 866-423-3258.
WHAT DO MY FEES PAY FOR?
Volunteer Registration Fee – ongoing support from ABV staff, program marketing costs, information pack, administration costs, ABV donation Fund, travel costs to inspect programs and communication costs with volunteers.
Volunteer Program Fee – ABV donation fund, airport pick-up, orientation, program supervision, accommodation and meals during volunteer program period, in-country 24/7 volunteer support and in-country administration costs. As a US Non-Profit Charity Organization all your fees are tax deductible and you can fundraise from our website to pay for the fees.