Volunteer Name: Rachel Scott

Project Location: Cusco, Peru

Volunteered at: Orphanage/Spanish Immersion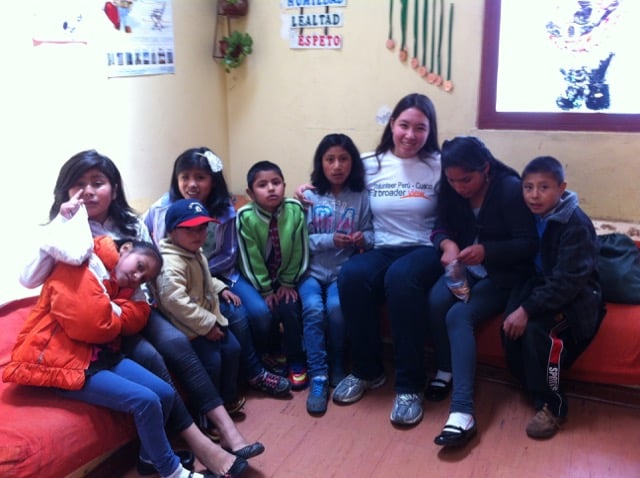 1- How was the local ABV Coordinator and the support provided in-country?
The local ABV Coordinator worked really hard to help me during my time in Peru. My first couple days in Peru were really rough because my phone completely froze up, preventing me from contacting anyone, and my credit card wouldn't work. My local ABV Coordinator spent an entire morning helping me resolve these issues. She also introduced me to some of the local food, helped me arrange a trip to Machu Picchu, and undertook the challenging task of helping me locate a globe that I wanted for a souvenir. She also did a good job connecting me with other ABV volunteers.
2- What was the most surprising thing you experienced?
Honestly, the weather was the most surprising part. I came to Cusco in December/January, and it rained intensely every day I was here. It even hailed a couple of times. I definitely wish I had brought more long pants and sweaters, and, even though it was the summer, it was too chilly to wear shorts when I was here.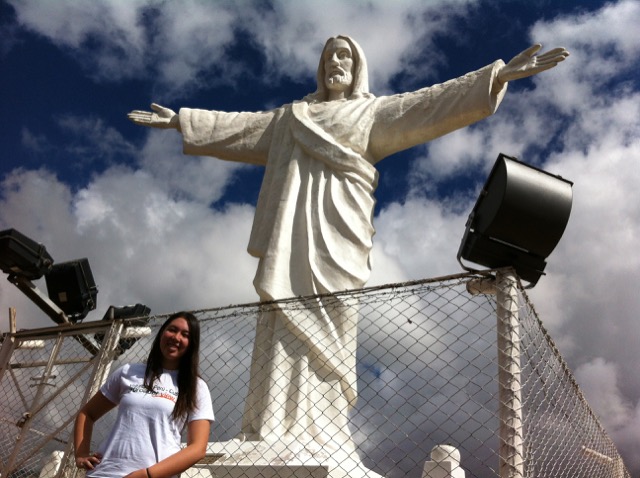 3- What was most difficult to experience?
As I mentioned before, my first couple days, when my phone completely froze up, preventing me from contacting anyone, and my credit card wouldn't work, was almost a worst case scenario. But, luckily, I had a great local Coordinator and host family who helped me out.
4- Any tips for future volunteers... (clothing, travel, personal items, donations)
Clothing: If you're coming to Cusco in during the rainy season (December-March), invest in
a good rain jacket/rain poncho because it will rain (or hail!) almost every day you're here. Also, pack extra socks, sweaters, and long pants/jeans because even though it's the summer, it's still pretty chilly and there isn't central heating. You shouldn't need more than one pair of shorts. Also, don't forget sunscreen! Cusco has the highest UV index of any major city in the world.
Donations: Bring something fun for the kids to work on inside--beads, board games, Spanish- English picture dictionaries, fresh colored pencils and markers work great. Also, playing bingo is a fun way to distribute donations.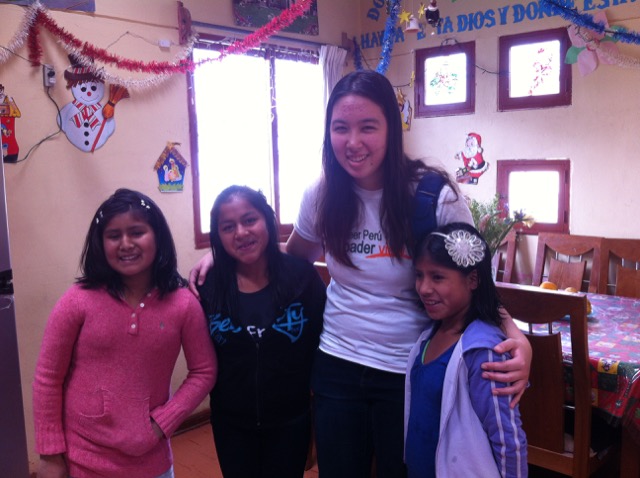 4.1-Other things volunteers should know:
a.- If it's been a while since you've spoken Spanish, make sure you review your verb conjugations and old Spanish notes before stepping on the plane. You'll be glad you did!
b.- Meals here quite different than they are in the US. Be prepared, as the program guide dictates, to eat mostly potatoes, rice, bread, cheese, mayonnaise, and corn. Lunch is the biggest meal of the day and usually includes a soup of some kind. Dinner is around five or six in the evening, and it's mostly bread and tea.
c.- Definitely take the altitude sickness prevention pills (commonly known as Diamox) that the travel doctor will prescribe to you. I know from previous experiences camping in the mountains that I usually get really bad altitude sickness. Even though Cuzco's elevation is far higher than I've ever been for an extended period of time, I hardly felt sick at all because I took the pills. This prevented me from, unlike other volunteers, missing out on precious days of volunteering and Spanish lessons.
d.- Use your Spanish as much as possible. Explore local stores to get a feel for the culture. Don't get frustrated if you have trouble understanding people at first, especially children, because their accents might be different from what you're used to and they might not speak very clearly.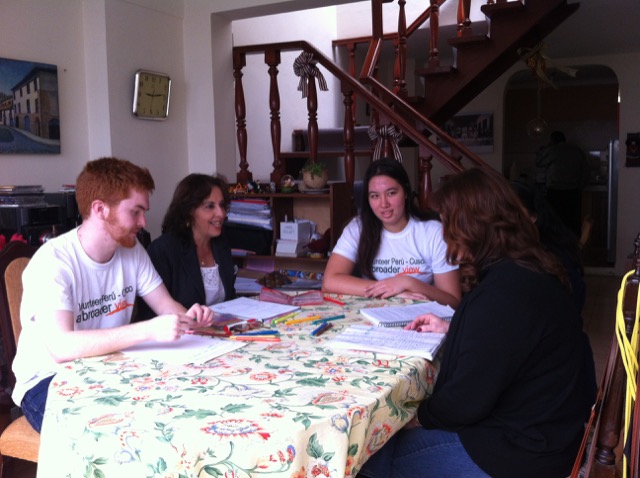 5- Personal Paragraph (ABV Program Testimonial):
My experience as an ABV volunteer was both challenging and enriching in all the right ways. I developed strong personal relationships with my host family, the children at the coed orphanage I worked at, and other ABV volunteers. I also really enjoyed my Spanish lessons, where I felt encouraged to learn more through interesting applications of my grammar and reading lessons. My trip included a trip to Machu Picchu and excursions to the local New Year's celebration and choir performance with my host family where I got to learn a little bit more about the culture I was living in. These past two weeks flew by far too quickly!
6- How would you describe your accommodation, meals, security (e: host family, on-site, shared)
I loved my host family! I think they were one of the best if not the best part of this trip. I wasn't expecting them to have so many relatives over for the holidays, but I really ended up enjoying meeting multiple generations of the family. I think that really enriched my cultural experience here in Peru. The family even took me to the main square to watch the New Year's celebration which was a lot of fun and a very unique cultural experience. I had a private room and home- cooked meals three times a day. And, I always felt safe, even as a female walking alone on the streets at night.
7- What was your favorite memory of this trip?
This is a tough decision, but probably making necklaces and bracelets with the kids at the orphanage. I brought some beads from home because I like beading in my free time and
I thought the kids might like it too. Just seeing the looks on their faces and hearing them shout, "Mira! Que bonita!" when they opened the box of beads and started making jewelry made me so happy. It was also wonderful to see them take pride in something beautiful that they had just made.
8.- How was the ABV USA support prior traveling?
The program summary and travel guide that ABV sent to me before I left for Peru was pretty helpful, and ABV staff was very prompt in answering the many questions I had about my trip. I will make a note however for future volunteers that you cannot expect your trip to go exactly how your program summary dictates.
ABV: exactly what we say in our orientation guide it will never go as the summary, but close enough.
9 – Are you willing to speak to other potential ABV volunteers Yes!