Review Volunteer Elle Weberling in PERU Cusco at the Orphanage program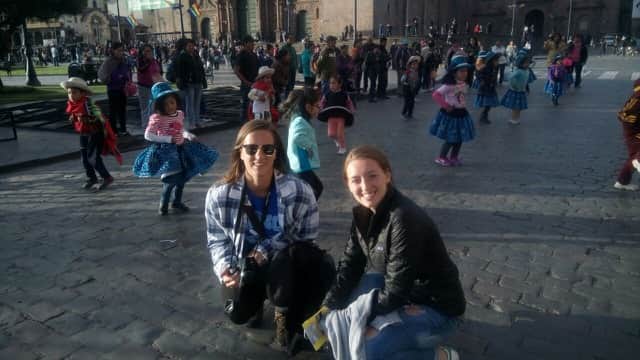 1- How was the local ABV Coordinator/staff and the support provided in-country?
Everyone I worked with at the orphanage and at home were wonderful. They were all very concerned with how things were going and helped me with whatever I needed whenever I needed it.

2- What was the most surprising thing you experienced?
Program: I was surprised by how large the complex was. I was able to help in all different kinds of places like a ceramics class and the kitchen.
Host Family: Here in Peru, people eat a large lunch and very little for dinner. This threw me off the first few days but now I am used to it and prefer it.
Another surprise was how similar the house was to one in the United States, I immediately felt at home and had no trouble settling in.
Country: I am still shocked by how crazy people drive here. You have to be careful in the streets because drivers have little regard for traffic signs and signals.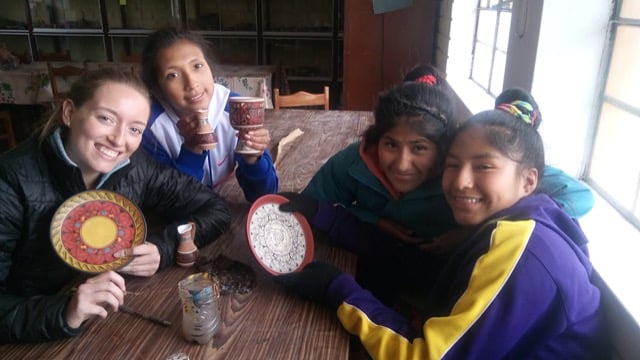 3- What was the most challenging thing you experienced?
Program: The language barrier was most noticeable at the orphanage. It took me a week to feel comfortable enough to try out my Spanish but once I did I definitely learned a lot.
Host Family: I did not really have any challenges with my host family. Maria Elena was such a nice host mother and helped me all along the way.
Country: Again I would have to say the language barrier was the most difficult part of adjusting but now I feel pretty confident in my abilities after hearing Spanish almost exclusively for the past month.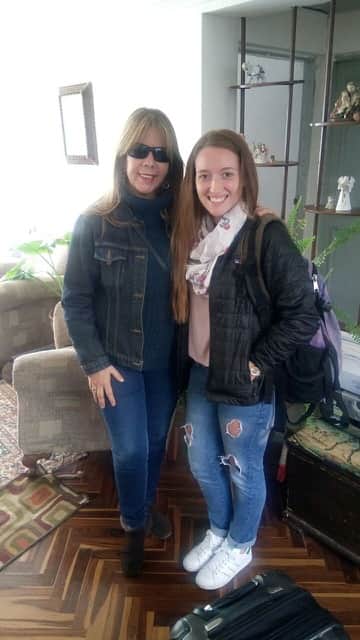 4- Any tips for future volunteers… (clothing, travel, personal items, donations)
1. Bring things you wish to donate to your project with you on the plane. It. is much easier for everyone this way
2. Expect a relaxed pace
3. Bring lots of layers because the weather changes throughout the day.
4. Expect to spend more money than you think because there are so many wonderful things to do in Cuzco and Peru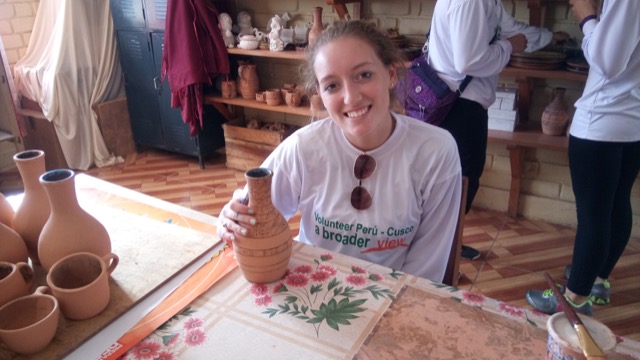 5.1-Other things volunteers should know before coming here:
(thats not in the orientation guide)
a. Everyone will help you just have to ask.
b. You can't be afraid to try out your language skills, practicing is how you learn the best
c. Be ready to hit the ground running.
d. Expect flight delays and have the emergency ABV number handy in the airports.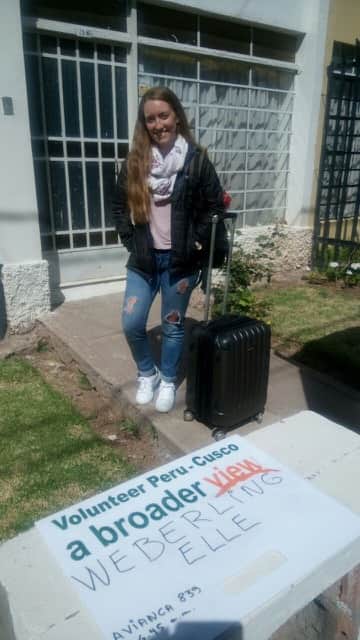 6- Personal Paragraph about the experience (ABV Program Testimonial):
Overall I could not be more happy with my time here in Peru. I have met so many wonderful people and seen so many amazing places in the past month it is hard to wrap my head around. Seeing how happy and cheerful the girls in the orphanage were, some even my exact age, amazed me. The girls at the orphanage are truly inspiring and the reason I traveled all this way. I can't begin to express how much they impacted me.

7- How would you describe your accommodation, meals, security, friendliness, quality others:
I was worried that I wouldn't eat very well because I don't eat beef or pork but Maria Elena was more than accommodating and the food was amazing. I also never felt unsafe or nervous walking around the city because everyone is so friendly and helpful.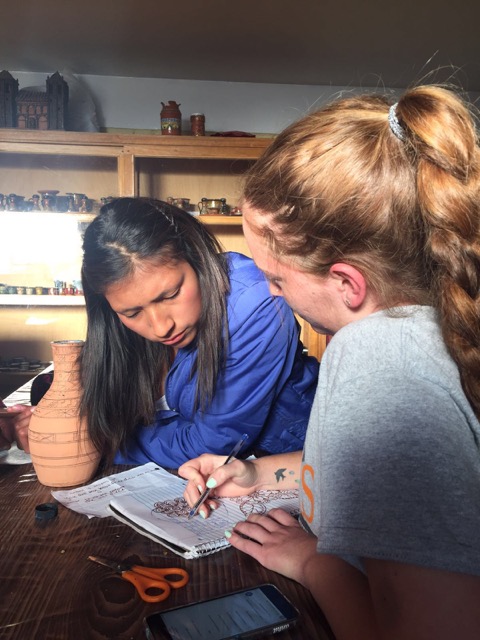 8- What was your favorite memory of this trip?:
Program: One day there were ABV volunteers from another program visiting the home and the girls had the opportunity to ask them questions about their life or interests and one girl I knew really wanted to ask one in English but she didn't know how. We worked for a few minutes on how to ask what their favorite sport was and she practiced until she felt comfortable enough to ask. She was so happy that she was able to do it and it was adorable.
Host Family: Maria Elena taught me how to make baked chicken with Coca Cola and it was so good. I was so excited that she taught me how to make something so that I can cook it for my family back at home to give them a taste of what my time here was like.
Country: Going to Lake Titicaca was absolutely beautiful and it was so interesting to see how the indigenous people live and work. It is different than anything I saw in Cuzco or Macchu Pichu, I was glad I got to see how different all the regions are.

9- How was the ABV USA support prior traveling?
Everything I got was very helpful and I felt prepared for the trip. I did send one email about bringing hand me down clothes to the girls but I never got a response. I don't know if it never went through or what happened but that was the only problem I had with support.
ABV: we answer all the email 100% in less than 24 hours, it may have gone to spam perhaps?, If you don't get an answer for any reason, call our office or the chat online in our website.

9.1- What do you think about the reservation system online?
The system was easy to understand and set up. I had no problems with the process.

9.2- Who did you find Abroaderview website
I found abroaderview through a website that recommended a broad programs. I can't remember the name of the website now.

10 – Are you willing to speak to other potential ABV volunteers?
Of course. I would be happy to talk to anyone about the experience and I would highly encourage people to ask questions and do research before.