Volunteer Name: Adrianne Holland
Project Location: Cusco
Volunteered at: Kinder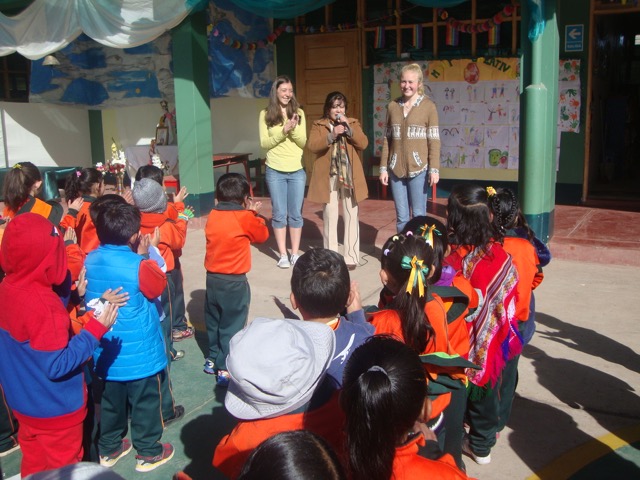 1- How was the local ABV Coordinator/staff and the support provided in-country?
The local ABV coordinator was awesome and I had no trouble organizing my work, or starting a second job!
2- What was the most surprising thing you experienced?
Program: I was expecting the kindergarten to be more rundown and lacking resources however I found it to be very modern and extremely well equipped. I was also expecting to teach English to the kids which never really happened, I did teach them the numbers one to give a few times but this was only for a short time.
Host Family: I was expecting to stay in a larger family than just one person, a host mother and I was also expecting to be living with fewer volunteers, I had two room mates and there were three other volunteers in our house as well.
Country: I was surprised at how friendly everyone is here! They always treat you like you're they're best friend even if you just meet!
   I knew we would be eating a lot of carbs before I came but I was still surprised at how many potatoes there were in nearly every meal!
3- What was the most challenging thing you experienced?
Program: I found it hard to be useful at first, there were already two other teachers in my classroom but I learned to jump in and by the end I had found my place and always had something to do!
Host Family: I found it hard to lean on complete strangers for the emotional support I needed, but I think I would have found it so isolating if I hadn't, and when I did they were all so nice!
Country: I come from a very small and quiet town in the U.S. And so I found it extremely hard to deal with all the people coming up to me and asking me to buy their stuff, I was just shocked at the number of people doing this and the level of poverty they must be facing. The stray dogs were also shocking.
4- Any tips for future volunteers… (clothing, travel, personal items, donations)
1. Plan on leaving some extra space in your suitcase for tons of souvenirs as everything is so cheap here!
2. Plan on getting some kind of cold/flu during your stay and bring throat lassangers, or decongestant if you normally use that
3. Like the orientation guide says the volunteer experience is what you make it so don't make it a bad one!
4. Don't go salsa dancing too many nights in a row as sleep is important!
5.1-Other things volunteers should know before coming here:
(thats not in the orientation guide)
a. A good idea for gifts for the kids is nice school supplies.
b. If you're planning on going to Macchu Picchu you should consider also seeing Wayna Picchu doing the Inca trail or walking up the mountain Macchu Picchu itself. All these extra options are awesome but need to be booked months in advance
c. When withdrawing money get out U.S. Dollars and then exchange to soles in person as the exchange rate is very bad in the ATM.
d. Always put your phone away when you're not using it, that way you'll avoid leaving it on a restaurant table or in a taxi, where there is almost no chance of getting it back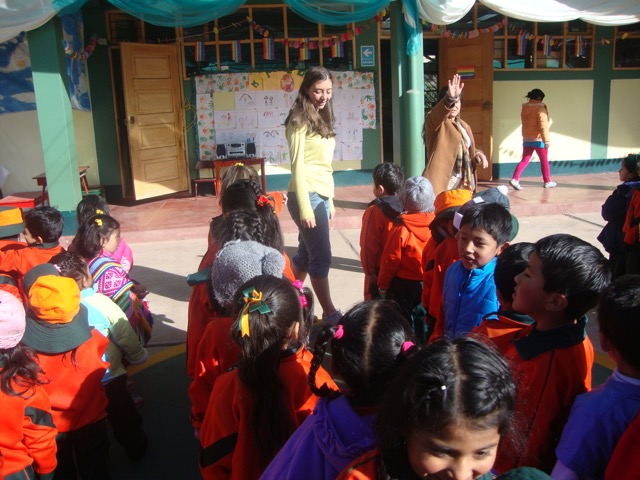 6- Personal Paragraph about the experience (ABV Program Testimonial):
    One month seemed like such a long time at first, I was worried I wouldn't enjoy it and it would just seem like forever. However the whole month has felt like one week at most for me, time flies when your having fun! At first I was a little disappointed in my work, I thought I'd be working in a more rural area in a basic kindergarten with almost no supplies. The place I actually worked in had Tv's, projectors, uniforms for the kids, and just all supplies imaginable. However as a volunteer I learnt that it is about giving what I can, not judging others on their circumstance when I really don't know that much about their lives. Although I might not have been able to provide them with basic necessities, they still needed all the love and attention that they could get, and they were so awesome! Fun to be around, energetic and happy, I really enjoyed working with the kids!
     About half way through my stay of four weeks I started working in a local high school as well teaching English, this job was even more fun as I was more needed! I loved the city, salsa dancing is the best! And I did many trips to other places which I would highly recommend, Macchu Picchu, lake Titicaca and the Amazon rainforest!
7- How would you describe your accommodation, meals, security, friendliness, quality others:
    My accommodation was a little cramped but clean and nice, meals were amazing, the house was very secure, and all other volunteers and my host mom were very friendly.
ABV: June to August is high season and all our host families are full with volunteers.
8- What was your favorite memory of this trip?:
Program: Being in a parade the kindergarten organized for the day of Virgin Carmen where I got dressed up in traditional clothing and danced traditional dances down a six lane road with eighty three four and five year olds!
Host Family: salsa dancing! So much fun!
Country: Macchu Picchu, it's one of the seven wonders of the world!
9- How was the ABV USA support prior traveling?
Sarah helped me, I only used email but she responded very fast.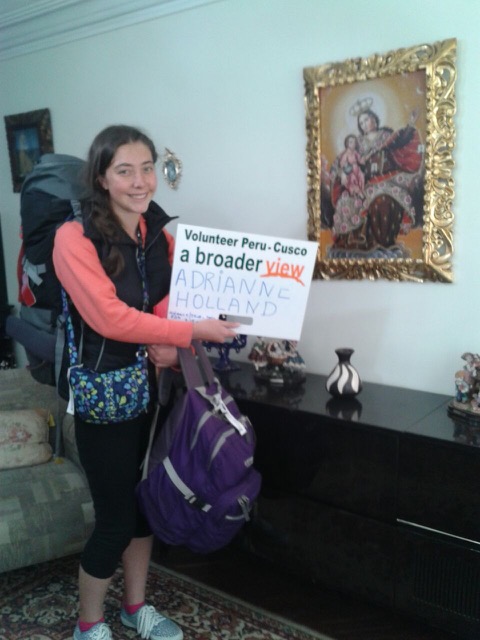 9.1- What do you think about the reservation system online?
 Easy to use, I had no problems.
9.2- Who did you find Abroaderview website
I googled South America volunteer or something like that but it took me a while to find.
10 – Are you willing to speak to other potential ABV volunteers?
 Yes.