Volunteer Name: Clare McKeown
Project Location: Cusco, Peru
Volunteered at: Children program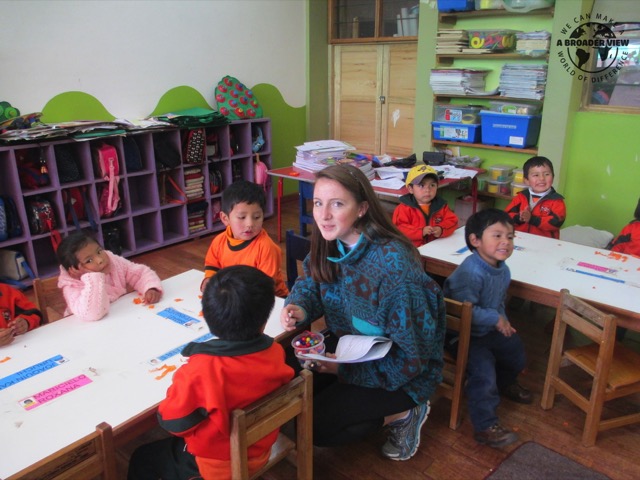 1- How was the local ABV Coordinator/staff and the support provided in-country?
Maria Elena has been so helpful this whole time. Any questions I had she could answer. As busy as she is with all of the volunteers she somehow manages to make time for all of us and help us find our way around Cusco. Being in a different country can be very intimidating but Maria Elena does a great job of making everyone feel welcome and at home.
2- What was the most surprising thing you experienced?
The first most surprising thing I experienced was the climate here. I knew that it was winter in Peru, the opposite of the weather in the United States, but I wasn´t aware just how cold it got in the mornings and at nights. Another surprising thing was the diet here. For breakfast and dinner the meals generally lack protein and the main meal here is lunch which takes some getting used to.
3- What was the most challenging thing you experienced?
The most challenging thing I experienced was the busy schedule. I wasn´t expecting my days  to be so chaotic but I often found that by 7 o´clock I was exhausted. This made it hard to really go out and learn about the Peruvian culture.
4- Any tips for future volunteers… (clothing, travel, personal items, donations)
If you are coming during the winter months meaning June, July, or August you should be sure to bring a heavy jacket as it does get cold in the mornings and nights.
5 Other things volunteers should know before coming here:
Make sure you pack lots of snacks with protein as there can be a lack of protein here in Cusco.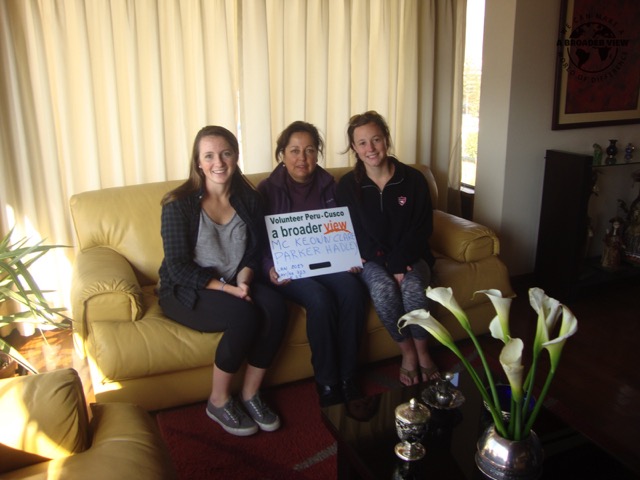 6- Personal Paragraph about the experience (ABV Program Testimonial):
I found my experience in Peru to be very different than what I was expecting. I wasn´t expecting to be so busy or for there to be as many issues as there are. This trip made me realize just how much help some countries need and that not everyone is as privileged as they may seem. Being able to experience this first hand has really changed my outlook on the world and I´m so glad i got to take a trip like this so early on in my life.
7-How would you describe your accommodation, meals, security, friendliness, quality others:
Our accommodation was very nice. Our host parents were so nice and understanding. They were always so understanding of our busy schedules and were very accommodating. The only downside was that we didn´t have hot water which was hard to adjust to. Other than that the food was lovely and the accommodations were great.
8- What was your favorite memory of this trip?
My favorite memory was being able to visit Machu Picchu. Not only was it beautiful but it also had so much history and the tour we took was so informative.
9- How was the ABV USA support prior traveling?
Sarah was extremely helpful and responsive whenever I had any questions. She was also available to my parents if they had any questions while I was in Peru.
9.1- What do you think about the reservation system online?
It worked quite well.
9.2- Who did you find Abroaderview website
I had a friend who did this same program in Cusco last summer so she suggested it to me.
10 – Are you willing to speak to other potential ABV volunteers?
Sure.