Volunteer Name:  Julia Bourke
Project Location:  Cusco, Peru
Volunteered at:  Kindergarten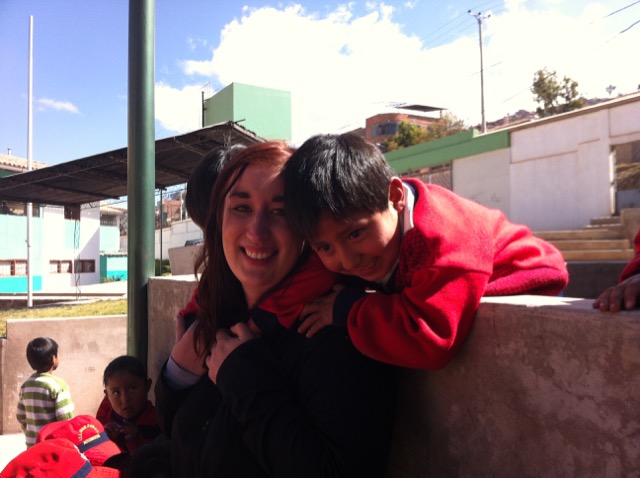 1- How was the local ABV Coordinator/staff and the support provided in-country?
Beatriz (ABV Coordinator) was a great support.  She checked in with me periodically to make sure my time in Cusco was going well.
2- What was the most surprising thing you experienced?
Program:  It was not what I had expected. I originally signed up to volunteer in the orphanage, I found great joy at the kindergarten and really enjoyed my time there.
Host Family:  My host family spoke incredible English and cooked some amazing meals.
Country:  The people were so friendly and I felt really safe.
3- What was the most challenging thing you experienced?
Program:  The language barrier
Host Family:  I can't think of any challenge I had with my host family.
Country:  The language barrier.
4- Any tips for future volunteers… (clothing, travel, personal items, donations)
1. Dress for comfort.  Bring layers.  I volunteered in July and it can get very hot during the day.
2. Bring the necessities – if you forget something, it's ok, you can more than likely buy it in Cusco.
5.1-Other things volunteers should know before coming here:
(that's not in the orientation guide)
a. Make sure to bring extra money.
b. Try to wait to plan your trips, you can save money.
c. Go in with an open mind.
d. It's a different culture than your own.
6- Personal Paragraph about the experience (ABV Program Testimonial):
The coordinator, Beatriz, was amazing.  She would always try and arrange activities for us on weekends, so we could explore Peru.  I wouldn't trade my experience with the kindergarten for anything.  The kids were wild but so sweet.  They really love the volunteers, always greeting with hugs and smiles on their faces.  I hope one day to return again for them.  My host family was also amazing.  They were very kind and accommodating.  They truly feel like family.  I couldn't have asked for a better Peruvian family.  Peru has been wonderful and a journey I'll never forget.
7- How would you describe your accommodation, meals, security, friendliness, quality others:
All fantastic, meals were amazing and I felt very safe -  The people are so friendly!
8- What was your favorite memory of this trip?
Program: Spending time with the kids.  Even though I speak very little Spanish I was still able to create incredible bonds.
Host Family:  Playing rummikub and my family singing me Happy Birthday!
Country:  The mountains.  The scenery in Peru is so beautiful.  The skies and mountains look as if they were painted – so breathtaking.
9- How was the ABV USA support prior traveling?
Emails / chat online – The response time was great.  Same day or next day response.
9.1- What do you think about the reservation system online?
Very easy to navigate.
9.2- Who did you find Abroaderview website
Keywords / search engine.
10 – Are you willing to speak to other potential ABV volunteers?
Yes!