Volunteer Name: Sophia Dong
Project Location: Cusco, Peru
Volunteered at:  Teaching / Education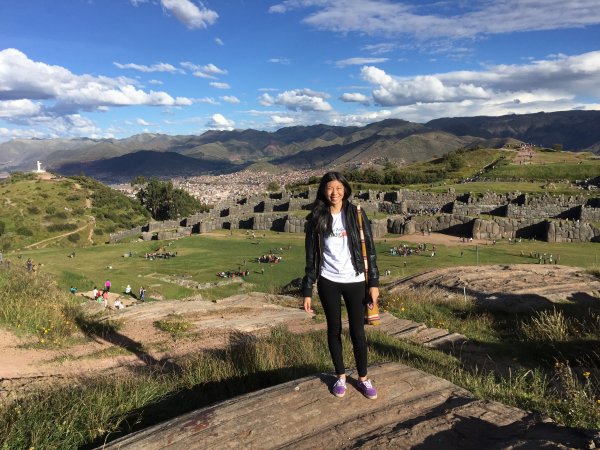 1- How was the local ABV Coordinator and the support provided in-country?
My ABV coordinator, Maria Elena, was amazing! She was my host mom as well and helped me through everything. On the first day she took me around the city to see the main attractions and helped me get oriented. She was also very helpful making sure I knew where to go for my work the first few days, going on the bus with me, walking me to my work for the first few days until I felt comfortable doing it by myself. I got consistent check-ins to make sure I was doing fine at the kindergarten I was working in which was also nice. She also helped me to arrange a city tour and a trip to Machu Picchu.
2- What was the most surprising thing you experienced?
Definitely the culture shock. I expected a change from the suburban town I live in to Cusco, Peru, but I still found myself surprised. Everything from the food to the effects of altitude to the attitudes of the local people surprised me-- all of them being good surprises (minus the altitude sickness of course). I think the most welcome surprise was the people though, everyone from the people on the bus to store vendors on the street were incredibly friendly to tourists and foreigners, which was unexpected.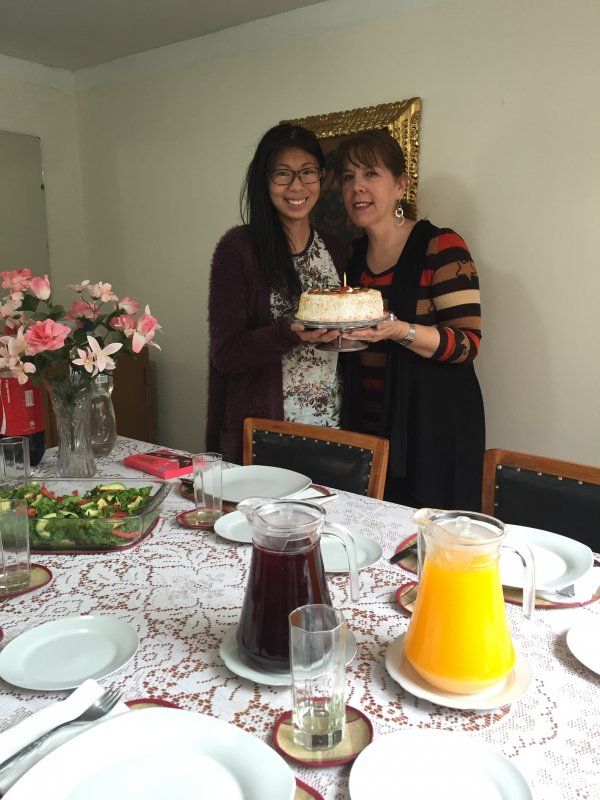 3- What was most difficult to experience?
I think that the inevitable feeling of not being able to "help" enough was very difficult for me. At the kindergarten I worked at, there were two teachers for about 30 students, and it was nowhere near enough. There would be a lot of times where the teachers had to do administrative tasks or go talk to another teacher and the children didn't have anything to do, without supervision. It was certainly different from the American kindergartens I was used to.
4- Any tips for future volunteers… (Clothing, travel, personal items, donations)
a. Stay for more than one week! I spent half of the first week getting used to the altitude and acclimatizing. I definitely think that in order to get the "full experience", you should stay for two weeks minimum. Besides, one week is nowhere enough to experience the full range of things that Cusco has to offer b. Take advantage of the free time. ABV does a very good job balancing work time and free time, I felt like I had the perfect amount of time to explore the city while still helping out in the kindergarten. If you feel like you have too much free time, there's always the option to volunteer at another one of ABV's programs (specifically the option to work in the kindergarten in the morning and in the orphanage in the afternoon). Between exploring the city and walking around the neighborhood, there's so much to do c. Lots of warm clothes and layers. It may not seem like it, but Cusco can change temperature in minutes. I constantly found myself shedding my jacket only to get cold an hour later, etc. d. On that note, also be sure to bring sunscreen!
5- Personal Paragraph (ABV Program Testimonial):
My biggest regret is that I didn't learn more Spanish before coming to Peru. I studied Spanish through middle and high school but stopped for two years before coming here. My Spanish was very rusty and barely enough to get by, which I didn't realize until arrival. It definitely made it harder to communicate with the children and teachers and I think I would have been able to help a lot more if I could speak at an intermediate level. That being said, it's definitely possible to get by in Peru with little to no Spanish knowledge. Also, if you're thinking about taking the language lessons, take them!
6- How would you describe your accommodation, meals, security (e: host family, on-site, shared)
I chose the kindergarten program because I don't have much experience teaching kids and wanted to try something new. The experience was super fulfilling (and different from what I expected!). The kids at the kindergarten I taught at were eager to share their lives with me and they didn't hesitate to greet me and hug me the first time they saw me, which was refreshing. The city itself had so many things to do and my only regret was that I couldn't stay longer to experience even more of Cusco-- everything from the Plaza de Armas to the Sacred Valley to Machu Picchu seemed straight out of a movie. I came to Peru expecting to maybe interact with some kids and do a little exploring, but instead I got an experience of a lifetime. All the people I've met, from my coordinator to children at the kindergarten to strangers on the bus, have been nothing but kind and welcoming. All in all, it's been an amazing experience that I wouldn't hesitate to do again.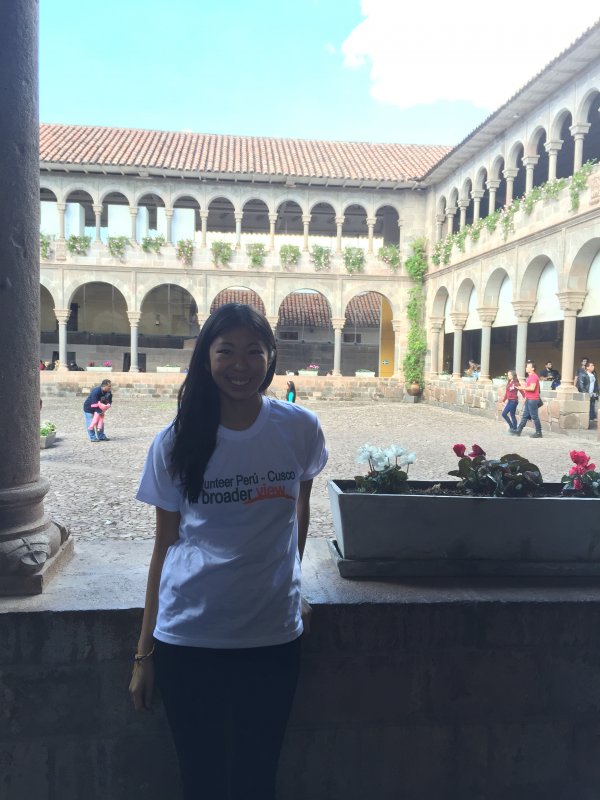 7- What was your favorite memory of this trip?
Without a doubt, I'd say that my host family and the accomodation were some of the best parts of my time in Cusco. My host mom, Maria Elena, treated me like I was her own daughter. She showed me around Cusco my first day here, she arranged a surprise birthday party for me, and she made sure that I was happy and comfortable. The accommodations themselves are also super nice, another surprise for me on this trip was that I had access to hot water and internet at the house. During my time here, I was the only volunteer in the house, but despite that I never felt lonely or bored. There were constantly things to do and Maria Elena helped me with all of it, she even arranged for me to meet some other people volunteering in Cusco since I was alone!
8- How was the ABV USA support prior traveling?
My last day working in the kindergarten, the teacher got every student in the class to draw a picture of me. She cut them all out and glued them onto this big sheet of paper which she decorated and gave to me so that I would never forget my time here. The gesture was really touching, because even though I had only worked with the class for a few weeks, the kids were all really sad to see me leave but excited to give me something to remember them by. It's hanging on my bedroom wall right now and it was a great way to end my trip!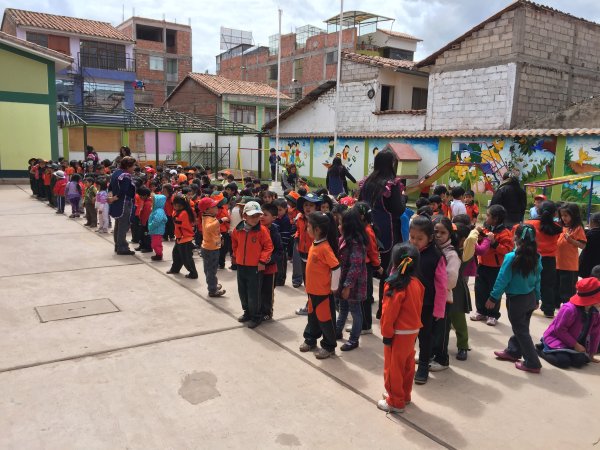 9 – Are you willing to speak to other potential ABV volunteers?
Great! I didn't have many questions but when I did, the ABV staff got back to me via email within a few hours. When I had questions while in Peru, I sent them an email and got very timely responses. One of the things that this program did really well was organize everything. Even though Peru is generally not a super organized place, I always knew what I was doing tomorrow, always had a plan, always was able to book tours or day trips whenever I wanted to.
10 – Are you willing to speak to other potential ABV volunteers?
Yes