Volunteer Review Cameron White in Peru Ayacucho Girls Orphanage project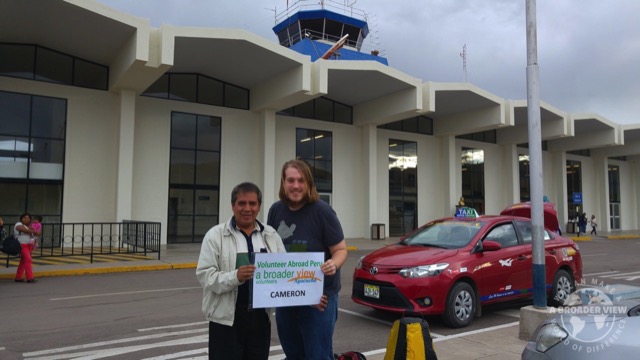 1.-How was the local ABV Coordinator and the support provided in-country (airport pickup and drop off, orientation, introduction to work, availability, other)?
Well the airport was kind of a messy situation.  I had a late plane that I still need to sort out the details of.  The pickup was fine.
2- What was the most positive surprise you experienced?
At the program:
How excited the kids were to see me and have me be a part of their lives.  They were always willing to ask me questions and always wanted to learn and play games.
At the accommodation:
I was really surprised by the first day the family told me that I was going to be a part of the family and I definitely joined in on family conversations and spent time with them.  helped watch the kids at times.  It was also nice knowing that I could take a shower.   Beforehand I was concerned that taking a shower might not be a possibility.
About the country:
It has an excellent source of biodiversity.  Desert to temperate, to mountain, to jungle, and they all seem to intermix around Ayacucho.  The atmosphere is in general friendly and no matter where you go you will always find a friendly face if your face is friendly as well.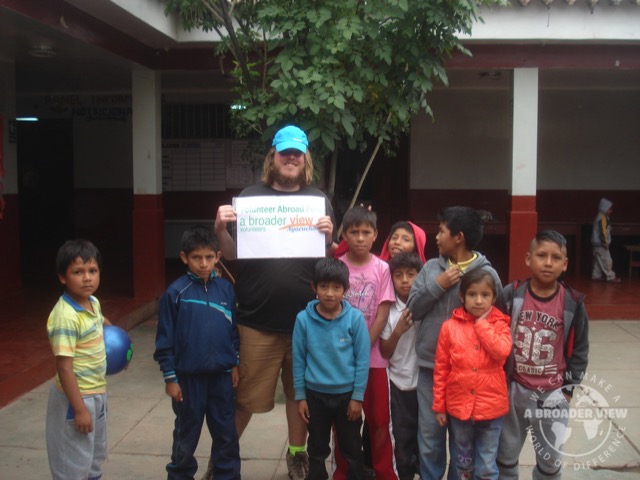 3- What was most difficult/cultural shock to experience?
At the program:
The interactions that the staff at the orphanage seemed to be more aggressive toward the kids than I am used to, but then again I work in a similar field in the states.  It seemed a little more harsh than I was used to.  For example if a kid was rally misbehaving it wouldn't be unusual for a teacher to tug on the ear or give them  gentle swat on the head.  It wasn't something horrific, but it was different and I was not used to the culture of it.
The country:
The fact that when I would go to purchase something sometimes the prices would rise just because I am white and foreign.  That was one of the hardest things and it sometimes made it hard to budget and I am a very budget conscious person.  Sometimes I would forget that bargaining is a regular part of life and that it is okay to argue a little bit.  
Another culture shock is how trusting everyone is.  I saw a baby wrapped in a blanket just in the middle of the sidewalk and I was really worried that something was terribly wrong.  The person on the corner of the street said that the mom was around the corner and would be back, lo and behold she came back and there was no problem, but that definitely wouldn't occur in the States.
4- Any tips for future volunteers, give as many details as possible…
Okay, to start off with.  Make sure you sign up to go as early as possible to make sure that everything is in line.
Clothing:
Okay, even though Ayacucho is in the mountains, remember it is close to the equator so it is warmer than the mountain ranges in the US.  Look at the weather before you go and that will help you out a lot with what to pack.  I definitely didn't pack enough shorts and T shirts.  You should know your body type and how it will handle the heat and cold.  Also I brought the drop sink packets of laundry detergent so that I could wash my clothes by hand.  That proved to be very worthwhile.  Bring light long sleeved shirts and pants because of the bugs and such.  The CDC said that there wouldn't be many in Ayacucho, but there actually were a lot there some days.  Make sure that you bring strong bug spray (I recommend the 98% DEET because it is travel sized and has a great strength even for the jungle areas.)
Donations:
I always bring something to give to the host family.  I brought the kids something to play with and the parents something too.  I would recommend anyone to do the same.  It is just a kind gesture and I think that everyone should bring it.  I also brought a translation dictionary for the kids.  They are in serious need of some computer parts as I got their last computer tower kind of working, but they don't have a working keyboard and the tower is on it's last leg.
Weather:
Definitely pack a rain jacket because it sometimes rains randomly and if you have a nice one you should definitely bring it.  Dress in layers because the weather changes sometimes pretty drastically.  It can be pretty chilly then suddenly turn into over 90 degrees Fahrenheit.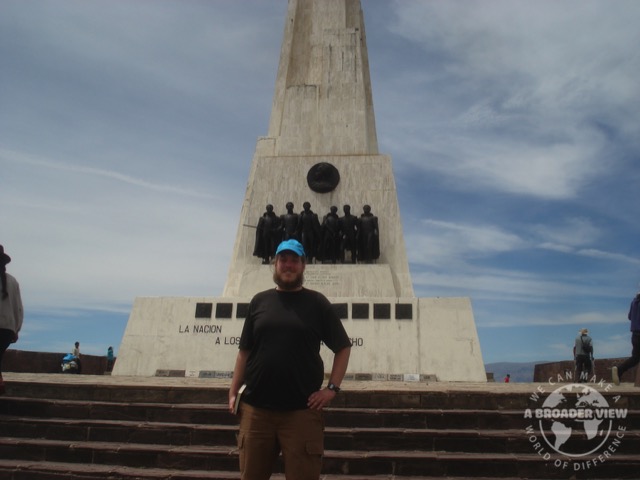 4.1-Other things volunteers should know, about what to bring, what to do in country, what to eat, transportation, other:
if you have a smart phone download an offline translator or get a handy because the Spanish down here is a little different than Mexican or European Spanish, and the accent is different and takes some time getting used to and it is helpful if they write down what they say on your phone. (Then you will also know if they are using Quechua which is the language of the Incas and is used interchangeably with Spanish like Spanglish is in the United States.  It happens more than I thought it would most people don't even know that some of the words are in Quechua)
Definitely try cuy if you are adventurous as it is pretty good.  Don't be afraid to try new foods, most of the foods are fantastic here and I would definitely agree that this is a gastronomist's paradise.  There are so many good foods to try.  Ceviche is great as well.  I would often go with whatever food I have never heard of before to experience it.  It almost always was a good bet.  I would also say try Chicha Morena because it is a delicious drink that I have not found anywhere else.
definitely plan out your weekends.  I would take advantage of seeing the Wari and Quinua villages, but I would recommend visiting them on a day other than Sunday because it isn't very lively on Sundays.
If you want to travel to Cuzco to see Macchu Picchu or the other sites there know your budget.  Planes are expensive, but buses take a long time.  I took a bus and I feel like that really enhanced the experience a bit because then I could see more of the countryside and got to meet and talk to more different Peruvians to gain more of that cultural experience.
Don't be afraid to explore the city.  There was a party about every night with music, food, dancing, and fireworks and if you are pleasant with the people they will treat you pleasantly as well.
People are pretty open here.  There are just some things that happen here that are very different from the US.  In terms of safety security and trust.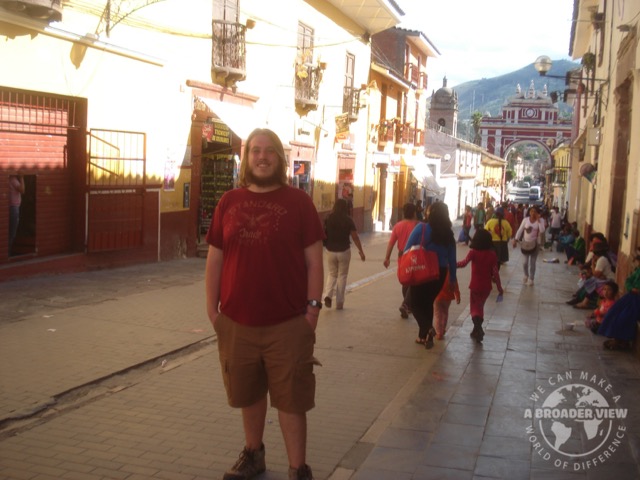 Try the juice here, it is pretty much a smoothie and there are shops everywhere. Also there is a lot of fresh produce here.
Walking is the best mode of transportation other than moto taxi for the city.  The moto taxi is the least expensive and they usually get you there faster.  
Just about everything is attached to the main plaza so if you are looking for something you can wander around there until you find a store you like.
Be very wary of street vendors and do not eat at a buffet here just for the safety of your gastrointestinal tract.
Make sure you get a large container of water and a smaller water bottle.  People do not drink water much here as they will drink juice, yogurt,  fresa and coffee.  It will help you out and to keep you hydrated and not have a sugar overload.
Prepack aloe vera just in case because it is rare here and the pharmacy is pretty expensive.
Go climb a mountain or two and don't be afraid of adventure.  The city is nestled in a bowl of mountains, just be warned that you should try to make it back to the heart of the city before dark because the street dogs are common in the outskirts of the city and they can be territorial at night.
watch out for pickpocketers.
Peru time is usually not punctual and it is important to be wary of that and to be laid back about times.  It still is important for you to be on time though.  Sometimes stores don't have specific hours of operation and are just open and closed when they want to be.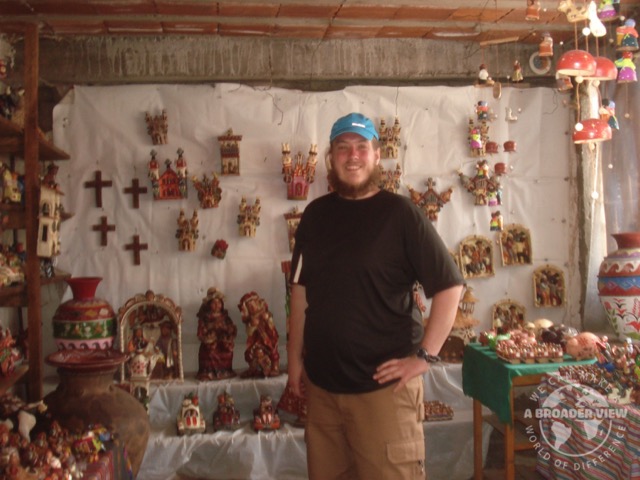 Siestas are a normal part of life if you want them to be.  
People may try to speak English to you to try to help you understand them more.  It sometimes can be more frustrating than helpful as the English may be incorrect or the word will be one of the first words you probably learned in Spanish.
The more Spanish you know the better your experience will be.  It is rare to find another person who speaks conversational English.
People leave food out all of the time, just be wary about it and use your judgment.
5- Personal Paragraph (ABV Program Testimonial), don't leave blank:
The best part of the program really was the kids and the location.  Not to push aside Peru in general because it is an amazing place teeming with biodiversity and natural beauty.  I would recommend anyone who is thinking about coming here to do some volunteer her to just go ahead and do it.  The city is pretty lively and teeming with friendly faces.  People willing to have fun with you and to share some stories with.  Here the culture is very alive and not just talked about or blown up for tourist purposes. The culture here still is pretty raw and fresh.  The food here is absolutely fantastic and the country itself is very deserving of the award for the number 1 place in the world to go for its food.  The country is diverse, I definitely withs I had more time to move around Peru.  The culture of Ayacucho itself is nurturing for foreigners.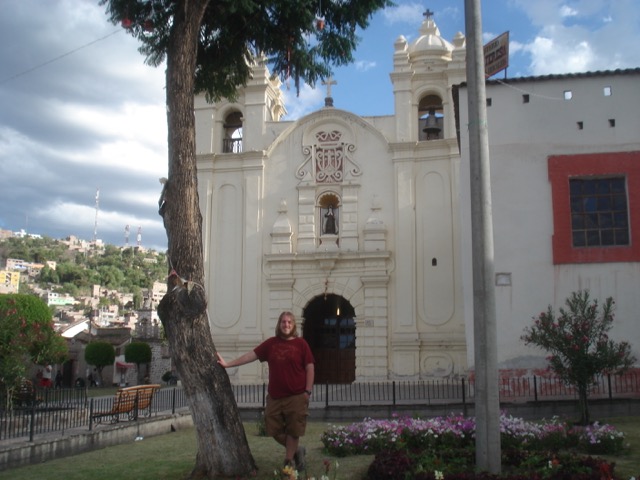 6- How would you describe your accommodation, meals and security in detail:
The family really took me in and made me to be one of their own and that was really nice.  Paola seemed like a second mom to me and I would often refer to her as my Mama Peruana.  The house was clean especially considering that there were two toddlers and a teenager in there.  The food was absolutely fantastic, but there was so much food I would get overstuffed at most meals, but I thought it would be impolite or offensive to not finish my plate.  The place was pretty accommodating, but there definitely was a lot going on with the family and I felt a little lost in with it.  For example the son and the mother would have long arguments that sometimes would occur loudly when I was trying to sleep.  As for security, I really, really wished I had a key because there were a couple times that I rand the bell and no one answered for a good 15 minutes or so. It also would be nice to not have to coordinate with the family when I could come and go because sometimes if I forgot something it would be a while before I could go back and get it. 
7- What was your favorite memory of this trip?
Program:
There are too many to count.  I love that whenever I walk in I feel like a celebrity. The kids really love everything I do in there and the staff there were really nice to me.  I really did enjoy seeing the kids learn things such as my common phrases lesson, because they would use those phrases with me almost every day.  I really loved seeing the light bulb go of in the kids' heads when I would teach them something a little more complicated.  For example there were a few math whiz kids who loved it when I would give them math puzzles and that eventually turned into me teaching a few kids algebra.  I thought that was crazy.   There were definitely days that I stayed longer than the normal time just because I was having so much fun teaching and playing with the kids.  There are all sorts of games we played together.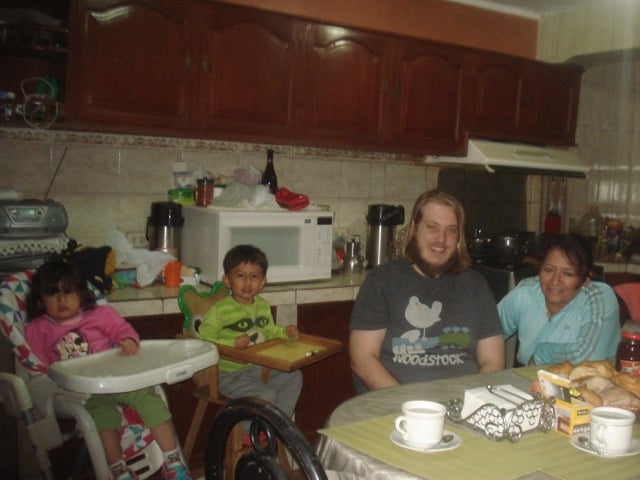 Country:
The people had a willingness to invite me into their culture and festivities.  I would just be walking along the street and someone would ask me to come and grab some food, or grab a drink with them, or to sing with/for them.  They were always inclusive and even though I was traveling alone there really wasn't one day that I felt alone.  I remember sitting in the plaza just talking to a group of people in Spanish and we all were laughing and having a good time making romantic pick up lines and having a few drinks.
Also spending the day with Rudys family was very nice too.  His countryside land is absolutely beautiful and it is like a certain sort of paradise.  I read in my book, took a nap, and had some very amazing chicha morena and pucca picante.  I took an interest in talking with Rudy's family and we talked for quite a while while Rudy was busy cooking and such.  We talked about all sorts of things that I never thought I would be talking about in Spanish.  It was a little intimidating, but it was nice and relaxing.  The family was patient with me especially because every once in a while I had to look up a word that I didn't remember or the Spanish word I knew was different from the spanish here.
Tours:
I would have to say Macchu Picchu.  It has been a dream of mine to see it and I absolutely loved it.  The people I met there were interesting and the land was so beautiful it mystifies me still.  There was also a lot of stories that will have come from that trip specifically.  I could write a paper on it, actually I am planning on finishing my diary of my trip to Macchu Picchu when I leave and have access to an easier keyboard.
8.- How was the ABV USA support prior traveling?
Communication (Phone/emails/Online chat):
The online chat was super helpful.  It was among the most helpful part of signing up for the trip´.  The lady was very informative and patient with me and all of my questions. I had quite a bit and she made sure to stay on the line until I was ready to do the rest.
Website Information:
The website after I had started getting into the program was pretty helpful.  I wish I had figured out that I was going to do this a little further in advance.
9 – Are you willing to speak to other potential ABV volunteers?
Yes, of course I would be, and I have so much to say that I won't be able to type here because this is such a comprehensive and digest trip and I have learned quite a bit from it.
10 – Can you be specific how did you find or know about A Broader View?  What keywords did you use, what did you search for.
I looked up the most inexpensive options for volunteering abroad.  There was a link that said something along the lines of $150 per week.  I just felt called to work at an orphanage in Latin America and especially Peru because of Machu Picchu and a story I wrote in a Spanish class years ago.