Being able to develop friendships with all the kinder and hospital kids. They changed my life in a way no one else has, and I have learned so much from the kids in the hospital as well.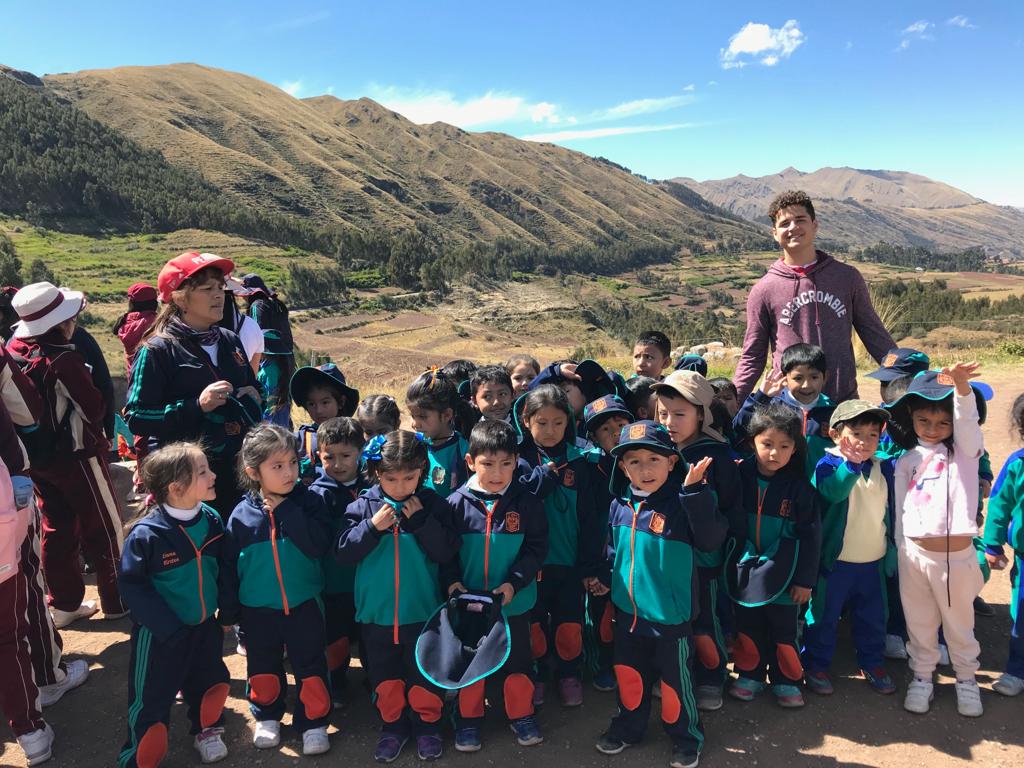 1.- Whats was a daily schedule at the program, hours volunteered?
Every day in the week from Monday to Friday, I volunteered at the kinder during the morning (8:30 A.M. to 1 P.M.) and in the clinic during the afternoon (2:30 P.M.-5:30 P.M.). Therefore, I worked for 7 hours and thirty minutes every day of the week. The weekends I had off to visit historic sites near Cusco such as Machu Picchu and Vinicunca. 
2.- What was the most surprising thing you experienced?

Host Family: Our ability to connect very quickly and establish friendships and healthy relationships with one another. The day I arrived, I only knew two other friends prior to the trip. However, the rest of the family members, including Maria Elena (our supervisor and ABV director) and my peers, were very amicable and easy to talk to. Soon enough, we became friends and spent our lunches talking about our lives and holding interesting conversations.
Program: The organization and efficient registration from Miami. The sign-up was very simple and organized; I do not remember a time where I struggled with the registration. Everything worked out fine. Also, the structure of my trip. The schedules were very well fixed and planned. Also, there was some flexibility with the schedules. This made it better for us to be able to arrive at work on time and made the experience so much better.
Country: The passion for its culture and traditions. Everywhere you go in Cusco, you will find its official flag hanging from most houses, restaurants, and even cars. Also, most days in the main plaza, named Plaza de Armas, events were held celebrating the city's post-Incan culture with dances and rituals unique to Cusco.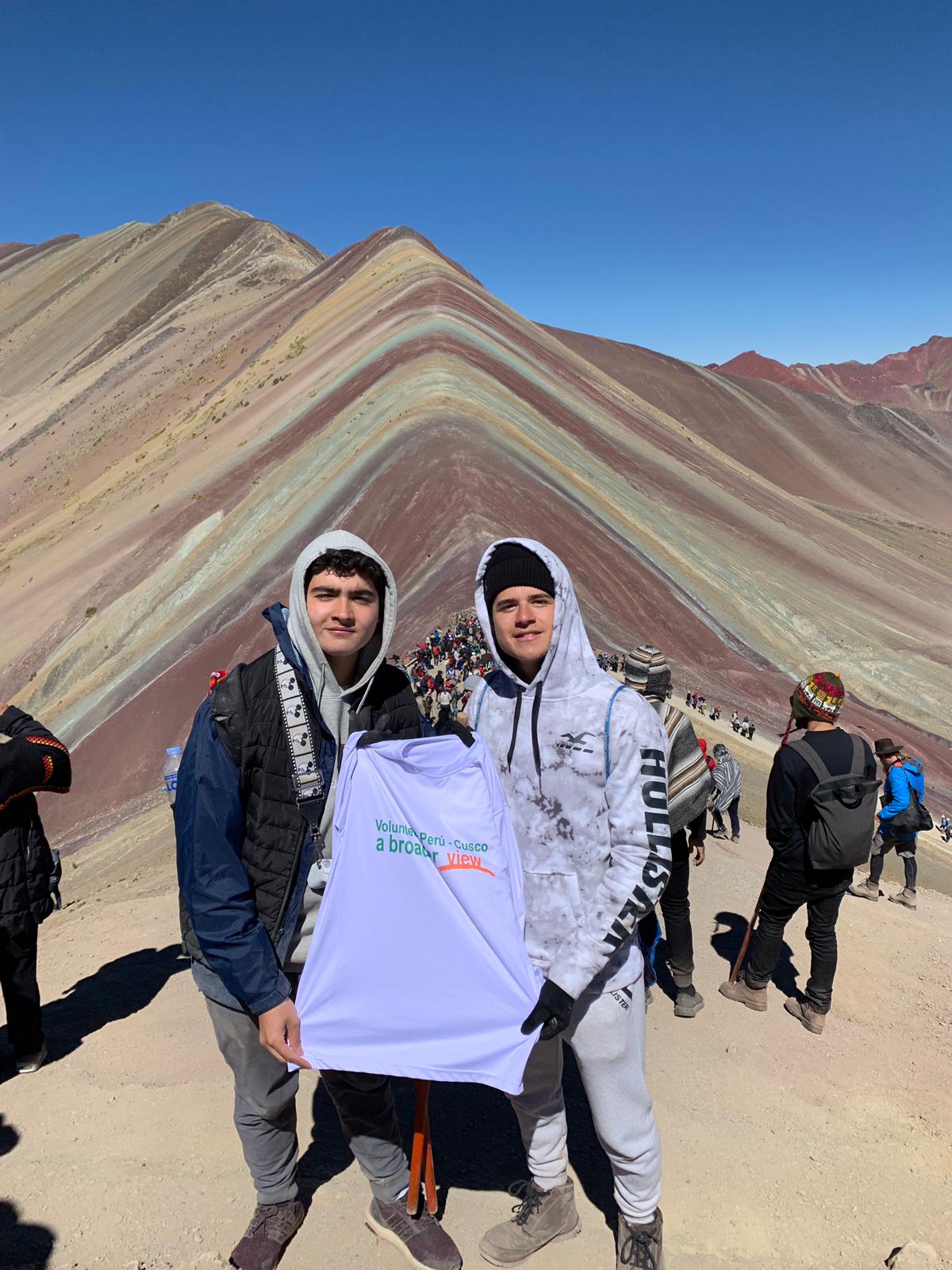 3.- What was the most challenging thing you experienced?

Host Family: The morning shower schedule. My peers and I always struggled to shower at our fixed schedules because some of us took longer to shower than others, so sometimes we would be a little short on time for work. However, as time progressed, the timing improved, although there were a few cases where one of the volunteers did not have enough time to shower in the morning and had to push it to the evening. It is important to note that this issue was not Maria Elena's fault, but rather our own, since we were not capable ourselves to wake up earlier to shower. If early morning showers were taken, then the timing would be a lot more convenient.
Program: Candidly speaking, I did not find any challenges with the program. Everything from Miami worked efficiently and in Cusco, I found ABV to be responsible and well-managed as well. 
Country: I had the prior knowledge that security was an issue in Cusco, especially after certain hours of the day. Therefore, during my visit, I always had to be cautious to avoid any serious troubles or dangers. Despite this not necessarily being a challenge, I did have to keep focused most of the time I walked through the streets after dark.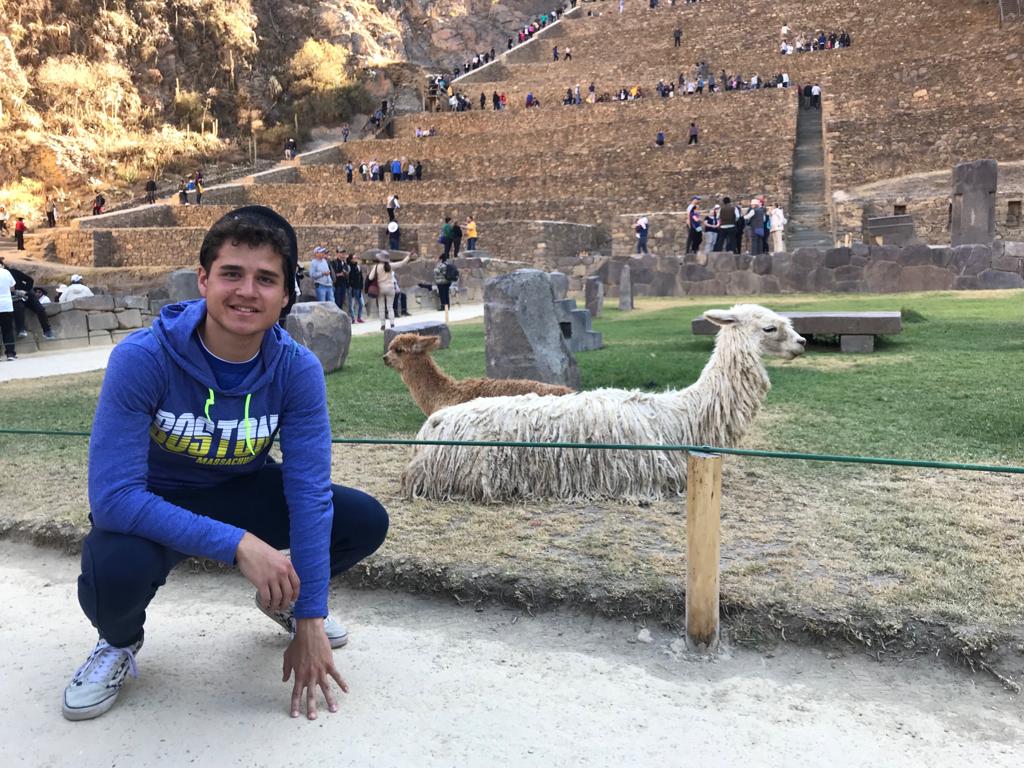 4.- Any tips for future volunteers… (clothing, travel, personal items, donations, money, internet)

Definitely to take multiple layers of clothing and winter gear because it can get cold in trips to tourist sites, like Machu Picchu and Vinicunca (Rainbow mountain) due to the high altitude. Luckily, I did not have trouble with the clothing, but I would recommend this to future volunteers for safety. Also, make sure not to drink tap water in Peru because it can interfere with the immune and digestive systems since different bacteria cultures live in the water as compared to the tap water in the USA. Always drink bottled water. Maria Elena was kind enough to boil tap water for us (in this case, one may drink it because the bacteria have been killed) and therefore, we were able to drink it. Also, on the first day when you are first offered to change dollars to soles, make sure not to change all the cash at once; you do not know how much you are going to spend on your trip. Keep some dollars in your wallet to avoid having to change the soles back to dollars at the end of the trip. Always use a credit card for purchases, and never a debit card, for security reasons. Keep your wallet and personal items in your front pockets always when walking around. Someone can pickpocket your items if kept in back pockets. Transportation is very economical in Cusco; bus rides and taxis are ubiquitous. It is recommended that you take taxis almost everywhere because it is the most comfortable and convenient for smaller groups. Drink hot tea or any hot drink to help with the cold temperatures in Cusco.
5.- Other things volunteers should know before coming here (besides Spanish):

Host Family: Know that you will have to wake yourself up every morning and that the morning showers will be hard to administer (unless you wake up really early). WiFi is available, but it is limited due to many people in the household connected to it at once during the nighttime. Water and energy are a little expensive there, so keep in mind not to leave the water running or have any lights on unnecessarily. 
Program: The kids at work are very nice and great; they can become like family if you build a strong relationship with them. Always be kind and respectful to the people you work with.  
Country: The earlier you get back home, the better. This is not meant to make you paranoid and not want to be out at night. But surely be cautious of your surroundings all the time and try to be home a bit before the curfew, which in our case, was 9 P.M. since we were minors.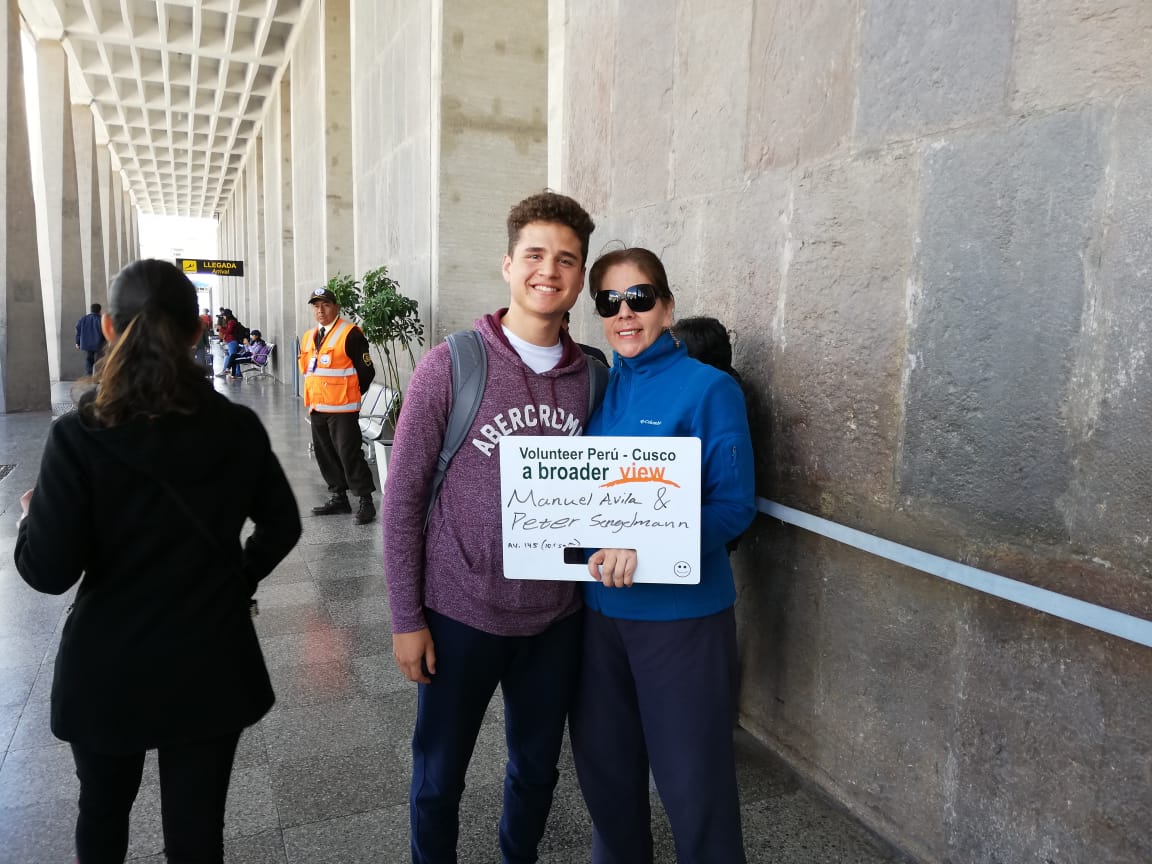 6.- Personal Paragraph about the experience:

This trip is definitely life-changing, and it makes you realize that there is a whole other world outside of the United States; the way of life is completely different in Cusco...everything about it. The foods, traditions, and overall dynamics are not the same as in the USA. The kids I worked with definitely changed me in several aspects, especially the kids at the clinics. To see them have fun and show a big smile across their faces was the best thing about the trip; I am so grateful for this opportunity to interact with them and develop a bond with them. Helping them eat and brush their teeth was also a good experience but talking to them and playing different games with them also taught me a lot. The kids at the kinder were also very special and kind; they would hug me a lot and kiss me on the cheek. It was nice to know that they saw me as a teacher, as they called me "profe", which is short for "teacher" in Spanish. Talking to them and playing with them allowed me to become close with some of them, and I surely miss them already. Seeing the kids interact with one another also reminded me of my kinder days, and my old friends, which was a nice reminiscence. 
Cusco as a city was very enjoyable; the people were very nice and the Peruvian cuisine was delicious as well (ceviche, lomo saltado, torrejas, etc.). The music and dances at night were spectacular, although I was not able to experience the whole performance since I had to back at home before 9 P.M. (curfew). Coincidentally, I visited the city during its most important days of the year. It was the annual "day of Cusco" last Monday, which allowed me to enjoy the city's maximum spirit and culture. The trips to Machu Picchu, the Rainbow Mountain, and the Sacred Valley were beautiful. The sights and wonders each of these places offered was unique and unforgettable. Going with my two close friends from Miami made it even more memorable, but the experience alone is also worth it. Machu Picchu is incredible; everything about it is mysterious and so sublime. The other two trips also offered nice sights and Incan history that you will not get anywhere else. The guides did an excellent job of explaining every detail in each of these historic sites. My ABV director and mother, Maria Elena, did an amazing job of making sure we had the best experience in Peru. She suggested the best prices for the trips and made sure we knew our coworkers in our jobs. She made really good food for us and made us feel as if we were at home. Thanks to her, this trip to Cusco was safe and comfortable. I would definitely recommend this trip to anyone in the world who is willing to help others out, and who is willing to make a difference in the world. This trip will also teach you a lot about the world, and make you realize that Peru is a beautiful country in its unique way. In short, this trip is life-changing, and you will surely enjoy it.
7.- How would you describe your accommodation: meals, security, friendliness, quality others:

Meals: I mostly ate at home, where Maria Elena and her friends prepared scrumptious food for us every day. Breakfasts and dinners were mostly bread and jam combined with coffees, a wide variety of teas, yogurts, and crackers, but the lunches consisted of a lot of food made with a lot of love (not to mention that the breakfasts and dinners were made with lots of love as well). The restaurants' foods were also good; Peruvian restaurants offered delicious food as well. It is not recommended to eat at Plaza de Armas because since most tourists hang out there, the food is rather expensive. 
Security: The house was very safe; there were two doors leading into the house, and each of them had good lock systems which made it almost impossible for someone to break in. The fences had sharp ends at the top that curved outward, which made it even safer. There were few copies of the keys to the house and they were given to the most responsible volunteers staying there, so it reduced the possibility that someone would lose them.
Friendliness: Everyone in the house was very friendly. There was no issue with the spacing and all the guys sleeping in my room had their individual closets and shelves for personal items. Maria Elena was very friendly and kind; we grew close during my stay. She is very social and is willing to make your stay at her house a comfortable one. My peers staying with me were also very nice. When we talked, we would banter a lot, but the conversations were always healthy and fun.
Quality: The quality of the house was really good; everything about it was really comfortable and well done. The food was delicious, the good energies and vibes were always present in the household. The beds were comfortable and we each had several layers of sheets to keep us warm at night (it can get relatively cold). There was hot water in the shower, which was important for me. There were no bad odors in the house.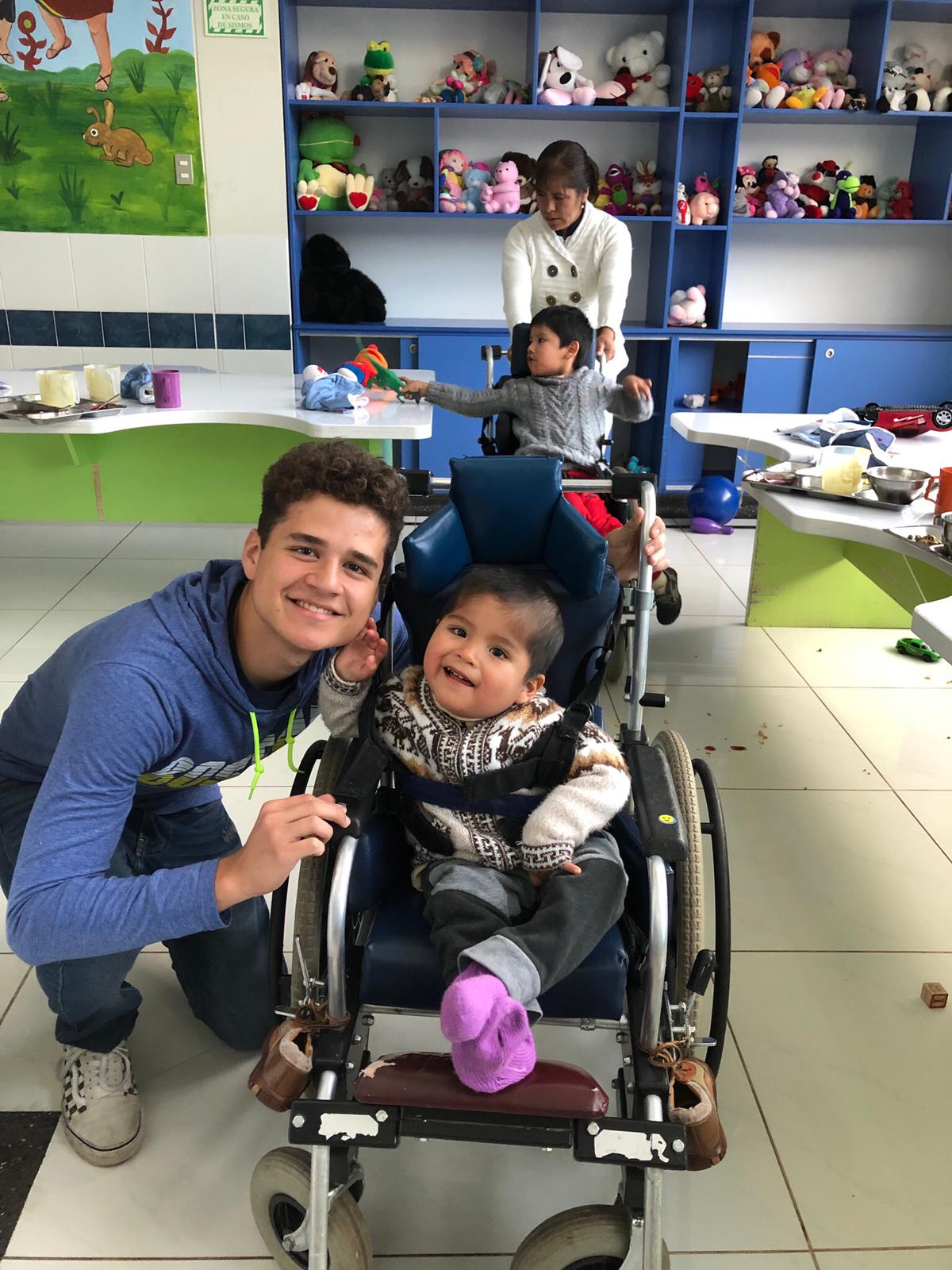 7.1.- Score the following from 1 to 10:
Quality of meals: _10__ if under 5, what was the issue:
Quantity of each meal: _10_ if under 5, what was the issue:
How clean was the house: _10_  if under 5, what was the issue:
How safe was the house: _10_ if under 5, what was the issue:
8.- How was the local ABV Coordinator/staff and the support provided in-country: Airport, orientation, introduction to the program, schedule of the program, friendliness, solving problems?
When I arrived in Cusco, Maria Elena was waiting outside for me with a sign that had my name on it. That made it easy for me to identify her and leave early. The orientation was also nice; she took us to the most noteworthy locations in the city and introduced us to the most economic and friendly tour planners in Cusco. The introduction to the work sites was also well-made; I got to know my teacher and the clinic's nurses since the first day. By the second day, I felt comfortable in the work sites. Maria Elena was really good at offering us the safest and most economical prices for foods, tours, and transportation methods. Thanks to her, I enjoyed a memorable experience in the city of Cusco working for ABV.
9.- Whats was a daily schedule at the program, hours volunteered, activities you did?
Every day in the week from Monday to Friday, I volunteered at the kinder during the morning (8:30 A.M. to 1 P.M.) and in the clinic during the afternoon (2:30 P.M.-5:30 P.M.). I helped the kinder kids out with their classwork: coloring, playing with toys, feeding them, helping them when they got hurt in recess, provided support when they cried, made sure they had a fun time, etc.). These kids were the best and I developed relationships with most of them, which I will never forget. In the hospital, I took the kids out for walks, helped them eat, and played with them. Sometimes I talked with some of them, which was very memorable for me as well. These kids taught me a lot about life, and thanks to them, I came back to Miami completely changed. These kids, despite their disabilities, were always in a good mood and had the best attitude I have ever seen.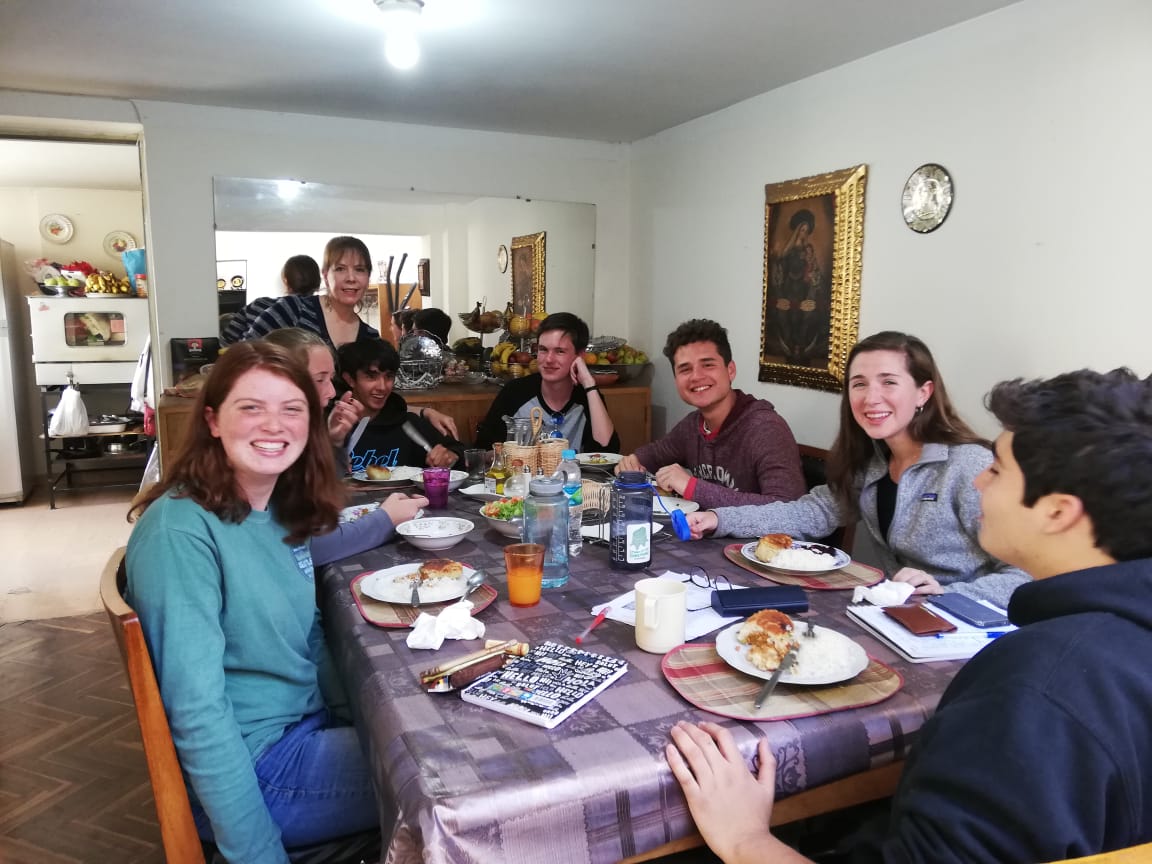 10.- What was your favorite memory of this trip?:

Accommodation: Eating lunch with the whole group because we had the best conversations and often joked with one another. Also, the nights where we all watched Netflix shows on the living room TV. We had good moments and cherished the time together. I hope these bonds will never be broken because they have become very valuable to me over the past couple of days.
Program: Being able to develop friendships with all the kinder and hospital kids. They changed my life in a way no one else has, and I have learned so much from the kids in the hospital as well. I mostly remember the first day where I did not know what to expect in the clinic and in the kinder. I was kind of shy the first day because I had not exactly found my role in the workplace yet. However, as the days passed, I became closer with the kids and my coworkers, which allowed me to make the most out of work.
Country: Seeing the festival and dances on the "Day of Cusco" because the Plaza de Armas was packed with people and music. It really showcased the lively energy within the city. Also, walking the streets with my two friends that day was the best because we had fun talks and enjoyed Cusco's spirit.
11.- How was the ABV USA support prior traveling? Emails, chat online, calls, volunteer guide:
ABV USA support was reliable and efficient prior to traveling. Sarah did a really good job of making sure all the details were on track and that all the payments were completed. If something was missing, Sarah would email me right away, notifying me. Also, when I emailed her asking her questions about the trip, she would answer quickly, which I really appreciated. 
12.- What do you think about the reservation system online?

I think that everything about the online service is great, including the reservation system. When I registered, the organization made sure I was considered as a potential volunteer and once I was accepted, ABV offered a smooth and secure system for me to register and complete the payments.
13.- Who did you find Abroaderview website
?
My friend introduced me to ABV because he had found it himself a couple of months before summer, searching for summer volunteer programs abroad. Since I was also trying to go on a service trip and help others (it's what I love to do), I joined and began to sign up.
14.- Are you willing to speak to other potential ABV volunteers?
Absolutely. It would be my pleasure to be able to provide more information to them about the city and its characteristics. It is important for them to know what to expect of it so that they could have the best experience yet.

Check more Volunteer Reviews here