Traveling on tours and learning about the history of the Incas with other tourists.
Review Volunteer Danai Leininger Peru Cusco Child Care program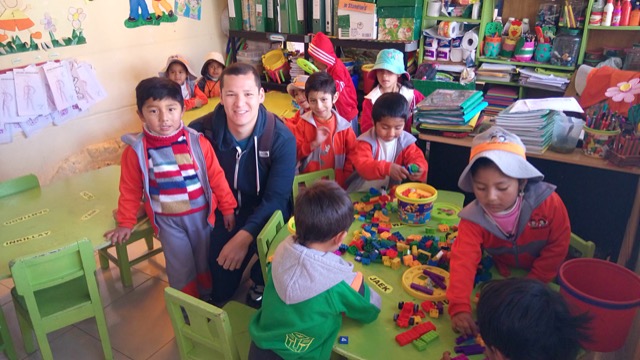 1- How was the local ABV Coordinator/staff and the support provided in-country?
María Elena's attention to detail was excellent and she was in constant communication with me. Upon landing in Cusco, she was there to collect me and provided me with a great overview of the city and the neighborhood. She helped arrange activities outside of my volunteer activity and made sure I was comfortable.
She accompanied me to my first day at the program and introduced me to the teachers and administration, which put me at ease. After the first day, she wanted to make sure the program was a great fit as she wanted me to be content with my program.
María Elena was also very accessible. She responded quickly to all of my questions via phone (WhatsApp) and her attention to detail was greatly appreciated.
2- What was the most surprising thing you experienced? Name 2
Program: The children in the program haven't encountered many people from outside of Peru so they are very curious. I was surprised at how quickly they attached themselves to me and how responsive they were to me. Despite coming from significant adversity, the children were positive and very engaged.
Host Family: María Elena was like my in-country mother and wanted to make sure I had a great time both as a volunteer and as a guest in her house. I was pleasantly surprised that she provided more than just room and board – the daily interactions/discussions were a pleasant surprise and a key factor in what made the trip a great experience.
Country: This was my second time in Peru and I was once again surprised at how open and friendly the people were. I rode a shared van from Cusco to Ollantaytambo and chatted with some passengers for the entire time. They were curious about my experiences in the US and were very forthcoming about how life is in Peru.
3- What was the most challenging thing you experienced?
Program: It is difficult to make a meaningful impact in such a short time, so finding the way to help in the most effective way was a challenge. The teachers had their lesson plan and I tried to assist by preparing materials, keeping the students focused on their work, and maintain a high level of energy/engagement to set an example for the students. In the end, I think this was an appropriate way to make a difference. As ABV cautioned, there will not be dramatic changes during your time, but every little amount of support counts.
Host Family: It was not a significant challenge but as the house was full of ABV volunteers, I had to be respectful of the other volunteers' sleep and work schedules.
Country: Peru is not as sanitary as the US and it was a challenge staying healthy during the week. Some of the things that we take for granted (clean water, clean food, clean facilities) are not readily found in Peru.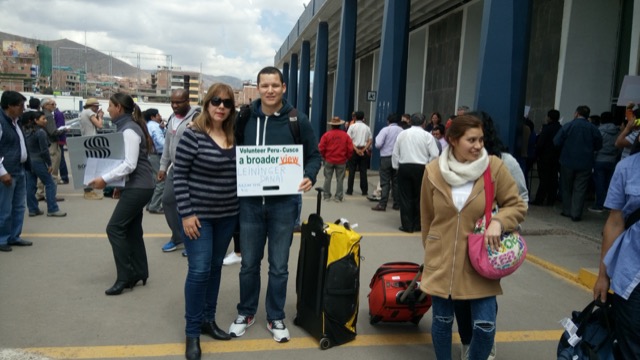 4- Any tips for future volunteers… (clothing, travel, personal items, donations)
Dress in layers. It can be 80 degrees F during the day and 40 at night.
Bring sanitary wipes (for both hand and restroom use)
Having a smartphone with data service was a lifesaver. I was able to communicate with my host via WhatsApp, and I was able to use Google Maps for easy navigation. For US-based travelers, T-mobile offers free international roaming (2G speeds) and this is a great feature if you only need to use WhatsApp and maps application.
Bring sunblock. The sun is deceptively strong here
5.1-Other things volunteers should know before coming here:
Learn some basic phrases in Spanish before coming as it is helpful in navigating Cusco.
6- Personal Paragraph about the experience (ABV Program Testimonial):
The ABV experience was incredible. It was a pleasure working with the children at the program. They are full of spirit and I was happy to support the teachers in her lessons.
ABV was very communicative throughout the application/sign-up process and the handoff to the in-country coordinator was seamless. I would recommend ABV again to my friends!
7- How would you describe your accommodation, meals, security, friendliness, quality others:
My accommodation and meals were sufficient. I had no trouble sleeping as the house is located on a street off the main thoroughfare. One challenge I had was the shower, which had an electric heater built into the shower head. This did not get as hot as I am accustomed to, but it was satisfactory.
In Peru, lunch is the largest meal of the day and dinner is very small compared to US. A typical breakfast is a banana, bread, cereals and some coffee/tea/milk. A typical lunch is soup, rice, and meat/chicken. A dinner at home is bread and jam or something similar. I dined out a few of the evenings to explore Peruvian cuisine.
Security was never an issue during my week in Cusco. The main roads are usually bustling at all hours and I never felt in danger. Nonetheless, I kept my belongings close and remained vigilant.
Peruvians are incredibly friendly and eager to chat. Strangers will greet you when passing you on the street, which is a welcome change from some parts of the US. Trying to speak Spanish goes a long way and the Peruvians appreciate the effort.
8- What was your favorite memory of this trip?:
Program: Playing soccer with the children during recess. We started the week in total chaos and by the end of the week we had an organized game.
Host Family: Having dinner with everyone in the house, discussing experiences with the other ABV volunteers. It was great meeting people from different walks of life and spending time with them.
Country: Traveling on tours and learning about the history of the Incas with other tourists.
9- How was the ABV USA support prior traveling?
ABV USA support was excellent (1-day email response time) and Lynn sorted all of my questions.
9.1- What do you think about the reservation system online?
It works well, no issues that I recall.
9.2- Who did you find Abroaderview website
I searched on Google for volunteering in Peru, and I also searched for 501 c3 opportunities.
10 – Are you willing to speak to other potential ABV volunteers?
Yes