In today's world being bilingual is very important. Knowing the second language is very beneficial not only in your business life but also in your daily life. English and Spanish are the most common languages in the world. If you are native English, or you know English already, learning Spanish would be a great idea.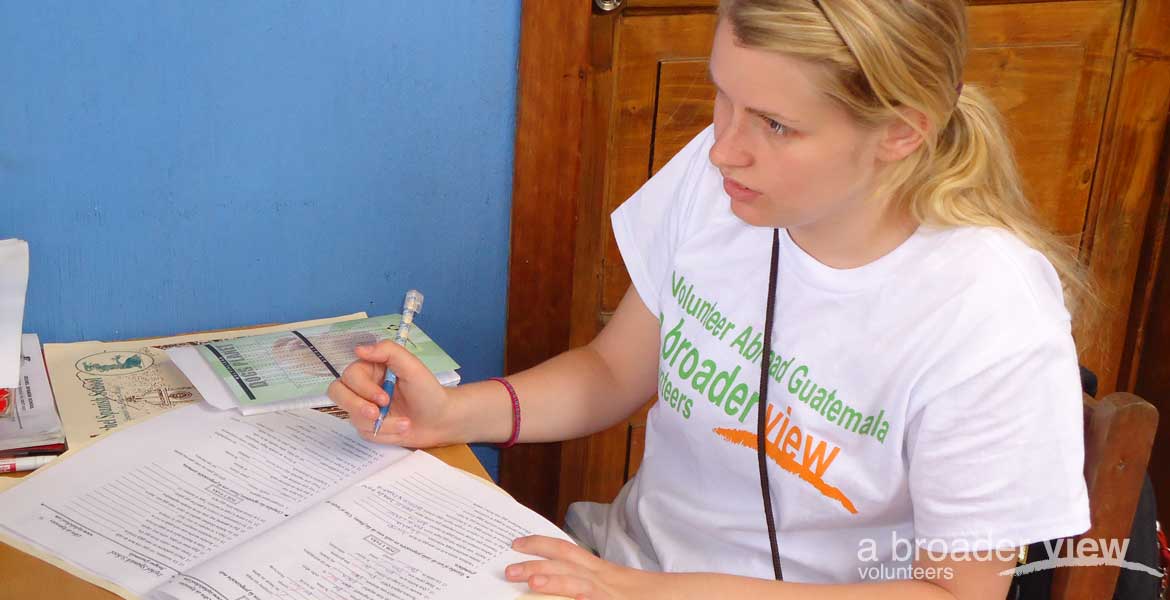 In today's world being bilingual is very important. Knowing the second language is very beneficial not only in your business life but also in your daily life. English and Spanish are the most common languages in the world. If you are native English, or you know English already, learning Spanish would be a great idea.
You can enroll in a course in your hometown for sure but a better way is to go to a country whose mother tongue is Spanish. Then, you can develop your Spanish in a shorter time. You will not only be going to school but also spending time with the local people. Therefore, you will have so much time to practice. Spanish speaking countries usually don't speak English so it will be a challenging journey for you. However, this challenging situation will help you improve yourself more quickly.
Abroaderview has many abroad Spanish learning opportunities. We have different Language and Cultural Immersion programs. You can find a volunteer mission in a Spanish speaking country and city. Your volunteer mission can be in a school, in a clinic, in an orphanage. There are many availabilities of different kind of facilities. Also, we have flexible dates as Abroaderview. When you decide to take action and learn Spanish abroad, we can create a unique plan for you. According to your needs, budget and available time, we can find the right program in a suitable destination.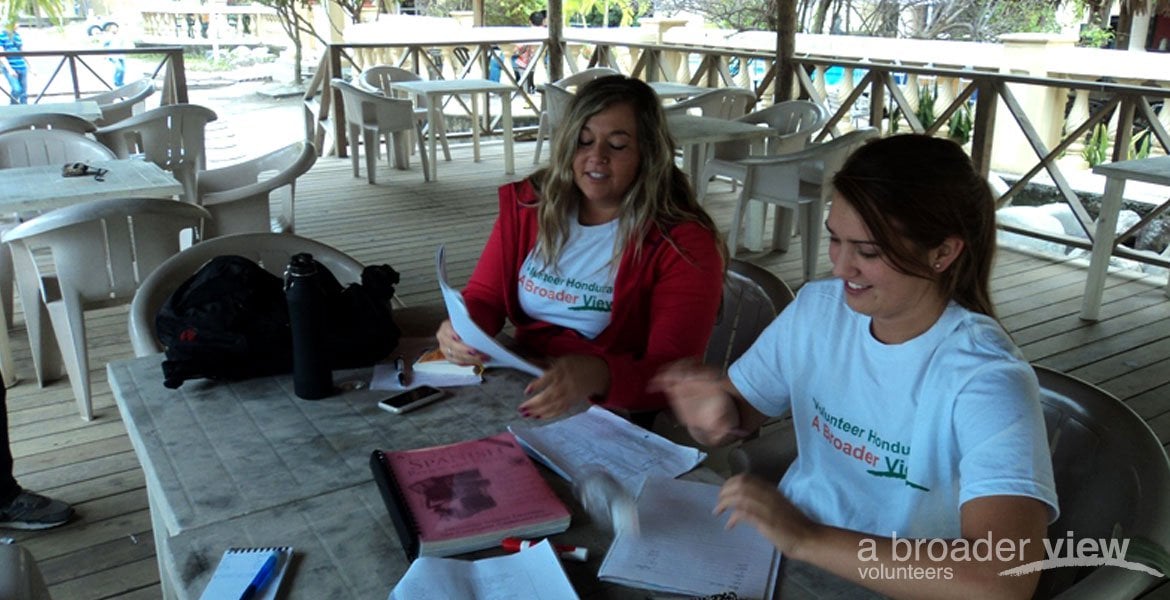 It is possible to join an immersion program for 1-4 weeks. Besides the general lessons, you can buy some private lessons from the locals. However, since you will be living in the Spanish speaking city actually there is no need for private classes because each chat you do in the daily life will be like a practice. Lessons are on weekdays. Therefore, you will have time to discover the country also. You can do some sightseeing and visit touristic places in the region you stay in.
During the Spanish immersion program, you will be staying with a local host family. They will also help you with your language. As Abroaderview we choose our host families very carefully so we guarantee that you will have a safe and comfortable stay. Our local friends are very friendly and hospitable. They will help you with everything. Also, you can rely on our local coordinators and organization directors. They are experienced and kind people. You can get in touch with them whenever you need.
Abroaderview offers special programs in different countries. Costa Rica, Peru, Honduras, Ecuador, Chile, Colombia, Guatemala, Argentina, and Nepal are some of them. So, let's have a closer look at the immersion programs in those cities. We will be giving some information about some of the programs but if you are willing to learn more, you can always visit www.abroaderview.com for more details.
Spanish Immersion Program in Honduras
In Honduras, La Ceiba, you can take Spanish lessons and take part in the social community projects. It can be orphanage support, teaching English, or helping the staff in the clinic, etc. You can stay 1-4 weeks in Honduras. You can work 4-8 hours per day. La Ceiba has an airport so it is easy to reach the city. You will be welcomed in the city and in the afternoon, you will join the city and orientation tour. So, it will be an easy start for you. Honduran people are very friendly so you won't have hard times to get used to living in Honduras.
Spanish Immersion Program in Argentina
You can have an unforgettable experience in Argentina. While learning Spanish, maybe you can even learn Argentina Tango. Argentina is the country of passion, dance, and tango. You will have a great time in this beautiful country. After arriving Cordoba Airport your amazing journey will start. You can stay 1-8 weeks in Argentina with a host family. All the meals are included in your stay. You will be given breakfast, lunch, and dinner. Therefore, you will have a chance to try traditional food. You will have a better idea of their traditions and daily life.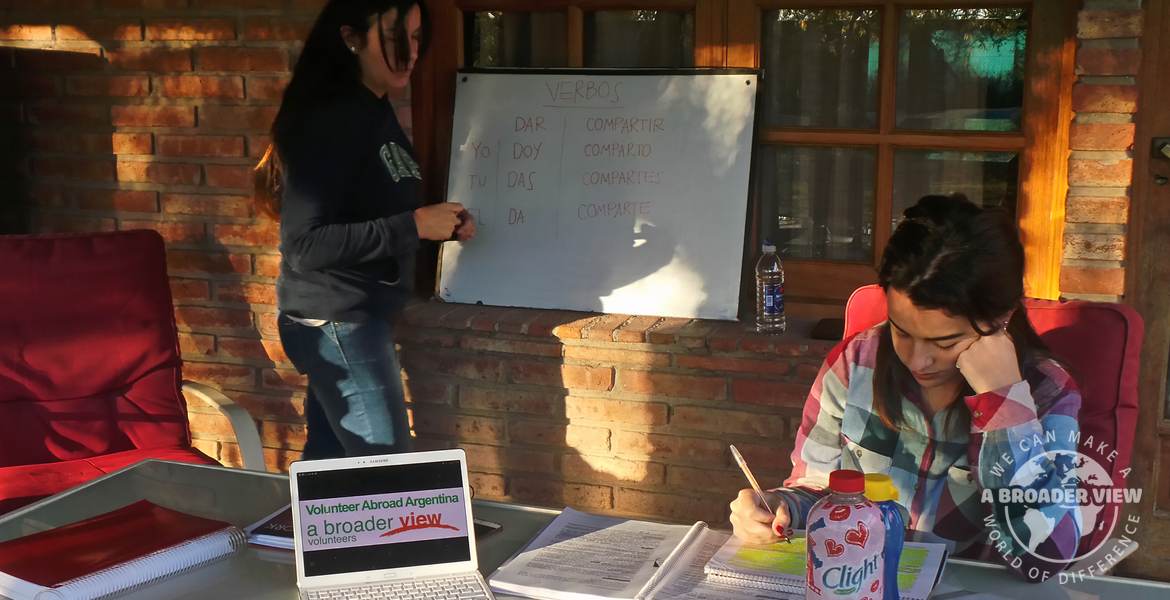 ABV will do the placement where you will work approximately 40 hours per day. Working hours are adaptive so you will have time for everything. In Argentina, we have a language immersion so that you can understand the culture of the country deeply. If you understand the culture, it will be much more easy to learn the language. Spanish is not a hard language especially if you know English already. And learning Spanish is very beneficial because after that you can easily learn Italian. They are similar languages and it will be a great choice for your self- improvement.
Spanish Immersion Program in Costa Rica
Abroaderview has different volunteer programs that you can learn Spanish in Costa Rica. Our language immersion program is well designed. In this program, you will take some daily lessons from a local native Spanish speaking person. Besides these lessons, you will stay with a Costa Rican family so you will have a chance to practice the things you learn in the lessons. This experience will widen your world for sure.
In Costa Rica, Abroaderview organization has two destinations. One of them is Escazu, the other is San Jose. The programs differ a bit from place to place. In Escazu, the program includes eight hours Spanish lessons weekly, while in San Jose you will be taking 7 hours lessons in a week. Before start, you will be given a Spanish test to decide your level. Then, lessons will be arranged according to your needs. If you need grammar then the teacher will focus on grammar. If you need speaking practice, then the teacher will help you with it. Of course, there is syllabus but it is flexible and it will be arranged according to your skills and needs.
The aim of all these programs is to develop yourself in multiple ways. You will be learning Spanish and it is a big plus but you will also be discovering a new country and culture. It can be a life-changing experience for you. All you need to do is to decide the destination and duration of your journey. Then, ABV will plan everything for you.
Spanish Immersion Program in Ecuador
If you are interested in Spanish immersion programs, Ecuador may be an interesting choice. Living with Ecuadorian family will be a unique experience. Best way to improve a language is to have more conversation and to involve more dialogues. If you push yourself to do that, your Spanish will be improving faster than as usual. Don't be shy and just try to speak Spanish even if you know just a few words. Also, listen to people carefully and try to understand them. On weekends you will be free. No job no lesson. So, while having a walk, try to read the signs, try to listen to people and understand what they say. Just sit down in a local restaurant, order something and chat with the waiter or waitress. You can even start a conversation with the other customers in the restaurant. People will value your effort on learning their language and will help you.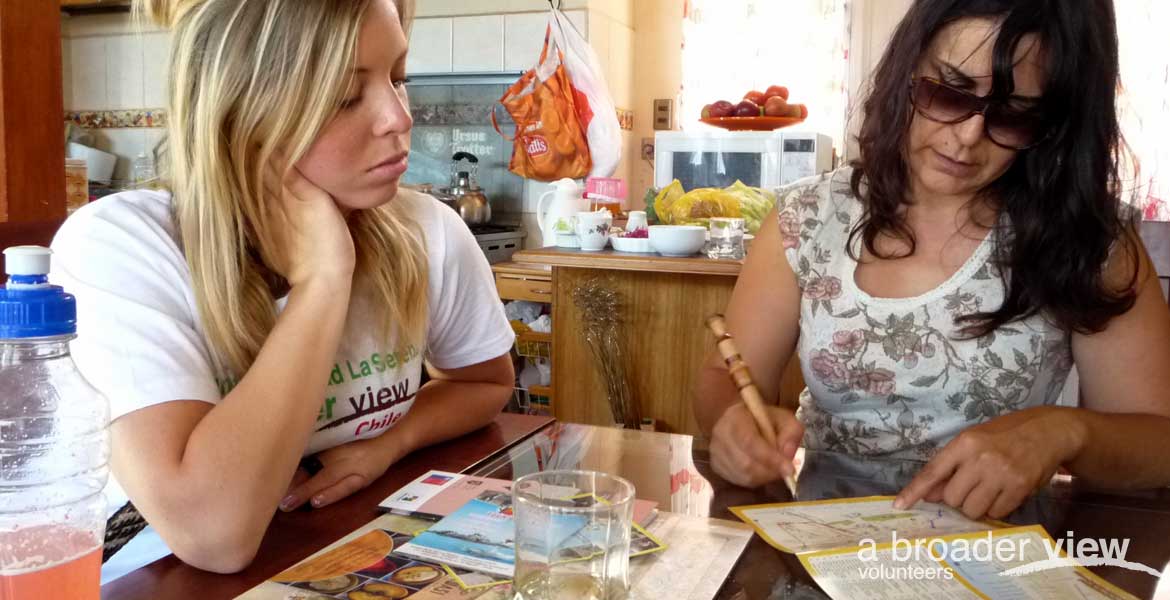 In Ecuador, as Abroaderview we have a school in Quito which has extracurricular activities. You can learn traditional dances, cooking, or preparing cocktails. All those activities will be fun. During weekends they organize trips to close cities, national parks, etc. Joining those tours is a great opportunity to practice your Spanish. Furthermore, you can meet new people and make new friends. Spanish lessons will be on weekdays. You can decide your program with the ABV coordinators. You can work in the morning and take lessons in the afternoon or you can also do the opposite. At the end of the week, you will complete 20 hours working and 20 hours lesson. And keep in mind that 1 working hour is 45 minutes. Therefore you will also have enough time to have a rest.
Spanish Immersion Program in Guatemala
If you would like to go abroad to be a volunteer and learn Spanish at the same time ABV can offer placements in Guatemala. There are two different destinations in this country. You can either go to Antigua or Xela. Half of the day you will be taking Spanish lessons in the school and in the other half, you will be working as a volunteer. Spanish immersion lessons can be combined with the volunteer job you like. It can be in a day care center, in an orphanage, etc. Depends on your wishes, ABV coordinators will find you the best position.
After you finish a program, ABV will give you a completion certificate. You can add this certificate to your resume. I am sure it will help you a lot in your professional life. Because it shows how you invested in your self-development and how you challenged yourself. Decision makers for the roles in big corporate companies value this kind of experiences. So, having an experience like this will help you a lot in your business life.
Spanish Immersion Program in Peru
ABV has a placement in Cusco. Half of the day you can take Spanish lessons and the other half you can work as a volunteer. Peruvian people are very friendly and you will have a great time with them. Lessons are 1-4 weeks but you can arrange more private lessons if you like. With your local teacher, you can find out the things you need more and focus on them.
If the topic is Peru, everybody thinks about Machu Picchu the most touristic place in the country but rather than this there are many beautiful places in Peru. For weekends you can plan some sightseeing tours. The nature of Peru is amazing. We are sure you will love traveling around Peru.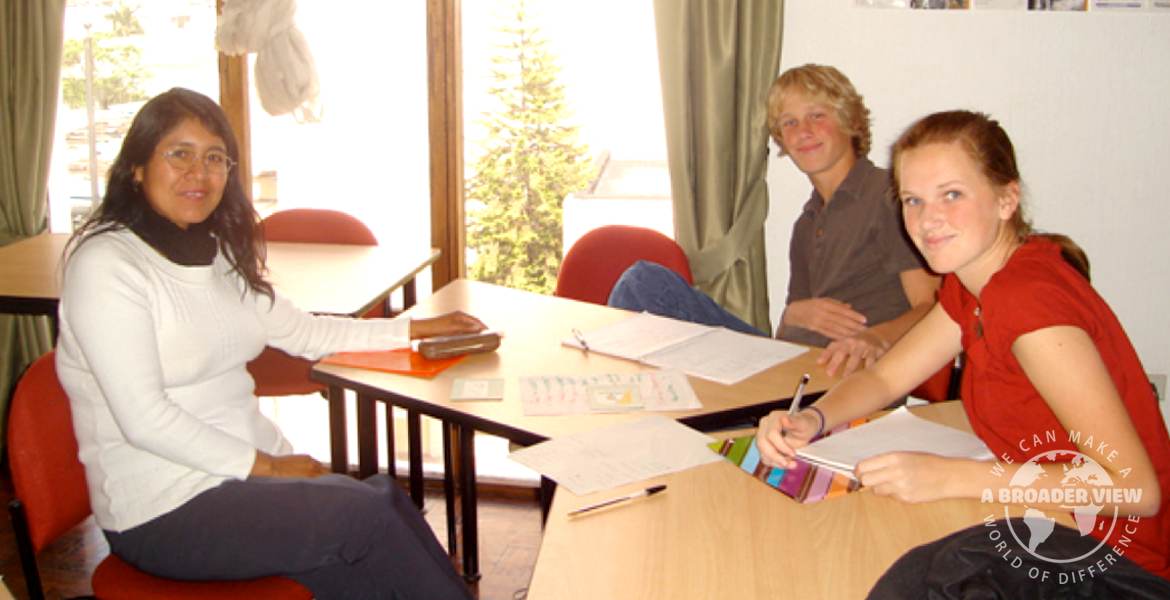 Spanish Immersion Program in Chile
Chile can be your choice for improving your Spanish. Language immersion classes can be combined with volunteer programs in Chile also. While you are learning English, you can teach English to children. Or, you can work as a volunteer in an orphanage. Project length is 1-4 weeks and you can decide how long you are going to stay. If it is your first time abroad, maybe you can start with short time 1 week or 2 weeks. But if you have done volunteering before, you will probably choose to stay more. Program in Chile is in La Serena. You will stay with a host family like the other countries. ABV will be with you all the time.
Spanish Immersion Program in Colombia
Abroaderview's program is Cartagena and it last between 2-4 weeks. When you arrive at the airport ABV personal will be waiting for you. After the quick city and orientation tour, you will have a general idea about the city. Then, you can start to know the community and the city deeply. You can choose any date to arrive. There is no restriction. Just let us know your available times and ABV will take care of everything.
To sum up, Abroaderview will create the best Spanish immersion program for you in the country which you would like to stay. Just prepare yourself for an amazing experience and enjoy your journey.