Volunteer Name:  Aileen Aebischer

Project Location: Cusco, Peru
Volunteered at:  School/Teaching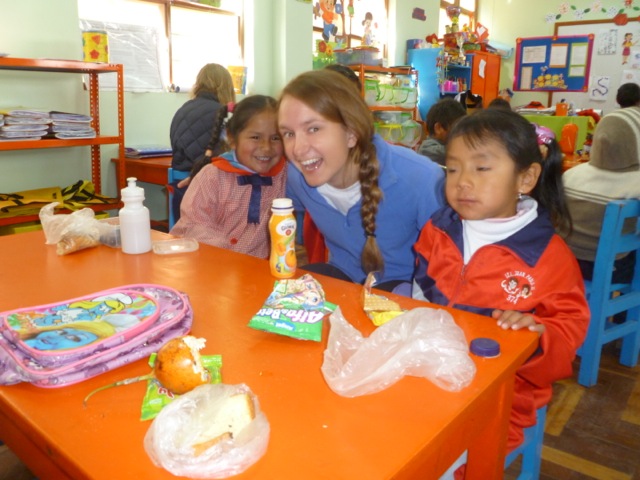 What was your favorite memory of the Volunteer Program?

I enjoyed exploring the city on my own and talking to locals to ask where the best restaurants/ice cream shops and markets were in town. My favorite hike was when 2 other volunteers and myself went to hike to Cristo Blanco statue and found this tiny little trail off the regular path that looked very old. We took it and after a few wrong turns we ended up at Cristo Blanco. The hike was so beautiful.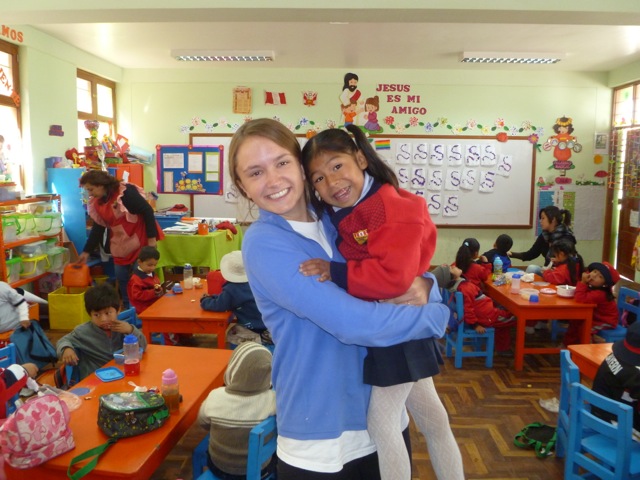 I was surprise that….
Everyone is so friendly. I'm not exaggerating when I say everyone I met was eager to help with anything that I needed. Even traveling as a tourist in Cusco witch I did prior to A Broader View, was the exact same. In store merchants were always willing to strike a conversation. As I was in Cusco during the World Cup every single time I got on a taxi they would tell me the score of the game and express their opinion on who would win.
What was the most difficult thing you experienced?   
The language barrier – and even that wasn't too hard. Although I spoke soma Spanish everyone was really patient with me when I was trying to figure some stuff out. Getting around was easy w/o Spanish just holding a conversation and expressing myself was a bit difficult.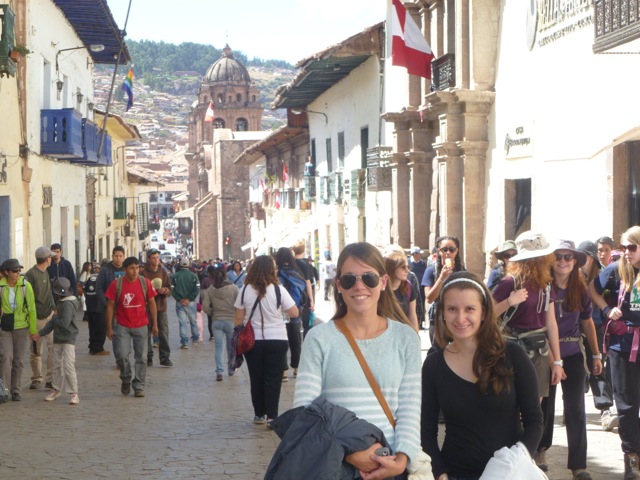 My best received lesson:
Try new things. The days I wandered around without a specific plan were the best ones. I stumbled across hidden gems, which I enjoyed very much. Try the food as well! Some of the foods don't exist where I live, so I was hesitant at first to try them. Once I did, I was happy I did it even if I didn't like the taste.

Any tips for future volunteers… (clothing, travel, personal items, donations, sightseeing etc)

Along with talking w/host family and locals about where to go I found a guide book very helpful. Sometimes I was really in the mood to talk to some other tourists so a guide book pointed me to some of those places. It also lead me to local places that turned out to be really great. Other volunteers were often asking to borrow my book.
How would you describe/rate your experience working with the ABV staff  in the USA and in-country?
I don't really have complaints about the ABV staff. Sometimes it was unclear what time I would leave to do stuff in Cusco, but my host family would always clear that up, I think that was also in part that I didn't have a phone. Overall my coordinator was really helpful and friendly and I don't have many or any complaint.
How would you describe your accommodation, meals and host (host family, on-site, shared house)?

My host family was amazing! They are sweet, hilarious and some of the nicest people I have ever met. They were so patient with me and I felt so at home. My host family parents have a daughter who I often hung out with and she was so nice about taking us out and showing us the city. While the food that I ate was different at my host family's house they were very understanding when something was too different for me to eat completely. As long as I at least tried it they were happy!. I'm so glad I got to stay in a "real" part of Cusco.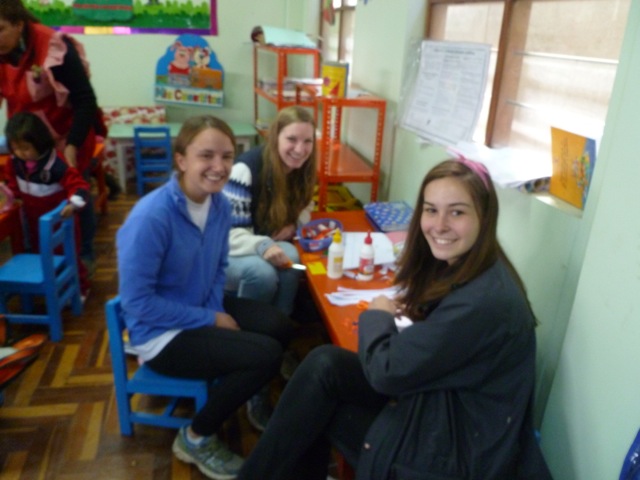 Personal Paragraph (ABV Program Testimonial):  

Overall, I am really glad I got to spend some time as a volunteer in Cusco. As a volunteer I got to experience some things that I wouldn't necessarily have experienced as a tourist. For example, since I didn't live exactly in the middle of the city I would have to take a bus to and from most tourist reside in the city so a bus wouldn't be necessary for them. Taking buses around was some of the most fun I had.
The doors would be wide open and people were jumping on and off while the bus was moving. As far as volunteering goes I know I didn't exactly changed the World while being here. I did, however, put smiles on many of the children faces which was definitely worthwhile. The memory of their sweet faces smiling up at mine screaming "otra vez" (one more time) to spin them around will always reside in a close place within my heart.

I'm sad that I most likely won't see them again, but I just focus on the fun that we had while we were together. I'd never done anything like this before so I was apprehensive but I'm so glad I did.
Are you willing to speak to other potential ABV volunteers?

Sure

Check more Volunteer Reviews here