Volunteer Name: Andy Yoo
Project Location: Cusco, Peru
Volunteered at: Clinic/hospital  – Dental Clinic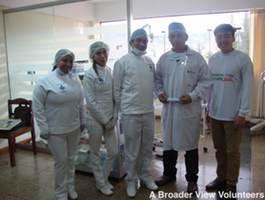 1- How was the local ABV Coordinator/staff and the support provided in-country? I was very pleased with the overall experience in Cusco thanks to the coordinator. Once she took me under her wings, I immediately felt safe and at home. She took two of her days to walk around the town with me as she taught me how to navigate and survive in the city. The Spanish school was also really helpful. It was nice to practice Spanish in a safe comfortable environment.
2- What was the most surprising thing you experienced?
Program: I enjoyed every moment of working at the clinic because of the people. I would be lying if I said that struggle was non-existent since it was difficult for me to communicate in Spanish. However, the people I worked with were extremely friendly and patient with me. From the start, they made me feel like I was part of their team.
ABV: we always recommend taking Spanish lessons in country or prior traveling to Peru.
Host Family: The cooridnator was a perfect host. Not only was she caring and sincere, but she was also really fun to hang out and talk with. She always asked about how I felt and how my day was; she seemed to be genuinely interested in my well being, and that provided more than enough comfort to survive here by myself. Although I was far away from home, I felt like I was still with my family.

Country: Cusco was probably one of my favorite places I have travelled. I think the best part about Cusco is the people and the culture. I was surprised to see how friendly and humble the people here were. The locals always seemed eager to converse with me despite my horrible Spanish. Another thing I've noticed was how laid back everything is here. People walk slower, the grocery lines move slower, etc. People don't seem like they are in a rush to get to anything and just enjoying life slowly. I really liked that about Cusco.
3- What was the most challenging thing you experienced?
Program: By far the most challenging thing was the language barrier.
Host Family: I wouldn't say I experienced anything that was challenging at home.
Country: Again, I think the most challenging thing was the language barrier.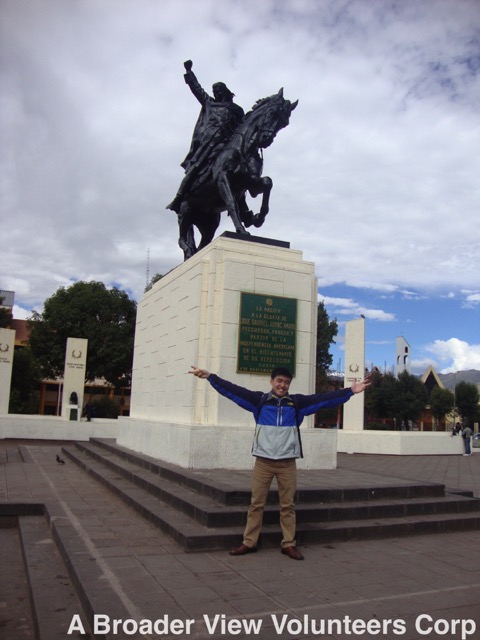 4- Any tips for future volunteers… (clothing, travel, personal items, donations)
I would say bring medicine in case you get sick. I brought Nyquil, and it was a lifesaver when I came down with a cold. You can get any medication here as well.
I would also recommend bringing a scarf or a mask to cover your nose and mouth while walking around the town. It can get a little dusty. Often times, my throat would get really scratchy after being out for a while. Or you can buy a local alpaca scarf an help the local economy.
Be careful with your belongings while exploring the town. Pick pocketing is pretty common; someone tried to steal my cell phone while I was walking to work. Listen to the coordinator when she says the precaution you must follow and follow it to the point, even still Cusco is a safe location.
5.1-Other things volunteers should know before coming here:
When in Peru, do what the Peruvians do. Just go with the flow, stay open-minded, and try things that you would not do in the United States. For example, you need to try cuy (guinea pigs) and coca leaves since they are not found (or illegal) in the United States. Come on, where else are you going to get to try these things! Don't be shy and try to practice your Spanish by talking to the locals. The people here love it when foreigners show eagerness to learn their language.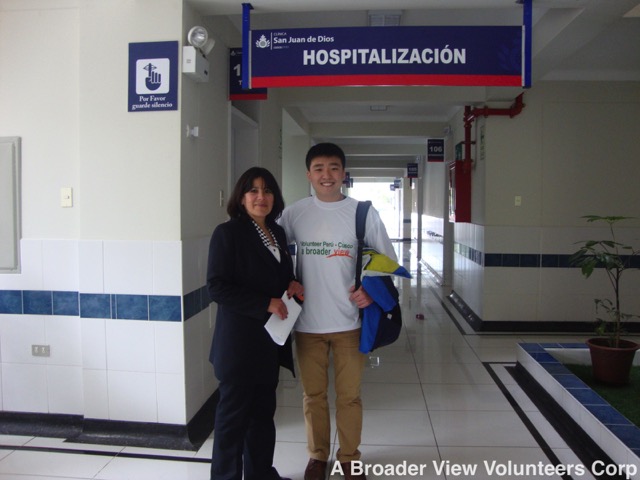 6- Personal Paragraph about the experience (ABV Program Testimonial):
My volunteer abroad experience with the ABV Program has exceeded my expectations. ABV did a great job of preparing me before the trip and making me feel comfortable during the trip. I have learned a lot from working at the clinic. It has exposed me to different styles and perspectives of dentistry, and I believe that it will serve me well in the future. As educational as it was, the whole trip was also extremely fun. I enjoyed meeting new people, seeing and eating new things, and experiencing a different culture. This trip has been an incredible experience, and I would recommend it to anyone.
7- How would you describe your accommodation, meals, security, friendliness, quality others:
Living with the coordinator has been a very comfortable experience. Delicious meals were provided every day. Also, she always kept bread, tea, and fruits on the dining table, so whenever I got hungry, I could help myself to some snacks. Security was good. I never felt unsafe when I was home. There was always a friendly atmosphere in the house. When I was sick, Maria Elena and Alejandra, the housemaid, brought me hot tea and food up to my room, so I can rest and get better. I really appreciated that. Overall, I think the quality of my stay was superb.
8- What was your favorite memory of this trip?:
Program: nI enjoyed working and playing with the kids. Given their tragic circumstances, it was such a gratifying experience to watch them smile and laugh. Despite the language barrier, I was able to communicate with them using various facial expressions and body movements. I think the experience will stay with me my whole life.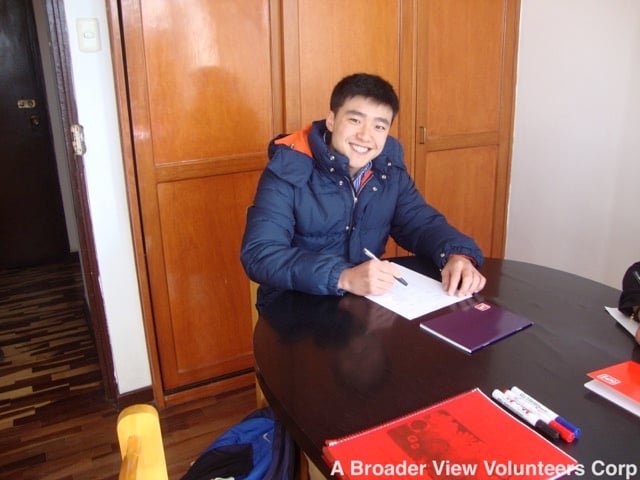 Host Family: My favorite memory was walking around the Plaza de Armas with Maria Elena. For dinner, we had pizza at a restaurant called, Bodega, and it was very delicious. Afterwards, we walked around the center taking pictures here and there, while the street musicians performed. It created such a beautiful atmosphere.
Country: The whole weekend trip to Machu Picchu was very enjoyable. The site was so majestic and beautiful, but the best part about the trip was walking around Pueblo de(Agua Calientes) Machu Picchu. Eating good food, while enjoying the breathtaking views of the Andes and listening to the sweet sound of Peruvian pan flute band. What more can you ask for?
9- How was the ABV USA support prior traveling? (who helped you, emails, phone calls, chat online, how fast did you got an answer, did you got all your answers)
I felt that I was well informed prior to traveling. I received many emails with advice and general information that prepared me well for the trip. Whenever I asked questions via voicemail or email, I always got an answer back within 24 hours or less.
9.1- What do you think about the reservation system online?
I think the reservation system is pretty easy to understand. I had no trouble making reservations.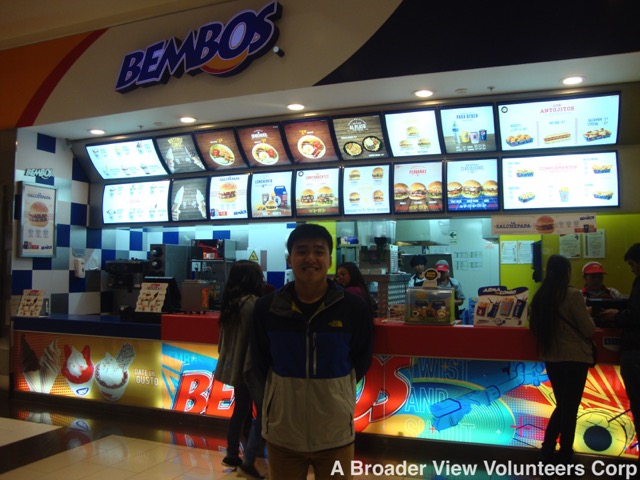 9.2- Who did you find Abroaderview website
I was reading a forum about what to do during a gap year before dental school, and someone mentioned A Broader View Volunteer abroad program.
10 – Are you willing to speak to other potential ABV volunteers?
Sure.