Volunteer Name: Lauren Mallard
Project Location: Kathmandu, Nepal
Volunteered At: ChildCare Program
My Favorite Memory: On my last day with the kids, they had a party in school. Everyone was very excited at lunch to show off their new toys. When it was time for me to leave I got so many hugs. One little boy grabbed on to my lab coat and would not let go. Also, I loved when the kids called me "amiga".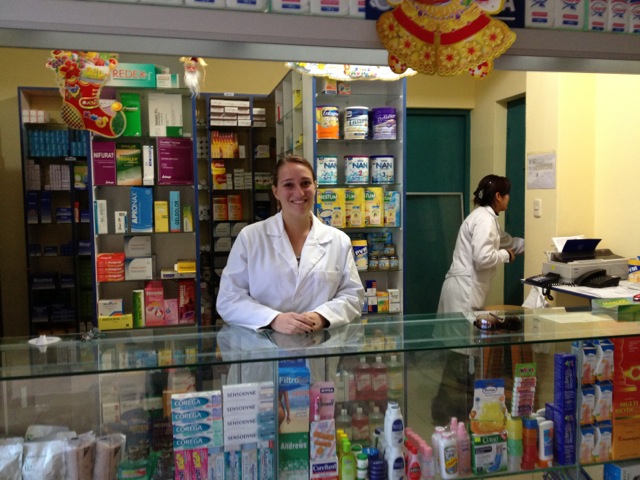 I was surprised that…. The pharmacy operates very differently from what I am used to. The process of filling a prescription is a lot laxer. The patient even gets to bring the prescription home with them after the medication is dispensed.
 The most difficult thing I experienced was…. The first day that I volunteered in the clinic, I helped out teaching a class for children with neurological disabilities in the morning. The teacher in the third and fourth-grade class had to step out for a moment and I offered to watch the class. The kids didn´t see me as a figure of authority. One boy ran out of the classroom and when I went to go get him the kids still in the class started to run out, fight, or eat glue. I had to ask another teacher for help to control the class. After the first day, I began feeling more confident in interacting with the kids, and it became my most rewarding experience.
My best-received lesson… I heard someone mention, " In Peru, pharmacy is a luxury." Health care is expensive and not available to everyone. Not everyone is fortunate to be able to afford medical care. Those who can are very lucky.
Tip for future volunteers… Have an open mind! Volunteering may seem difficult on the first day but it will end up being an extremely rewarding experience.
Personal Paragraph (Testimonial ) I am so glad that I volunteered through A Broader View. I felt very comfortable arriving in a new country knowing that I had gone through this organization. I learned a lot in the pharmacy and seeing the kids in the clinic lit up my days. It is such a rewarding experience to spend time with these kids and knows that you made their day a little better. My only regret is that I did not stay longer. 
 How would you rate your experience working with the ABV staff, both in the USA and in-country? The staff with A Broader View is very helpful. Before I left, Sarah answered any questions I had through email immediately. She was very informative about what to expect and so accommodating when I had a delay in my application process due to the effects of Hurricane Sandy. In-country I was fortunate enough to stay with Maria Elena. She was great at helping us get exactly what we wanted out of our volunteer experience. She has a great relationship with the staff in the clinics which makes starting the volunteer experience smooth. On my first day, she took me on a tour of Cusco and helped me find everything I needed to buy and showed me good places to eat and shop. She was also great at explaining any cultural differences and answering questions about Peru.
How would you describe your accommodation ( ie: host family, on-site, shared housing, etc) My absolute favorite part of my trip was living with my host mom, Maria Elena. She is the most caring and accommodating person! From the minute she picked me up from the airport to the end of my trip she made me feel completely at home in a foreign country. She is so helpful with anything you might need to find in Cusco and with booking and preparing for trips. Also, my "host siblings" really made my trip. We spent so much time together getting to know Cusco. It was a great home away from home. I never once felt uncomfortable. I would recommend to anyone to select a shared housing option. My volunteer work consisted of working with the children in the morning, and the pharmacy in the afternoon. When I was with the children they had school in the morning where I would help with arts and crafts and play games when I was there. After we would bring everyone back to the clinic to eat. After lunch, I would spend my afternoon at the pharmacy. The pharmacists were extremely helpful and taught me a lot about the Peruvian health care system.
Are you willing to speak to other potential ABV volunteers?
Yes.

Check more Volunteer Reviews here