I absolutely loved my experience in Cuzco! Volunteering with ABV is an incredible way to travel and experience another country, its culture and people.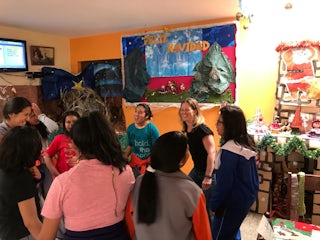 1.- What was a daily schedule at the program, hours volunteered?
I was here over the Christmas period and therefore we spend most of the time creating Christmas ornaments with the girls. They are very creative, so it was both fun as well as challenging. During this time the girls are on vacation and hence the schedule wasn't as rigorous. Fridays was a free day that involved a lot of dancing.
2.- What was the most surprising thing you experienced?
Host Family: Maria Elena went above and beyond. I didn't expect so much support throughout my stay. Not only did she take care of us as part of the program but she also hooked us up with the best travel agency to make sure we make the most out of our stay.
Country: I've traveled around the world and have experienced many cultures and people. Yet, the people in Peru, and Cuzco specifically, are extremely friendly and welcoming. They are warm, loving, respectful and helpful. Often in very touristic places it's easy to feel overwhelmed as locals are constantly and relentlessly 'selling' (something). However that was not the experience in Cuzco. A friendly 'no thank you' was graciously accepted and instead people were extremely helpful. Furthermore, Cuzco is an amazing, magical place that has a lot of travel options for 1-day trips. It's very easy to get around and see a lot of incredible things in a short amount of time.
3.- What was the most challenging thing you experienced?
Host Family: No challenges at all. It felt like home away from home.
Program: Even though I was aware that I would have to be proactive, there was less structure than I had anticipated at the orphanage. It was probably also due to the fact that I was here during the Christmas period and the girls were on holidays. At times it felt as if the supervisors at the orphanage didn't really care whether or not I was there. Nevertheless, the girls were very welcoming and seemed to be happy to have me around which was the most important thing.
Country: A lot of places only accept cash. Not an issue, just good to know.
4.- Any tips for future volunteers… (clothing, travel, personal items, donations, money, internet)
During the summer the weather can vary from being cold to super-hot to raining in a couple of hours. Bring a lot of layers! It's also very easy to travel and see a lot of incredible things in a short amount of time. If you are a student, don't forget your student card!
Bring cloths and shoes for hiking tours and high SPF sunscreen. Everything can be bought here in Cuzco, just bring your most favorite items you can't live without. Most restaurants don't accept credit cards. Either bring soles and/or USD in cash and there are ATMs too.
If you consider donating, be sure to get in contact with Maria Elena ahead of time. Alternatively, bring cash and Maria can help buy the things to donate, this makes traveling a lot easier.
5.- Other things volunteers should know before coming here:
Host Family: Maria Elena is amazing. She goes above and beyond and will ensure everyone has a great time. If you have allergies, be sure to bring special food items as they might be hard to get here. In any case, Maria will make sure everyone is looked after.
Program: If you work at the orphanage, you have to be proactive as there isn't really a schedule. Maybe think about what you are good at and would like to do with the girls. They are very creative, so there are lots of opportunities to do nice little project with them.
Country: Even though Peru nicely caters to tourists, it's still a developing country. Come with an open mind and heart. Toilets often don't have TP (bring your own and don't forget not to throw it in the toilet!) and hot water isn't always available either.
6.- Personal Paragraph about the experience (ABV Program Testimonial):
I absolutely loved my experience in Cuzco! Volunteering with ABV is an incredible way to travel and experience another country, its culture and people. It's fulfilling to know that we make a difference in the local community. I also loved the Spanish classes as they provided another opportunity to immerse myself in the local culture. Moving forward I will make volunteering with ABV part of my future travel plans!
7.- How would you describe your accommodation: meals, security, friendliness, quality others:
Meals: DELICIOUS! The food at Maria Elena's house is delicious and always more than enough!
Security: It's very secure in Cuzco and in particular the area where Maria Elena lives. Having said that, always be mindful of your surroundings and don't do anything stupid as you wouldn't at home either.
friendliness: Maria Elena treats her volunteers as if they were her own children. She goes above and beyond to make sure everyone has a great time.
Quality: Obviously this is not a vacation in a 5 star hotel. Nevertheless, the quality of the accommodation provided is really great!
8.- How was the local ABV Coordinator/staff and the support provided in-country: Airport, orientation, introduction to the program, schedule of the program, friendliness, solving problems?
The support was outstanding. Maria Elena also ensured there immediately was a bond among the volunteers and we were doing a lot of things together. Literally EVERYTHING was easy and ran like clockwork. Maria Elena is a master coordinator and helps out with everything and more!
9.- Whats was a daily schedule at the program, hours volunteered, activities you did?
Hours at the orphanage were from 8:30-12:30 and Spanish lessons from 2:30-6:30 pm. As I was here for the Christmas period, activities mainly were around crafting Christmas ornaments to decorate the orphanage. We also danced, listened to music and sang, just talked and the girls did my hair
10.- What was your favorite memory of this trip?:
Accommodation: Maria Elena invited us to her family's Christmas dinner. We felt very welcome and we had a wonderful Christmas Eve with locals. It was a great experience with a lot of very delicious food!
Program: On the very first day we went to a school in a poorer region of Cuzco. We brought the kids toys, a special breakfast-bread and sweets and made hot chocolate on site. The children were so grateful and volunteered to sing for us to say thank you. It was extremely heart-warming to see how such a small gesture can go miles. The children's smiles will forever stay in my heart and I'll never forget their sparkly and happy eyes. It truly felt that we made a difference in their lives.
Country: all the beautiful tours we were able to do on the weekends – there are so many great day trips to experience the Cuzco region. There is no shortage of sites to visit: Machu Picchu, the Rainbow Mountains, Lake Humantay, the Secret Valley, Morray Maras and the salt mines, etc.
11.- How was the ABV USA support prior traveling? Emails, chat online, calls, volunteer guide:
Very helpful and extensive. Fast responses via email!
12.- What do you think about the reservation system online?
Easy to manage and very straight forward
13.- Who did you find Abroaderview website ?
Through a Google search and rating websites
14.- Are you willing to speak to other potential ABV volunteers?