My favorite part of the program was the times spent talking to the girls at the orphanage while they braided my hair!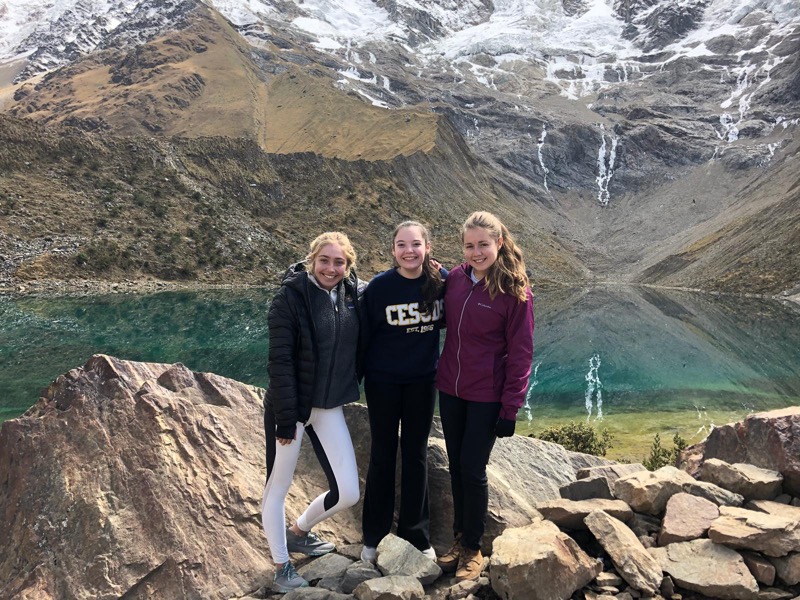 1.- Whats was a daily schedule at the program, hours volunteered?
For the first two weeks, I worked at the kindergarten from 8:30 to 1 and for the last part of my experience, I had the privilege of working at the orphanage from 8:30-12:30 Monday through Friday. In the afternoons from 2:30-5:30pm a private Spanish teacher was arranged for me to both learn more of the Spanish grammar, but also immersing me into Peruvian culture.
2.- What was the most surprising thing you experienced?

Host Family: how incredibly kind and welcoming they were! Truly a pleasure to have gotten to spend the last few weeks with them!
Program: Just how eye-opening and incredible all the people were- I definitely learned a lot about myself along the way. Maria Elena (the program director) was absolutely incredible and helped me navigate the city as well as the volunteer work. She treats each volunteer as if they are her own children, she is so kind, compassionate and helpful. I felt completely comfortable the whole time largely because of how great Maria Elena is.
Country: Peru is an absolutely breathtaking place. Cusco is surrounded by beautiful mountains and there is so much to do here! The culture is incredible to take in as well as the sights- I would highly recommend walking as much as you can!
3.- What was the most challenging thing you experienced?

Host Family: I would say just getting adjusted to the large meal at lunch- in the United States lunchtime is not as important as it is in Peru.
Program: I would say getting adjusted to the new customs in the different volunteer projects and trying to figure out the best way to fit in.
Country: Definitely the language barrier at times was difficult – especially in the taxi.
4.- Any tips for future volunteers… (clothing, travel, personal items, donations, money, internet)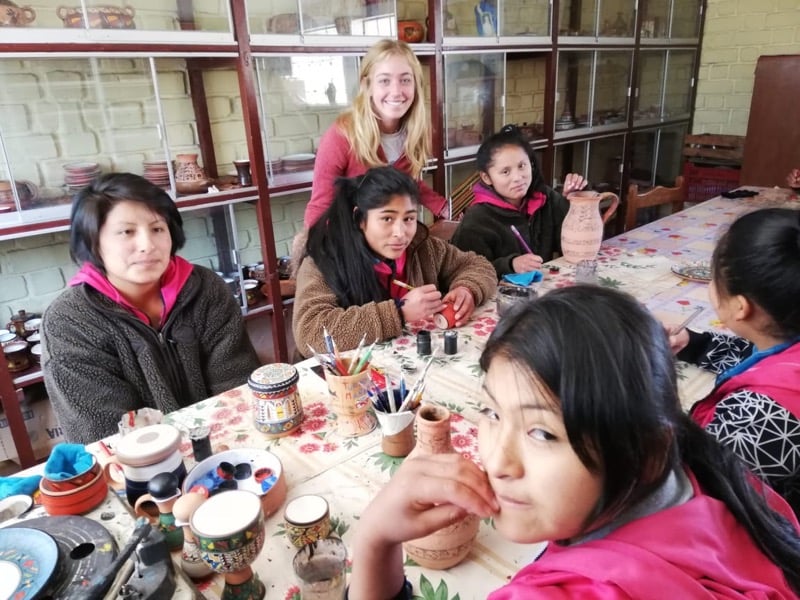 BRING A WARM JACKET and lots of layers and sweaters!! It is a lot colder than I thought it would be here! Also, make sure to bring medication for a cold just in case. I would be sure to know that coins are very important for getting taxis or using the bus system.
5.- Other things volunteers should know before coming here (besides Spanish):

Host Family: They are so welcoming and amazing! Make sure to communicate with them in Spanish the best you can because it is a very helpful way to learn the language as well.
Program: I volunteered at the Kindergarten and the orphanage and my best piece of advice is to be proactive about helping out! They might not always ask you to do something, but definitely come with ideas and fun activities!
Country: Things are less immediate in Peru then in the United States- enjoy it and go with the flow!
6.- Personal Paragraph about the experience (ABV Program Testimonial):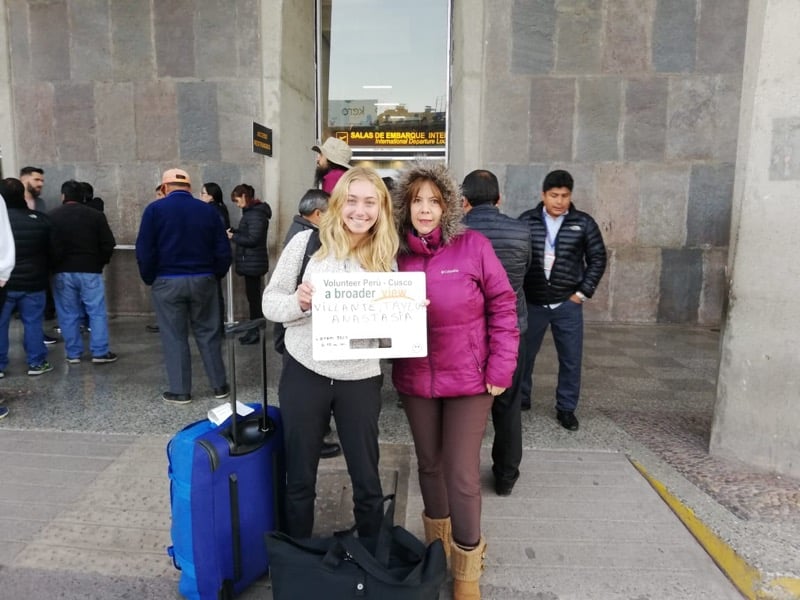 Overall, I had an amazing experience in Cusco, Peru. The volunteer work was truly life changing and I met such incredible people along the way. I loved getting to see the primary education system and how it worked especially because I one day would love to be a teacher. Talking to girls at the orphanage was incredible because I discovered how much we had in common and how happiness truly comes from within. The girls loved braiding my hair while asking so many different questions about the united states- they are so talented at doing hair and even tried to teach me how to braid! Maria Elena also created a vegetable garden at the orphanage with some other volunteers, which is beautiful and the girls absolutely love! Walking around Cusco and going to the different markets and stores was also amazing! Everyone in the city is so incredible and I truly felt immersed in the wonderful culture here. My experience with A Broader View was amazing mostly because of the amazing coordinator Maria Elena. From the beginning Maria Elena made me feel comfortable and confident in my volunteer work and my trips around the city. She was always available to talk and made things so easy for me!! She was a big reason why I had such an incredible experience here in Cusco.
7.- How would you describe your accommodation: meals, security, friendliness, quality others:

Meals: 10 Security: 10 friendliness: 10 Quality: 10
8.- How was the local ABV Coordinator/staff and the support provided in-country: Airport, orientation, introduction to the program, schedule of the program, friendliness, solving problems?
The local ABV Coordinator (Maria Elena) was absolutely incredible! I was so nervous when I got off the plane, but my nerves immediately went away when she greeted me with a huge smile and abv sign!! The entire trip she made sure I was comfortable and safe. She did an incredible job explaining the volunteer work, and catering to every question I had or needed at all hours of the day! She responds within seconds! She was like a mother to me here in Cusco, and she is very serious with our volunteer work; however, she is also concerned about our well-being too! She invited me over whenever I would like to have meals and the food was amazing! One day a new volunteer came and it was his birthday- she made him feel so special and provided an amazing lunch and a cake for him!! Maria Elena is always there to talk and is such a great source of comfort for me in Cusco! Every time I had even the slightest inconvenience she helped me immediately and made things better! Even though she is very busy, she makes time for each and every volunteer! Maria Elena is the best!
9.- Whats was a daily schedule at the program, hours volunteered, activities you did?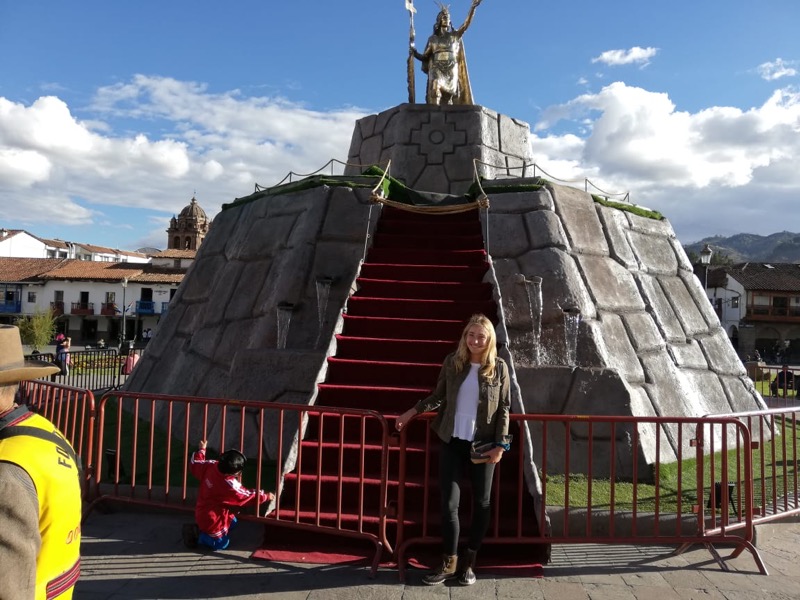 My schedule was from 8:30 - 12:30 Monday through Friday - 2 weeks at the Kindergarten and about 2 weeks at the orphanage!
At the kindergarten I played with the kids, helped out in the classroom and taught some English as well.
At the orphanage I did ceramics with the girls and also hung out and talked with them!
10.- What was your favorite memory of this trip?:

Accommodation:My favorite memory of the trip was climbing Lake Humantay with the other volunteers. Maria Elena helped organize this trip with Latino Tours and it was absolutely breathtaking!
Program: My favorite part of the program was the times spent talking to the girls at the orphanage while they braided my hair!
Country: The incredible people in it!!
11.- How was the ABV USA support prior traveling? Emails, chat online, calls, volunteer guide: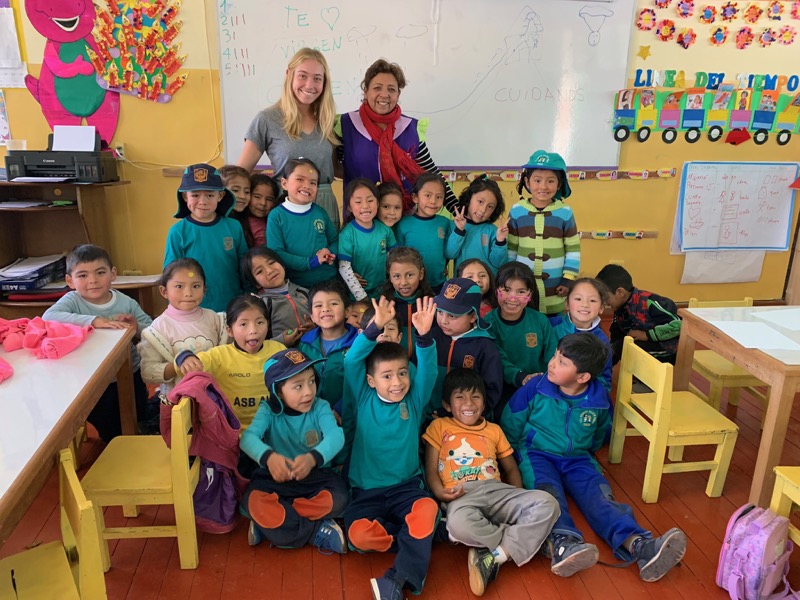 Great! Super responsive!
12.- What do you think about the reservation system online?

I think it works really well!
13.- Who did you find Abroaderview website
?
I found it while looking up volunteer programs!
14.- Are you willing to speak to other potential ABV volunteers?
Absolutely!