Review Volunteer Rachelle Valenzuela in Peru Cusco PreMed and Senior Center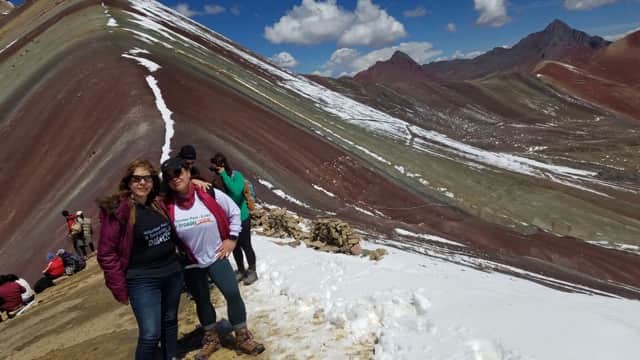 1- How was the local ABV Coordinator/staff and the support provided in-country?
Maria Elena made sure that my volunteer and Spanish lesson schedule was organized and that I was comfortable with everything I was doing. I really appreciated that she made sure that I was able to work in a physical therapy setting in each location. She took the time to show me how to get to the volunteer sites and she made sure I was happy in each of my placements. She helped me become comfortable in both clinics by introducing me to staff and checking in with me every day. She truly helped me make the most of my experiences at each of my placements.
2- What was the most surprising thing you experienced? Name 2
Program: 1) At Policlinico, I was surprised by their methodology of physical therapy. It was very hands on, but there wasn't a very strong emphasis on in-clinic exercises like I'm used to at the PT clinic I work at in the US. 2) At Seniors Center, I was surprised by how much help the organization is in need of. There were many residents that needed help with feeding, dressing, etc., but they are very understaffed and could really benefit from more assistance from volunteers.
Host Family: 1) I didn't expect to have hot water to shower in the home, so that was a very pleasant surprise. 2) Maria Elena's father lives with her and he's very charming. Her daughter lives and works nearby. She visits often, and she accepted me as her adopted sister right away which was comforting.
Country: 1) I was able to travel to many places during my weekends, and the one thing that I always found surprisingly common was the amount of litter. It's surprising because one cultural concept I've found to be universal is the respect the people have for Pachamama or Mother Earth. 2) Once I got used to it, I was surprised by how efficient public transportation is here. Not only is it efficient, it's cheap!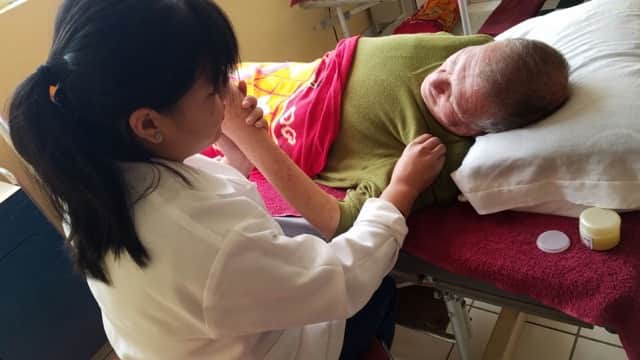 3- What was the most challenging thing you experienced?
Program: At Policlinico, PT consists of heat, electric stimulation, and massage/manual therapy. VERY little if any exercise is incorporated. I found it very challenging to convey the importance of exercise in-clinic and at home in combination with manual therapy. It was especially challenging to see patients who could've or would benefit from precise exercises, but it just isn't incorporated in the clinic.
Host Family: There really wasn't anything challenging as far as my host family. I was always comfortable in my home and I was well taken care of.
Country: Eating and drinking water. Because of all the research I did on food and water in Peru prior to coming, I was overly cautious of the food and water I drank in both restaurant settings and in my host home.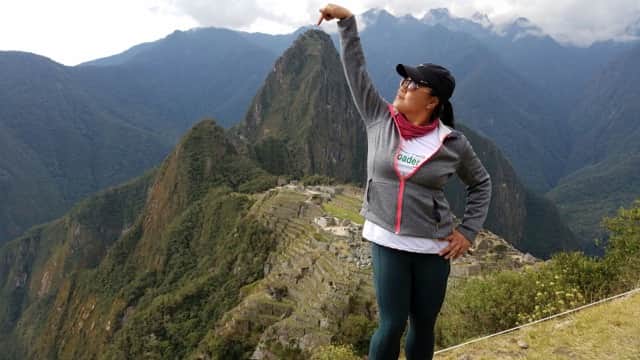 4- Any tips for future volunteers… (clothing, travel, personal items, donations)
Wait to book any tours you want to do until you get here. ABV has a travel agency contact that is phenomenal and affordable. I used all of my weekends to travel and it was completely worth it to book.

Don't bring your favorite/expensive clothes if you plan on having them washed at the local lavanderia. They use staples on the clothes and there is a possibility of things being misplaced.

If you bring a donation like boxes of gloves or medical masks or pens, it makes a difference. No donation is too small!

Bring a small notebook to write in. On every tour I did, I wrote down anything I found interesting or anything I wanted to look up online later. Every day, I also wrote things I wanted to remember from volunteering. I've found that days tend to blend together once the ball gets rolling so it's nice to have a way to look back and remember the little things that happened.
5.1-Other things volunteers should know before coming here:
The San Pedro Market has the best deals for souvenirs, especially if you are good at haggling.

It's surprisingly dusty outside, so bring sunglasses to help protect your eyes a little. If you wear contacts, you'll be better off wearing your glasses most days.

You'll get more out of your experience here if you can at least speak Spanish at an intermediate level. Brush up on your Spanish - listen to music, read books, watch programs before you come. I also highly recommend the Spanish immersion classes! If you'll be working in the healthcare setting, you can find Spanish for Healthcare Professionals and an English-Spanish medical dictionary on Amazon for a reasonable price.

Tipping is not expected here (except for tour guides and porters if applicable). You don't tip the taxi driver or the wait staff at restaurants unless you absolutely feel like you want to.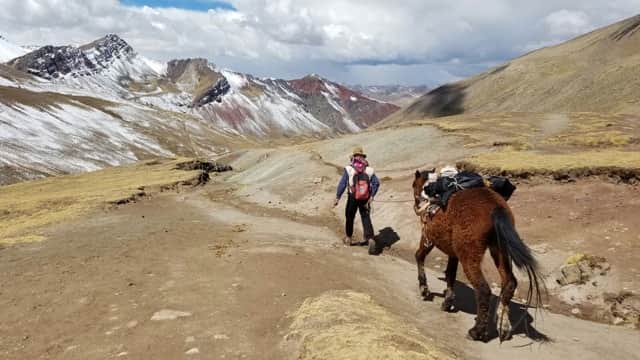 6- Personal Paragraph about the experience (ABV Program Testimonial):
I came to Cusco with no expectations, mostly because I didn't really know what to expect. I'm leaving with three weeks' worth of priceless memories and a full heart. Whether they be patients or staff, the people I've worked with were whole-heartedly grateful to have an extra pair of hands to help. I've fallen in love with the Peruvian culture and I cannot wait to be able to come back (because I've already decided that I will). Being able to serve the people of Cusco was a privilege that I'll always be grateful for and looking back at for inspiration as I continue on the road to becoming a physical therapist.
7- How would you describe your accommodation, meals, security, friendliness, quality others:
My accommodations were more than I expected to have. It was clean, warm, and private. Although my room can sleep three, I had the room to myself. Meals were varied and delicious. Maria Elena was very accommodating to my slight sensitivity to dairy. As far as security, I brought a lock for my suitcase but only used it for a few days. The house is very secure and there was never a moment that I felt unsafe in the home or the neighborhood.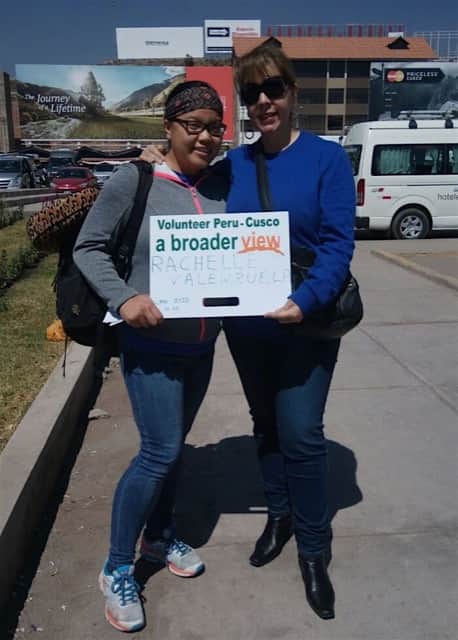 8- What was your favorite memory of this trip?:
Program: I really enjoyed the time I spent at the Policlinico. I was able to have a lot of hands on experience with the patients. My favorite memory was when I had finished with a patient and was on my way home. We happened to take the same bus so we chatted all the way to their stop. They decided to pay for my fare even though I protested. They said they appreciated my help and it was the least they could do for me.
Host Family: Maria Elena joined me in hiking 17km at 5100m to the Rainbow Mountains in Ausangate in the Andes. It was absolutely incredible and it was fun having her there with me on the last adventure of my trip. We were both so exhausted when we got home, but very proud of our accomplishment!
Country: I did many tours: Cusco City Tour, Sacred Valley, Lake Titicaca, Inca Trail to Machu Picchu, and the trek to the Rainbow Mountains. My favorite was going to Lake Titicaca, visiting the floating islands of Uros, and spending the night with a farming family on the island. We hiked a mountain for a beautiful view of the sunset on the lake, had a little fiesta where we dressed in traditional clothing, and ate all our meals with the host family. It was an unforgettable experience.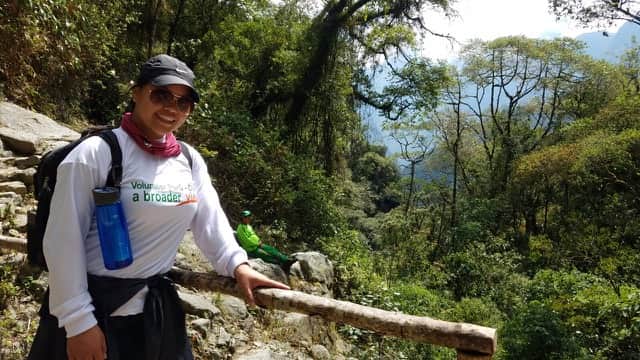 9- How was the ABV USA support prior traveling?
The USA staff was excellent. They were always prompt in answering my questions. Whether I sent an e-mail or sent a message through the online chat, I always received a quick reply. I only ever had to call the emergency line once when my flight was almost changed, and they were there for me 100% which was very reassuring. I truly appreciated the patience of the USA support.
9.1- What do you think about the reservation system online?
It was easy to understand and use.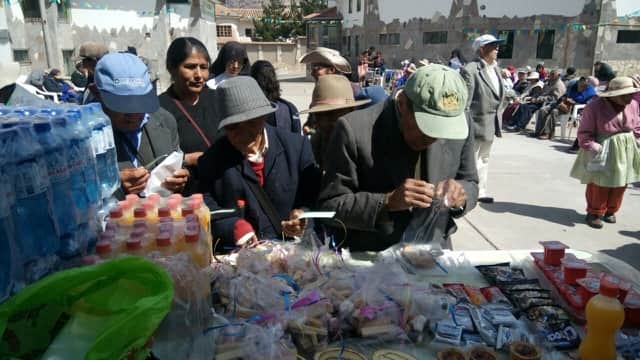 9.2- Who did you find Abroaderview website (keywords, search engine, word mouth to mouth, recommended by .., other)
Google
10 – Are you willing to speak to other potential ABV volunteers?
Yes